One of the best parts of the NBA season is the announcement of the All NBA teams. Taking a look back on the season that just wrapped up and awarding the top players around the league is a great way to close the book on one season as another one gets ready to begin. Let's run through our picks for the three All NBA teams, including five players who got snubbed from out teams, but very well may end up making one of them anyways. With that in mind, here's the All NBA First Team.
First Team
Point Guard: Stephen Curry, Golden State Warriors – After missing all but five games last season, Stephen Curry returned and single-handedly willed the Golden State Warriors into the play-in tournament. Many NBA fans doubted whether Curry could return to his old scoring ways, and not only did he lead the entire league in scoring with 32 points per game, he also set a career high in that category by nearly two full points, which is just absurd. The burden of carrying Golden State's offense didn't affect his efficiency, as he still shot 48 percent from the field, including 42 percent from behind the arc on 12.7 threes per game, all while having opposing defenses throw two or three guys at him on every play. He also averaged a career high in rebounds per game, which was vital considering the Warriors struggles with the center position for most of the season. Curry reminded fans that he is the most dynamic three point shooter in NBA history, and should be a lock for a spot on the first team.
Shooting Guard: Luka Doncic, Dallas Mavericks – The NBA saw the true potential of Luka Doncic last season during the Dallas Mavericks bubble run, as the Mavs gave the vaunted Los Angeles Clippers a run for their money in the first round before bowing out in six games. Doncic followed up his breakout season by basically keeping the Mavs in playoff contention the entire season. With his partner in crime Kristaps Porzingis missing tons of time, and not looking good when he was on the court, teams locked onto Doncic night in and night out, but still couldn't find ways to slow him down. While his per game averages are all down from last season (27.7 PPG, 8 RPG, 8.8 APG), Doncic maintained his threat of dropping a triple-double any night, and improved his efficiency from the field, despite the added attention he received from opposing defenses. Without Doncic, the Mavericks probably wouldn't have even made the play-in tournament, which shows how large his impact on this team is, making him a worthy recipient of a spot on the first team.
Small Forward: Kawhi Leonard, Los Angeles Clippers – Injuries held Kawhi Leonard out for 20 games this season, and it's no surprise his absence coincided with the Clippers worst stretch of play this season. When he was on the court, Leonard found a way to elevate his game to yet another level that helped prevent the Clippers from slipping in a competitive Western Conference. He poured in nearly 25 points per game, but did it while shooting a mind-boggling 51 percent from the field, which is just unheard of considering Leonard's shot chart doesn't consist of just layups and dunks. With the Clippers struggling to find playmaking for parts of the season, Leonard stepped up and focused on moving the ball around the floor, and averaged a career high 5.2 assists per game as a result. Combine that with his usual high standard of defense, and Leonard was invaluable to the Clippers this season, pushing him into the conversation of First Team All NBA.
Power Forward: Giannis Antetokounmpo, Milwaukee Bucks – Fresh off back-to-back MVP campaigns, it was always going to be tough for Giannis Antetokounmpo to one up himself for the third consecutive season. That was never more evident in the MVP race, where Giannis, despite slashing a very impressive line (28.1 PPG, 11 RPG, 5.9 APG) never really seemed to be in consideration for the award. Chalk it up to voter fatigue if you want to, but Giannis' accomplishments won't go unnoticed when it comes time to select the All NBA teams. He remains an absolute freak of nature offensively, constantly finding new ways to get to the rim and make defenses uncomfortable. While his three point shooting appears to have plateaued, his mid-range shooting took another step forward this season, making him an even more dangerous player inside the arc. And when you consider he is one of the most versatile defenders in the league who has the ability to guard the paint and the perimeter, there's no question Giannis is a shoe-in for a spot on the first team this season.
Center: Nikola Jokic, Denver Nuggets – Despite recently being crowned the MVP of the league this season, this wasn't as easy of a choice, thanks to Joel Embiid's season on the other hand. But Jokic was clearly the best player in the league this season, playing all 72 games just mere months after Denver made it all the way to the Western Conference Finals last season, and took his play to a completely different level. Jokic very nearly averaged a triple double, at the center position nonetheless (26.4 PPG, 10.8 RPG, 8.3 APG), and turned himself into one of the most feared all around players in the league. The scoring and assists are easily career highs, and his increased load offensively didn't affect his efficiency, as he still shot 57 percent from the field and 39 percent from behind the arc. Even while missing key pieces of the Nuggets offense, Jokic's production never wavered, and he has easily earned himself a spot on the first team.
Second Team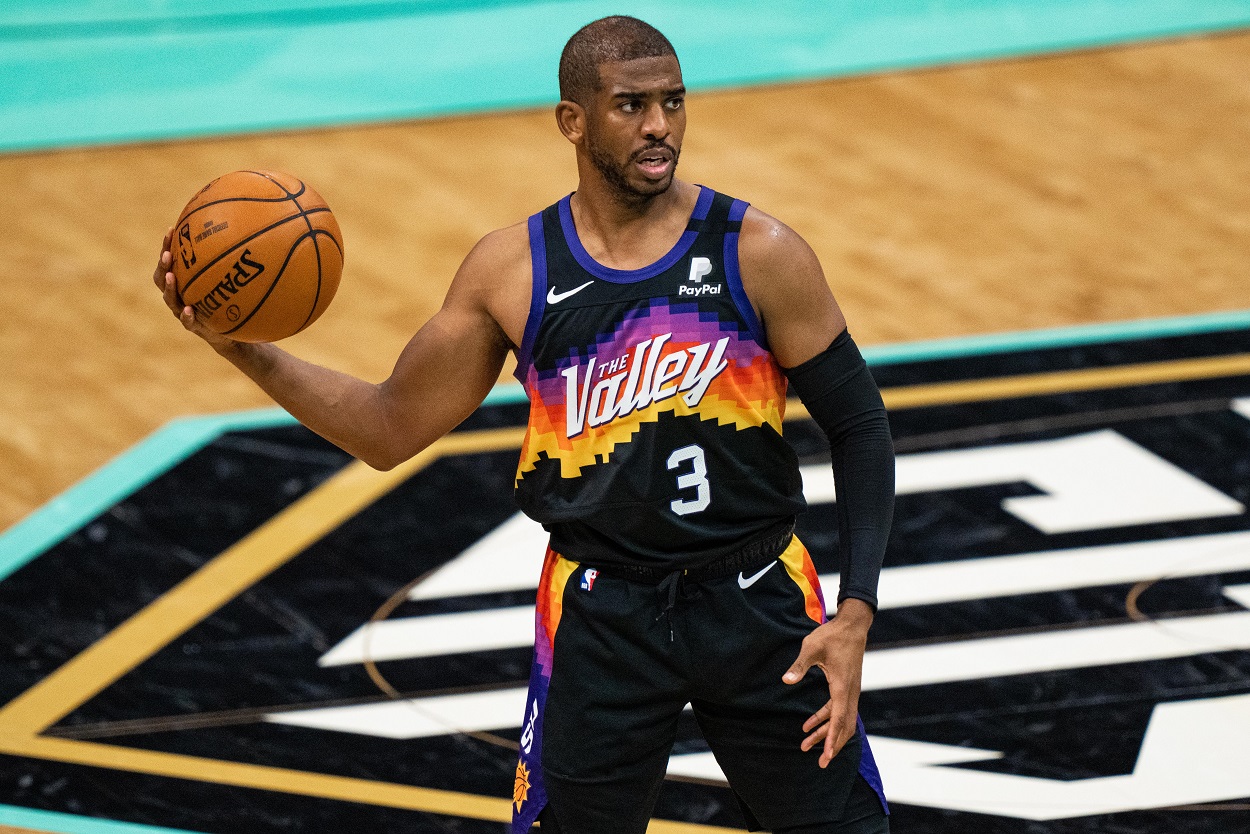 Point Guard: Damian Lillard, Portland Trail Blazers – It was an interesting season for the Portland Trail Blazers and Damian Lillard. Both the team and player spent most of the season going on runs of hot and cold play, and never really found any sort of their consistency. With fellow teammates CJ McCollum and Jusuf Nurkic forced to miss considerable time though, Lillard was forced to step up more than usual, and he guided Portland to the six seed in the Western Conference. He maintained his reputation of one of the premier scorers in the NBA, and continued to be the primary facilitator of Portland's offense. In the regular season alone, Lillard managed to score 40+ points six times (eight if you want to include playoffs), and was instrumental in getting Portland to the postseason. Lillard's play remains at an All NBA level, making him an easy choice here.
Shooting Guard: Chris Paul, Phoenix Suns – We saw the potential of the Phoenix Suns during their 8-0 bubble run last season, but adding Chris Paul this past offseason is the real reason for their success on the season. Paul's numbers don't necessarily jump off the page (16.4 PPG, 4.5 RPG, 8.9 APG), but his ability to be the guiding hand of Phoenix's offense has been instrumental to their rise to the top of the Western Conference. Paul's pass first mindset helped get everyone involved for the Suns, but he also knows how to score when called upon too. When the moment calls, Paul has an innate ability to take control of the game, and lead Phoenix to victory. Not to mention, Paul can still hold his own defensively, even at age 36, making him a leader at both ends of the floor for Phoenix. There may be other players with better numbers, but there's no one more deserving than Paul to get this spot.
Small Forward: Paul George, Los Angeles Clippers – Coming off a subpar postseason performance, Paul George played the entire 2021 season with a chip on his shoulder, and it seems to have paid off. George averaged a really solid all around line (23.3 PPG, 6.6 RPG, 5.2 APG), all while shooting a career high 47 percent from the field. George and fellow star teammate Kawhi Leonard seemed to finally mesh together, and their play together elevated to a new level this season. George's improvement as a passer was a nice development this season as well, as his 5.2 assists per game were a career high for the veteran forward. Overall, it was a fantastic bounce back season for George after an underwhelming 2020 campaign, and his status as one of the top forwards in the game has been restored.
Power Forward: Zion Williamson, New Orleans Pelicans – After missing most of his rookie year with a number of injuries, Zion Williamson returned this season to take the league by storm. The young forward is one of the most dangerous scorers in the league, despite the fact that he doesn't have much of a jumpshot to speak of. Averaging 27 points on the season, Zion seemingly got better as the season progressed, and his role continued to improve as well, with him even taking the ball up for the Pels at times this season. As a result of his shortened rookie year, Williamson put up career highs in just about every category. The scary part is that Zion hasn't even reached his full potential yet, and he's already one of the best scorers in the league. There are definitely areas of improvement for the young star, such as shooting the ball and maybe some defensive work as well, but Williamson did more than enough to earn himself All NBA honors this season.
Center: Joel Embiid, Philadelphia 76ers – Joel Embiid took the leap to superstardom this season, and firmly established himself as one of the top players in the NBA. Had it not been for the 18 missed games due to injury, there's a good chance Embiid would be the MVP of the league, and for good reason. He averaged a career high in points per game (28.5) while also shooting career bests from the field (51 percent) and from behind the arc (38 percent). Embiid's development of his jump shot has taken his game to a new level, as teams can no longer afford to lay off him at the perimeter. Not to mention, Embiid is one of the best defensive big men in the league, as he is a block machine in the paint, while also swiping a steal per game this season too. Embiid's improvement helped Philadelphia snag the top seed in the Eastern Conference, and he will easily have a spot in the Second Team as a result.
Third Team
Point Guard: Kyrie Irving, Brooklyn Nets – The most consistent presence in the lineup for Brooklyn's big three, Kyrie Irving had one of the most impressive seasons of his storied career. Posting the vaunted 50 percent from the field, 40 percent from the three point line, and 90 percent from the free throw line, Irving shot his way to nearly 27 points per game, which would be a career high if you ignore his injury plagued 2020 season. Teaming up with Kevin Durant and James Harden allowed Irving to slip into a more off-ball role offensively, and his shooting splits show just how much he thrived in that role. Having those big name players alongside you to hit shots certainly helps too, as Irving was able to tally six assists per game as well. Irving's career year in terms of shooting the ball, combined with his elite ballhandling skills, made him one of the most dangerous players in the league this season.
Shooting Guard: Russell Westbrook, Washington Wizards – It was a tale of two halves for Russell Westbrook and the Washington Wizards, and it's no coincidence that his second half turnaround resulted in Washington forcing their way into the play-in tournament. Westbrook averaged a triple-double for the fourth time in his career (22.2 PPG, 11.5 RPG, 11.7 APG), and ended up leading the league in assists per game in the process. It wasn't all pretty for Westbrook this season, as his shooting numbers sometimes were ridiculously low, but he always found a way to impact the game, no matter whether or not his shots were falling or not. Westbrook's improvements as a rebounder were crucial for Washington, especially considering their lack of a true rebounder at center for most of the season. Westbrook certainly ran hot and cold for most of the season, but his final numbers show just how vital he was to the success of the Washington Wizards, earning him a spot here on the Third Team.
Small Forward: Julius Randle, New York Knicks – There were inklings of Julius Randle's ascent to superstardom prior to this season, but he finally put everything together, and led turned a supposed tanking team in the Knicks into a surefire playoff team. On his way to winning Most Improved Player, Randle set new career highs all across the board, and was one of the most surprising stories in the league this season. Two big causes for Randle's improvement were his three point shooting and passing. Randle shot 41 percent from behind the arc this season, compared to 28 percent last season. Randle basically went from being useless behind the arc to a player you couldn't leave alone at three or else he would put up three points. Randle's passing was also markedly better than any stage of his career, as he doubled his assist output from three per game last season to six per game this season. Randle's development into a bonafide All Star was one of the most impressive stories of the season, and he has singlehandedly helped the Knicks return to playoff contenders.
Power Forward: LeBron James, Los Angeles Lakers – It certainly wasn't the season the Los Angeles Lakers and LeBron James were hoping for, but James proved he is still one of the best players in the league, even in his age 36 season. James averaged a spectacular line that only seems average when looking at his career stats as a whole (25 PPG, 7.7 RPG, 7.8 APG). James also managed to improve his shooting totals from last season, and shot over 50 percent from the field for the tenth time in his career. It was a tough season overall for the Lakers, as they lacked the same firepower they had last season, and were missing James and Anthony Davis for long stretches of the season. As a result, James production took a hit at times, as teams focused in on him knowing his supporting cast wasn't going to be able help him out, which it didn't. Regardless, James maintained his high level of play in a tough season, and that shouldn't go unnoticed here.
Center: Rudy Gobert, Utah Jazz – The Jazz certainly had an interesting season on their way to the top seed out West, and the anchor of this team was almost always found in the paint in Rudy Gobert. Gobert averaged a double-double in points and rebounds for the fifth straight season, while also recently winning his third Defensive Player of the Year award of his career. Gobert's shot diet is strictly layups and dunks, which helped him lead the league in field goal percentage, hitting 68 percent of his shots this season. He's firmly established himself as one of the best rebounders in the league, averaging 13.5 a game for the second straight season. And Gobert's defense remained as solid as ever, as he averaged 2.7 blocks per game, which is a career high for the esteemed shot blocker. Gobert was the glue that held this Utah team together, and is certainly deserving of All NBA recognition.
Snubs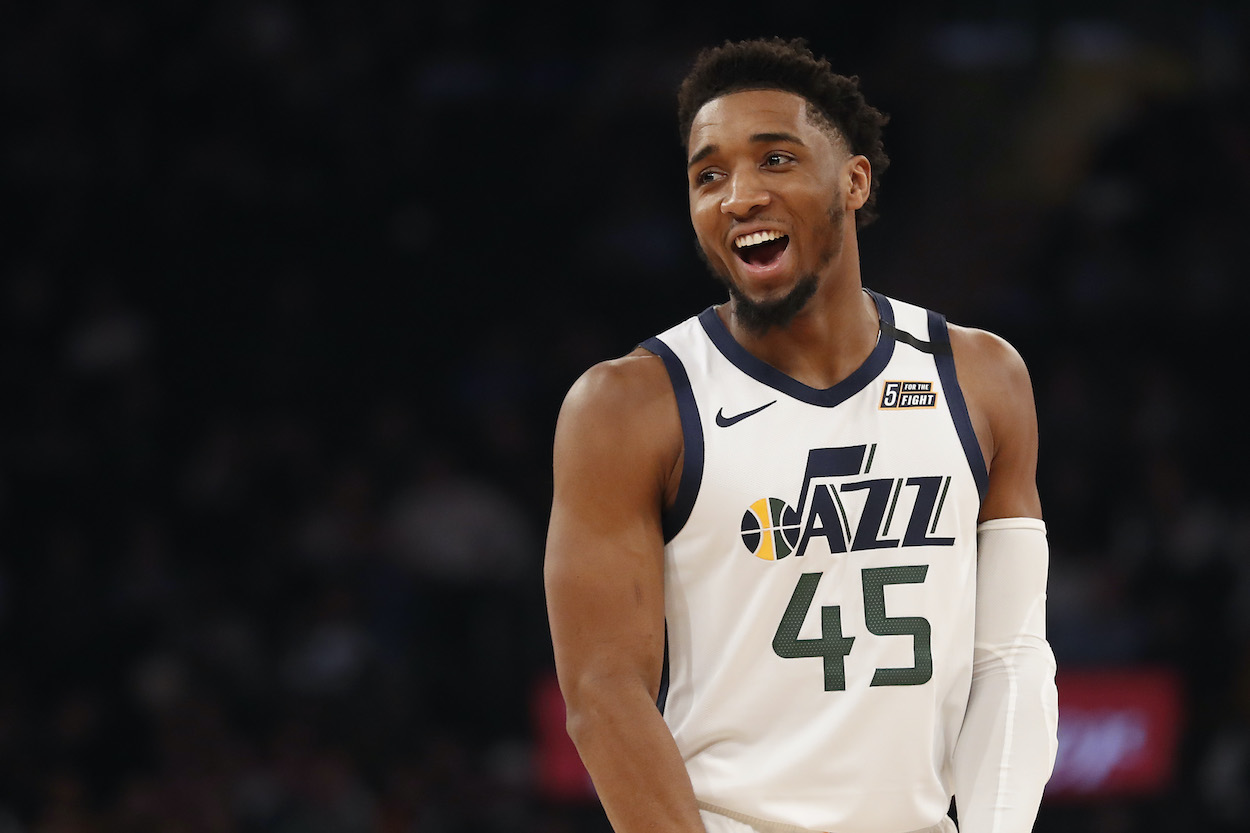 Jayson Tatum, SF/PF, Boston Celtics – Arguably the biggest snub here is Jayson Tatum. Tatum took on a new expanded role as Boston's top option on offense and ran with it, setting new career highs across the board. With his fellow teammates injured or struggling, Tatum elevated his game to another level during the second half of the season, which resulted in Tatum scoring 40 plus points six times over the final two months of the season (including the play-in round and playoffs here). Tatum is still figuring things out on the defensive side of the court, but his offensive upside is phenomenal, and the Boston Celtics are certainly going to be in good hands moving forward, regardless of whether or not Tatum finds his way onto an All NBA team.
James Harden, SG/PG, Brooklyn Nets – James Harden was seemingly set to force his way into the MVP race heading into the All Star break, but he spent most of the second half of the season injured, and ultimately fell out of the MVP race, and the All NBA teams. Make no mistake about it though; Harden was at his usual best when he was on the court this season, and nearly averaged a triple-double during his time with Brooklyn. Harden stepped up to be Brooklyn's primary ballhandler, as well as one of the teams best rebounders, which was huge considering they traded away their top big man in Jarrett Allen to get him. Had Harden played a full season, he would easily have made a team, but his injuries ultimately make him a tough snub this time around.
Donovan Mitchell, SG/PG, Utah Jazz – As Donovan Mitchell's role in the Utah Jazz offense continues to increase, he continues to get better and better. Mitchell averaged new career highs in points and assists per game, while also improving his three point shooting for the fourth straight season. Mitchell played a huge role in Utah's first half surge, and they struggled to stay a top the West with him missing a good chunk of time during the second half of the season. Much like the other snubs on this list, Mitchell missing a large chunk of the season makes him a tough snub here, as his first half performance made him seem like a lock for an All NBA nomination.
Kevin Durant, SF/PF/SG, Brooklyn Nets – Kevin Durant made a triumphant return after missing all of last season with a torn achilles injury, and had arguably the best offensive season of his career when he was on the court. Durant wasn't taking 20 shots per game like he did during his heyday with the Oklahoma City Thunder, but most of the shots Durant took this season found the bottom of the basket. Durant tied his career high field goal percentage (53.7 percent), while easily shooting a career high 45 percent from behind the arc. However, Durant barely played in half of the games this season, as he dealt with various injuries in his return to action this season, making him yet another tough snub off the All NBA teams.
Bam Adebayo, C/PF, Miami Heat – The Miami Heat were never really able to live up to the highs of their run to the Finals last season, but that didn't stop Bam Adebayo from turning in yet another impressive season. Adebayo set career highs for points and assists per game, while also improving his field goal percentage from last season. Adebayo's versatility is what really sets him apart, as Miami loves to sit him at the top of the key with the ball and let him run the offense. The same can be said defensively, as Adebayo is really one of the few players in the league who can guard one-through-five on the opposing team. Adebayo unfortunately gets boxed out by a deep pool of centers this season, and just misses the cut.