With the 2020-21 NBA season complete for the Boston Celtics, it's time to look back and give out grades. It was a disappointing season for the team as a whole, ending in a gentleman's sweep at the hands of the Brooklyn Nets, but that doesn't mean that everyone underperformed. Check out our midseason report to see how things changed in the second half of the season. Players who were traded away at the deadline won't receive a grade here, but players who were brought in will. Without further ado, let's get to the grades.
Jayson Tatum – A+
Jayson Tatum is a certified star in this league, and he's only getting better. While his per game numbers in Boston's first 36 games (24.9 points, 7.1 rebounds, 4.5 assists) were already superstar level, he once again leveled up in the second half of the season, just as he did last year. From Game 37 until the end of the regular season, he averaged 27.8 points, 7.7 rebounds, and 4.2 assists to bring his season averages to 26.4 points, 7.4 rebounds, and 4.3 assists. Not to mention the second half of the regular season featured his first 50-point game against the Minnesota Timberwolves, which he followed up just a few weeks later with a 60-point outing against the San Antonio Spurs.
Simply put, he did everything he physically could do to win basketball games, and it's a shame his teammates weren't able to more consistently support him once Jaylen Brown was lost for the year. In the playoffs, and I'm including the play-in game in these numbers, he took his game to yet another height – 33.8 points, 6 rebounds, 4.5 assists. Kevin Durant went so far as to compare him to Kobe Bryant, LeBron James, and Tim Duncan. That's some pretty good company for a 23-year-old. Tatum is a star, and giving him anything less than an A+ after setting career highs across the board would be a crime.
Jaylen Brown – A
Just like Tatum, Brown took another step in his development, just what every team wants to see out of the players that are going to lead their future. Everything I said at midseason remained true for Brown in the second half – he continued to be the perfect #2 behind Tatum, leading to a career best 24.7 points per game average. The only blemish on his season was the wrist injury that put him on the shelf for the C's playoff run, because before that he was on one of his best stretches of the season, with three 38+ point games out of his last seven. Obviously the injury is something to watch heading into next season, and it's the only reason Brown doesn't also get an A+. If the Celtics can get another true star to play next to these two, they'll be in good shape, because Brown proved this year that he's up to the challenge.
Kemba Walker – D+
This contract is not looking good for the Celtics. As the season wore on, the sporadic flashes we saw of Charlotte Kemba Walker became fewer and farther between. He played in only 23 of the C's 36 second-half regular season games. His scoring average of 19.3 points per game was his lowest since 2014, and he was a total nonfactor in the playoffs, scoring 15, 17, and 6 points on 31% shooting, including 17% from 3, before bowing out of the final two games with more knee troubles. Although he's perfectly willing to take charges, he's a liability on the defensive end any time he needs to play 1-on-1 defense. Sure, he's probably a great teammate and I'm sure guys love him, but when it comes to where he needs to earn his contract, Walker didn't do anything close this year. His future in Boston should be in doubt, because Walker was one of the biggest offenders when looking at why this team never got anywhere near its ceiling.
Marcus Smart – C+
As the Celtics season unraveled, it didn't feel like Marcus Smart was able to make the play to save it like he had done so many times in the past. While he actually managed a career-high 13.1 points per game on much improved two-point shooting, his three-point shooting once again capped his offensive potential, but that didn't stop him from letting it fly. He's a fine playmaker, but his shooting really holds the offense back. On a team with offensive superstars around him, a Smart three feels like a wasted possession.
He was Boston's second best player in the playoffs, but that says more about the lack of execution by everyone except Jayson Tatum than it does about Smart actually playing well. Smart as a starter just doesn't seem to have the same impact as Smart off the bench, so the best course of action going forward may be the find a reliable starter at SG so Smart can bring his energy off the bench instead. While he wasn't terrible this year, it felt like he didn't have the same level of impact as in past years, something the C's desperately needed this season, so he gets a C+.
Robert Williams – A-
Injuries continue to be an issue for Williams, as he missed much of the end of the Celtics season with turf toe and a sprained ankle. However, when he was on the court, he completely changed the C's. He brought more to the offensive end than any of their other centers by virtue of his vertical offensive game, and his shot blocking on defense brought fear into opponents. Never was that more clear than Game 1 of the Nets series, when Williams was only one rebound and one block short of a triple double. Nine blocks is a lot of blocks in only 23 minutes on the court. Going for his highlight volleyball spike blocks gets him out of position sometimes, but it's always easier to reel a guy back in than try to get that level of effort out of him, so the Celtics will gladly take it. Getting, and staying, healthy is the key for Williams, but he had a great season for Boston and deserves to be their opening night starter next season.
Tristan Thompson – C
Year 1 of Tristan Thompson didn't quite go how the Celtics would have liked. He had one of the worse seasons of his career, putting up his second lowest point total at 7.6 per game and fourth-lowest rebounds at 8.1 per game. Some of that can be attributed to splitting time with Daniel Theis before the trade deadline and Robert Williams after, but mostly it's because Thompson just got outplayed by those guys. He had two decent games in the middle of the Nets series, but wasn't a difference maker like Williams was. His free throw shooting remained poor, and too many times it felt like he hijacked an offensive possession by posting up and then throwing a lefty hook off the back of the rim. He brought energy and toughness, but that only goes so far. Maybe he had a tough time fitting in with a ball dominant wing like Tatum, but he also had the best years of his career playing alongside LeBron James. Whatever the reason, Thompson didn't have the best season, and surely left Celtics fans that remember him dominating on the inside against them in the playoffs wanting more.
Evan Fournier – B
The prize of the deadline for the Celtics, Fournier had a rough transition to Boston. First, he got stuck in the league's COVID protocol upon his arrival, then he missed all 10 shots in his Boston debut. Just as he was starting to play well for the C's, he tested positive for COVID and missed three weeks and had to start all over again. By the time he made a meaningful contribution to the Celtics, it was May and the season was already circling the drain.
However, once he started playing well, he really did play quite well. From the trade deadline through the end of the regular season, he shot 46.3% on threes. Although his scoring average dropped to only 13 points on the Celtics, that was heavily influenced by the many terrible outings he had at the start of his tenure. I'd be more than willing to resign Fournier if the price was right and give him a normal training camp to try and build some chemistry alongside Boston's stars, something that never really happened this year. It's tough to overlook his struggles upon his arrival and after coming down with COVID, but Fournier did manage to play well despite the team's struggles down the stretch.
Payton Pritchard – A-
The first of two Celtics rookies this year, Pritchard had a very strong rookie season compared to how some recent rookies have fared. He was a staple of the rotation pretty much from opening night, locking down his spot with excellent three point shooting and savvy ballhandling. He finished the year averaging 7.7 points and 1.8 assists. He'll be looking to get those assists up next year, as there are plenty of capable shooters around him that he should be able to rack up assists by hitting them in the corners and also by running the pick and roll. I was worried that the knee injury he sustained a month into the season may take him out of his groove, but he rebounded nicely and had a solid season. He'll be looking to go into next season as the backup point guard who will likely end up being the first man off the bench most nights.
Aaron Nesmith – B-
The Celtics other rookie, Aaron Nesmith had much more of a roller coaster during his first season in the league. After missing almost all of his final season in college with a foot injury, it took him a while to get any sort of rhythm. The most obvious sign of this was his continued trend of completely airballing wide open threes, which should never happen in the NBA, especially not for the player that was the consensus top shooter in the most recent draft. As the year wore on, Nesmith got more comfortable, and really seemed to find his footing on the defensive end, where he developed a knack for making hustle plays routinely. He fouled a ton, but the energy he played with was rewarded more often than not by making a play on the ball. Hopefully, a healthy offseason will allow Nesmith to come into next year with a chance to grab a more consistent role, and his shot falling more consistently would help that as well.
Semi Ojeleye – B-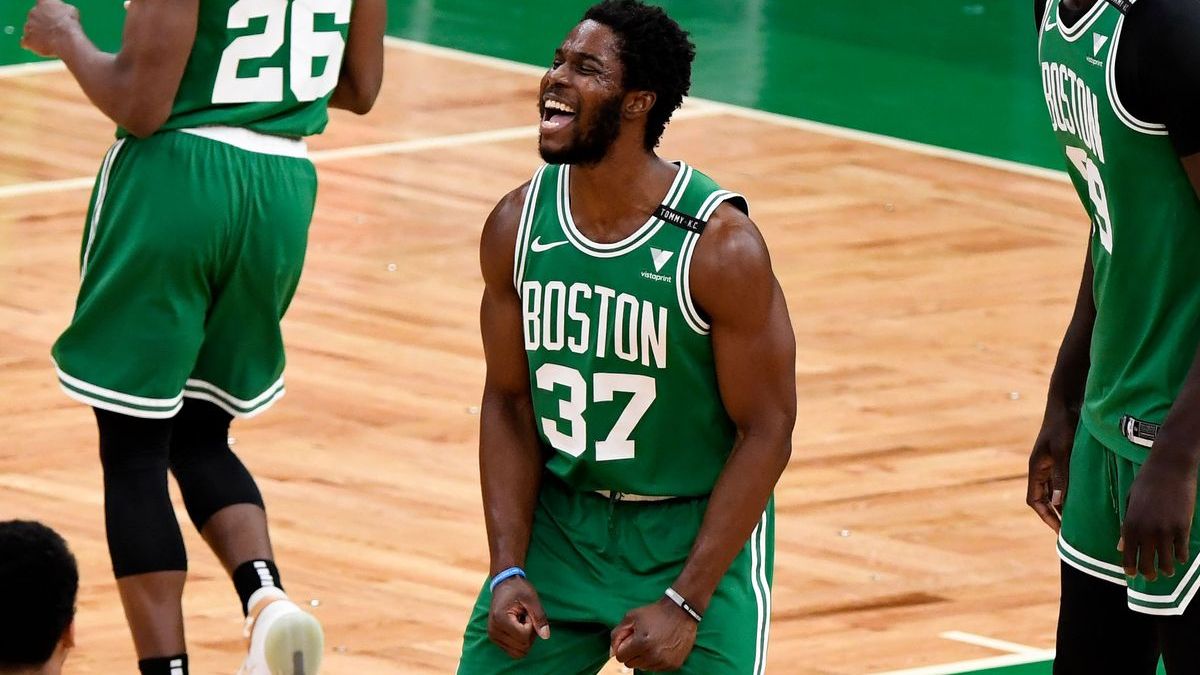 I've never seen a player's minutes vary as frequently as the next two names on this list. The first is Semi Ojeleye. After a solid first half of the regular season, he just kind of faded away after injuring his hip against the Bucks in late March. Other players used his absence to climb into the rotation and played well enough to stick. Upon his return, Ojeleye's minutes would fluctuate from being inactive, then playing 20 minutes the next night, before playing 5 minutes in mop up duty the next. It didn't really make any sense, but as his playing time diminished, so did his shot, hitting only 33% of his threes in the second half, which isn't nearly enough to earn serious playing time. I've always thought Ojeleye's defense was a little overrated – I get that he plays tough against Giannis Antetokounmpo and LeBron James, but 'making them earn it' only goes so far if they're still scoring 35 against you – and if his corner threes aren't falling then he's useless on offense. Although he had a good first half, his ineffectiveness in the second drops his grade.
Grant Williams – C
Grant Williams had a similar season to Ojeleye, except instead of injury costing him playing time it was his shot failing to go in. He shot 43% on threes in the first half, only to fall back to 31% in the second. He fell in and out of favor with coach Brad Stevens during the season, and his playing time dipped accordingly. Here's one example of his playing time, a five game stretch against Charlotte, Oklahoma City, Charlotte, San Antonio and Portland- 18:49, 11:07, 0:35, 8:45, DNP-Coach's Decision. His issue is that he does a lot of things somewhere between okay and good, and nothing great. There just isn't a lot of room in the NBA for guys that don't have a single above average skill other than basketball IQ, and that's the danger Williams finds himself in. He'll have to work hard to develop his shot and come in next year closer to a 43% shooter than a 31% shooter if he wants to find consistent playing time.
Jabari Parker – C-
A late season signing, Parker really didn't do much to change the downward direction the C's were in when he got here. He put up some points, but was really just a bench guy getting easy buckets against more bench guys. By the time Parker signed with Boston, they were already pretty much relegated to the play-in game, and he didn't do anything to change that fate. He played better in the playoffs against the Nets though, scoring 8.4 points in almost 15 minutes a night. Even though his plus/minus numbers look okay, Parker didn't pass the eye test at all. His defense was comically bad at times, and he constantly looked slow and behind the play to me.
Carsen Edwards – D
Two years into his NBA career, after being one of the best scorers in the NCAA his senior year, Edwards is struggling to carve out a niche in the NBA. He's too small to play against starters because he gets abused defensively, and his shot doesn't fall enough on offense to warrant any extended playing time even against backups. For the season, he shot only 28.6% on threes, which is basically unplayable in today's NBA. He spent most of the year just playing in garbage time, and even against other team's end of the bench players he couldn't elevate himself. Basically, Edwards had no impact on this Celtics season and may be in danger of losing his roster spot this offseason.
Luke Kornet – C
Kornet started his Celtics career off hot, scoring 8 and 10 points in his first two games with Boston. Unfortunately, he kind of disappeared after that. A shooting big, he shot only 25% on threes in Boston, and that really limited his offensive contributions. With Boston, he was pretty much what he's been his whole career: a bench guy who will occasionally get hot a hit a few threes, will defend the rim and get a few blocks, but ultimately isn't going to be a real difference maker. On a team that needed as many difference makers as they could get, Kornet certainly wasn't one after his first two games.
Romeo Langford – C+
After receiving an Incomplete grade in the first half because he had yet to play while recovering from offseason surgery, Langford made his season debut in the second half and ended up playing in 18 games. What we saw was an improvement from last season but not by much. When he finally made his debut, Stevens fed him minutes to see if he could make a positive impact on the team. While he played very solid defense, using his length and athleticism to break up passing lanes, his offense is still clearly a work in progress. He averaged only 3.1 points on 27% three point shooting, and only 35% on field goals overall. That's not nearly enough to be anything more than an option off the end of the bench, so Langford will need to work on that during the first healthy offseason of his professional career.
Tacko Fall – C
Once again, I'm not going to be going too hard on the Celtics' two-way guys. The whole point of a two-way contract is that the players aren't ready for full time roles on an NBA roster, and nobody epitomizes that more than Tacko Fall. Sure, his height makes him an interesting project, but it also limits his athleticism and speed. He'll continue to dominate other two-way players in garbage time, catching lobs and stuffing shots around the rim, but he'll struggle against higher level competition. He had some flashes this year of more potential when the Celtics were shorthanded up front, but in the end his ceiling is capped by his lack of mobility and it showed at times this year. Still, the crowd loves Tacko Time, so he's a valuable bench piece if for nothing more than getting the crowd back into a game, which was tough this year with limited capacity for most of the season.
Tremont Waters – C
Waters gets the same grade as Tacko for most of the same reasons. His game is more developed than Fall, and he seems to see the court really well as evidenced by some of the nifty passes he throws, but Tacko has more of an impact on the crowd, so it evens out for me. Waters had some chances to play against starters this season and it didn't go so well, but he generally did a good job of running the show with the reserves at the end of games. In that role, he performed up to expectations, but he struggled to play above that level, so he also gets a C.
Team Grade – C+
This season was a real disappointment. Things just never got going in the right direction, whether that was because of injuries, lack of chemistry, or a coach that had lost the locker room. Jayson Tatum and Jaylen Brown are stars, Robert Williams showed that his potential is being reached, and Payton Pritchard showed that he can be a backup in this league. Aside from those four, pretty much everyone else underperformed compared to what could have been reasonably expected from them. There's really no reason for a team with as much talent at the top as this one to have ended up as the 7 seed, but that's exactly what happened. Things need to change in Boston if the Celtics want to get back to contending for titles instead of barely making the playoffs at all. The front office has already changed with Danny Ainge stepping aside and Brad Stevens replacing him, and now the roster must as well. Things just never came together as they should have, so it's time to shake it up and move onto next season.