Coming off a very disappointing 2020 season, the New England Patriots find themselves in a situation they rarely have under coach Bill Belichick: picking in the first half of the first round. In a draft that likely will set the groundwork for the next era of Patriots football, it's critical that Belichick and the rest of the Patriots front office hit on their draft picks, no easy task given the lack of scouting opportunities relative to past years due to the ongoing COVID-19 pandemic. Needing to find their QB of the future, offensive skill players, and defensive depth, let's see what they chose to do with the 10 picks they went into Thursday night with.
Round 1 – #15 Overall
The Pick: Mac Jones – QB, Alabama
After months of speculation about whether the Patriots would trade up or down, they decided to do nothing and let their guy fall to them. One of the biggest risers during the pre-draft process, Jones was mentioned as high as #3 to the 49ers in the weeks leading up to the draft. Any time you can get a talent that was seen as an (admittedly unlikely) possibility that high all the way down at #15, while simultaneously addressing the single most important position in the modern NFL? That's a great pick. While he probably won't be the Day 1 starter, the future of the Patriots quarterback position is undoubtedly Michael McCorkle Jones.
Jones isn't going to blow anyone away with his athleticism or Patrick Mahomes/Josh Allen-type arm strength, but his game seems tailored to the New England offense. Last year at Alabama, he completed a college record 77.4% of his passes, throwing 41 touchdowns to FOUR interceptions. Coming off of 20 years of an offense based around limiting turnovers and completing a high percentage of passing attempts, Jones fits those characteristics to a T. While the knock that goes against all Alabama quarterbacks, that they only look good because of the insane supporting cast they have around them, will certainly be held against him, Jones feels closer to Jalen Hurts and Tua Tagovailoa than A.J. McCarron. The fact that Belichick is close friends with Alabama coach Nick Saban also means that New England got the inside scoop on whether Jones has what it takes. All in all, this was pretty much the best case scenario for the Pats. They got their guy, the QB who fits best in their pre-existing system, without having to give up additional assets to trade up. Grade: A+
Round 2 – #38 Overall
The Pick: Christian Barmore – DT, Alabama
This pick has the potential to look like one of the biggest steals of the draft in a few years. Barmore, yet another Alabama product, has been one of the most dominant pass-rushing defensive tackles in the past few years, and was a consensus top-20 talent in this class. The Patriots saw him sliding into the middle of the second round and traded up to snag him before anyone else could, showing how much they liked the player. Although they had to give up their second rounder and two fourths to get him, Barmore may turn out to be very much worth that price.
Much like Mac Jones, New England surely did their research with Nick Saban to get to know the player beyond the tape, which was truly dominant. His 92.2 pass rush rating over the last two seasons from the DT spot was the highest in all of college football. Unlike other DT's on the roster, Barmore has the potential to be a true three-down player, putting his big body to work to stop the run while also clearly excelling against the pass. Not since Vince Wilfork have the Pats had a DT who is set up to dominate like Barmore has the ability to. The Patriots identified a player who was falling and knew he was too good to let fall any further so they went out and got him. Getting the best DT in the draft in the second round, even at the cost of a few extra picks to move up to grab him, is well worth it. Grade: A
Round 3 – #96 Overall
The Pick: Ronnie Perkins – DE, Oklahoma
This is a bit of a boom or bust pick for New England, and I love it. On one hand, Perkins has all the physical tools to be the Patriots best pure pass rusher since Chandler Jones: 6'3, 245 pounds, and production against a high level college schedule (5.5 sacks in only six games last year). He was the only defensive lineman to post a 90 grade against both the pass and the rush last year, which speaks to the fact that when on the field, this kid can play.
The issue is that last year, he didn't stay on the field. He missed five games due to a suspension for a failed drug test, which is a red flag that can occasionally point to larger character issues. By all accounts, though, he seems to be a good kid, and his interview with Steve Belichick must have gone well enough for Bill to spend a third-round pick on him. I love that the Patriots went after a highly-talented player who slipped due to minor off-field questions, something they haven't done recently. Hopefully, New England will be the perfect place for Perkins to move past that failed test and flourish. Because of the risk involved, this grade drops a little, but it still gets a high grade because of the likelihood, in my eyes, that this could end up being a great pick for the Patriots. Grade: B+
Round 4 – #120 Overall
The Pick: Rhamondre Stevenson – RB, Oklahoma
This is another pick that I like, although not as much as other selections New England made before this. With Rex Burkhead still unsigned, Sony Michel unlikely to return after this season, and James White now an older running back by NFL standards at 29-years-old, the Patriots came into this draft looking to add somebody to the RB Room. They settled on Stevenson, a 6'0 227 pound, physical runner who has drawn some comparisons to LeGarrette Blount. When Blount was here, his physicality set the tone for what turned into a heavy, tough football team, and it was awesome to watch. If Stevenson can do anything like that, this pick is a slam dunk.
However, this team already has Damien Harris, who after last season looks primed to be their lead back for at least the next few years, and they still have a need at wide receiver. After not addressing it in the first three rounds (not that I'm complaining about any of those picks), it would have made more sense to target a WR in a deep draft in this slot. The Patriots are never a team that drafts for need, instead choosing the best player available that fits with them and figuring out a fit later, but there were some good WR talents available to them such as Tylan Wallace or Jaelon Darden that would have filled a bigger hole for the Pats. Stevenson was also caught up in the same failed drug test issue that previous pick Ronnie Perkins found himself in, but the fact that New England took both of them really must point to the fact that Bill Belichick doesn't believe this will be an issue moving forward. Stevenson's chances of being a good player for this team are still high, but it would have been better had they targeted a WR. Grade: B
Round 5 – #177 Overall
The Pick: Cameron McGrone – LB, Michigan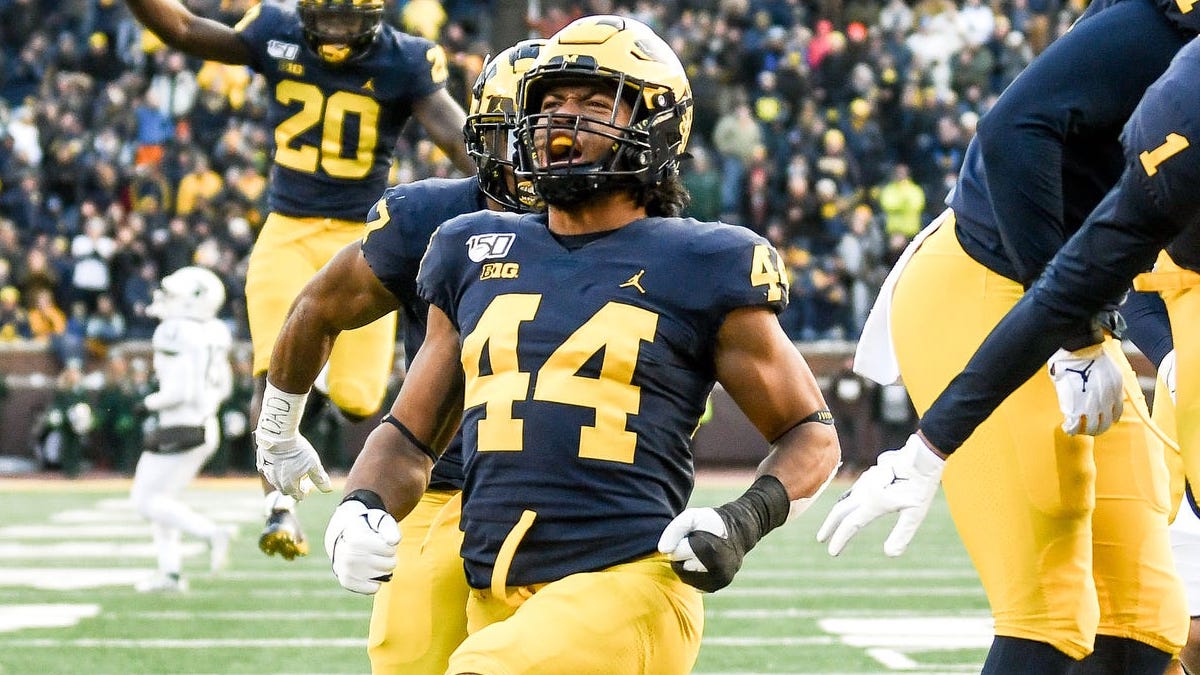 This marks the third straight year that the Pats have grabbed a linebacker from Michigan, following Chase Winovich and Josh Uche, and McGrone looks to be a player that has room to grow. He's coming off of a knee injury, but he is only 20 years old with 19 college games to his name. At this point, his tape suggests that he'll primarily be an early-down player, as he struggles against the pass but is a plus downhill defender against the run. And of course, the question will be if he can stay healthy following the torn ACL that he is currently working back from.
I like this pick from the perspective that McGrone is still very young and should have plenty of development left in his game, and that the current trend is towards athletic LB's who can play downhill, which profiles as something that McGrone might be able to do even early in his career. Considering we don't really know how much McGrone will be able to contribute this upcoming season and season's to come, it's tough to initially grade this pick. He may well turn into a good player, maybe even a starter for this team, or his injury will limit his ability to get into the system and he may never catch on. I like the upside of this pick, but see that there's a clear path to it not working out as well. Grade: B
Round 6 – #188 Overall
The Pick: Joshuah Bledsoe – S, Missouri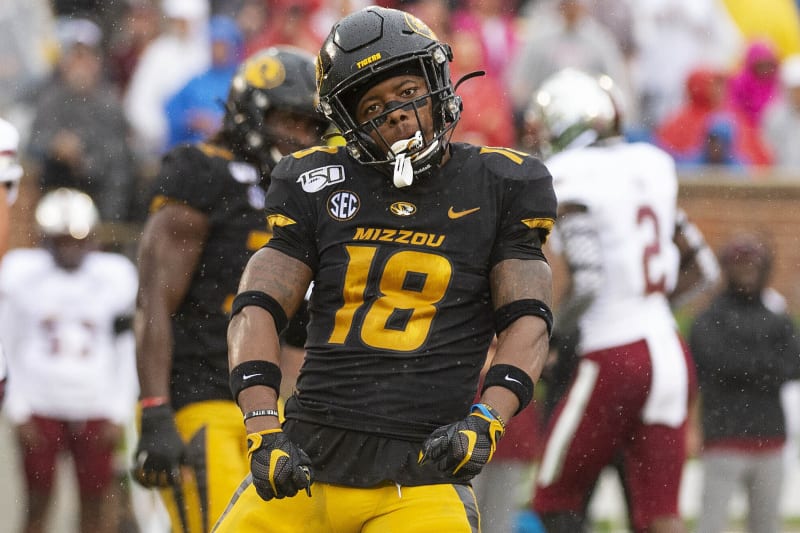 By the sixth round, the stars are gone and the team is just looking to add players that have one or two standout skills that they can leverage to their advantage. With Bledsoe, his brain and his aggressiveness on the field are going to be his path to earning playing time. The defensive play-caller on the field at Missouri, he understands the game at a high level. His aggressiveness speaks to the mindset required of special teamers, who put their body on the line every week, and special teams are Bledsoe's road to getting on the field, to start at least.
With Devin McCourty still in town, and second year player Kyle Dugger having had a good rookie year to build off, there won't be a lot of time for Bledsoe early on. But by working hard and doing what's asked of him, by the end of the year he could crack the defensive backfield rotation. Safety is one position that New England seems set with for this upcoming season, but this is more of a developmental pick than anything. Grade: C
Round 6 – #197 Overall
The Pick: William Sherman – OT, Colorado
After last year's sixth round offensive lineman, Michael Onwenu, was a starter from Day 1 and never showed any rookie struggles, and with New England's ability to always find an impact player in the late rounds, I'm pretty sure Sherman is guaranteed to be a Pro Bowler by year three in the league. Too strong? Probably. But he does fit the same kind of profile that Onwenu did last year of a thick, undersized, shorter tackle. He'll primarily serve as a depth option, but his flexibility between guard and tackle should allow him to see some playing time if the Pats deal with injuries to their starters. If Sherman does anything close to what Onwenu did last year, then this obviously is an A+, but it will get a lower grade for the time being. Grade: C
Round 7 – #242 Overall
The Pick: Tre Nixon – WR, UCF
Hey! A wide receiver! What a pleasant surprise for the Patriots' final selection of the weekend. Now, they took a wide receiver who likely would have gone undrafted had they not taken him, but a wide receiver is a wide receiver. I can't complain that they took someone, but I'm not sure if Nixon was the right guy. He ran a 4.44 40-yard dash, and his 3-cone drill, something that the Patriots love to look heavily at, was 6.81, which was 11th out of 53 wide receivers at the Combine. This is clearly a guy that they felt good about and think that he can develop into something for them.
Although I wish they had picked someone earlier in the draft, Nixon has good speed and could turn into a deep weapon for them, something that was a strength of new quarterback Mac Jones at Alabama. He won't have a huge role thanks to the offseason signings that New England has, but he could carve out a role if he develops chemistry in training camp. This pick gets a lower grade because they waited until the last round to do anything to address their WR position, and ended up settling on someone they could have gotten for less after the draft. Grade: C-
Final Grade
This draft is a major success for the Patriots. While grabbing a wide receiver in the early rounds would have been nice, there's no way to complain about getting the quarterback of the future, a stud defensive lineman, and another defensive lineman that's oozing with potential, all of whom were projected to go well before the Patriots got them. After that, they picked up a couple of players that can contribute in limited roles in the short term before hopefully developing into key pieces in the future. And then with their last few picks, they grabbed developmental prospects who have potential to be worth a lot more than their draft position.
Overall, there's not a lot to complain about for Patriots fans as a result of their picks. Their first two picks, Mac Jones and Christian Barmore, have the ability to be impact, key players for this team this season, and that is enormous. As the Pats' top two selections, they're weighted much more heavily than some of the depth guys they took later on. Right now, those picks look amazing, but the real test will be once the pads go on. But for now, optimism is high in New England after a successful draft weekend that restocked the cupboards for the next era of New England Patriots football. Final Grade: A
Click on the images below to shop for new Patriots gear!