The NFL Draft is right around the corner, with the first round selections set to kick off next Thursday. Maybe more so than any other draft, there are a ton of unknowns heading into the big day, as the top heavy quarterback class plays a big factor into that for sure. With that in mind, lets take a look at some of the biggest questions as we head into the draft, and what we may see happen as a result.
Who is Kyle Shanahan's QB?
It's pretty much a foregone conclusion that the San Francisco 49ers traded up to draft a QB. It's just a matter of who that QB will be when they turn in their draft pick on April 29th. With Trevor Lawrence already having the Jacksonville Jaguars playbook, he's going first to the Jaguars. With the second pick, Zach Wilson to the New York Jets is a near lock, leaving Justin Fields, Mac Jones, and Trey Lance on the board for the 49ers. Prior speculation has Mac Jones being the pick at three, but recently Justin Fields has taken that spot as the now rumored QB. However, the 49ers were heavily involved in Trey Lance's second pro day as Lance worked with QB coach John Beck at their request and performed drills the 49ers requested. Former 49ers WR Jordan Matthews went out for the passes at Lance's pro day, which could mean nothing but, who knows, it could mean a lot. The same could also be said about Justin Fields as Beck has been working with him for months. At this point, the 49ers will determine the path this draft takes, and the NFL world anxiously awaits their decision with the #3 pick.
Falcons Draft Decision? Trade Out, Future QB or Other Routes?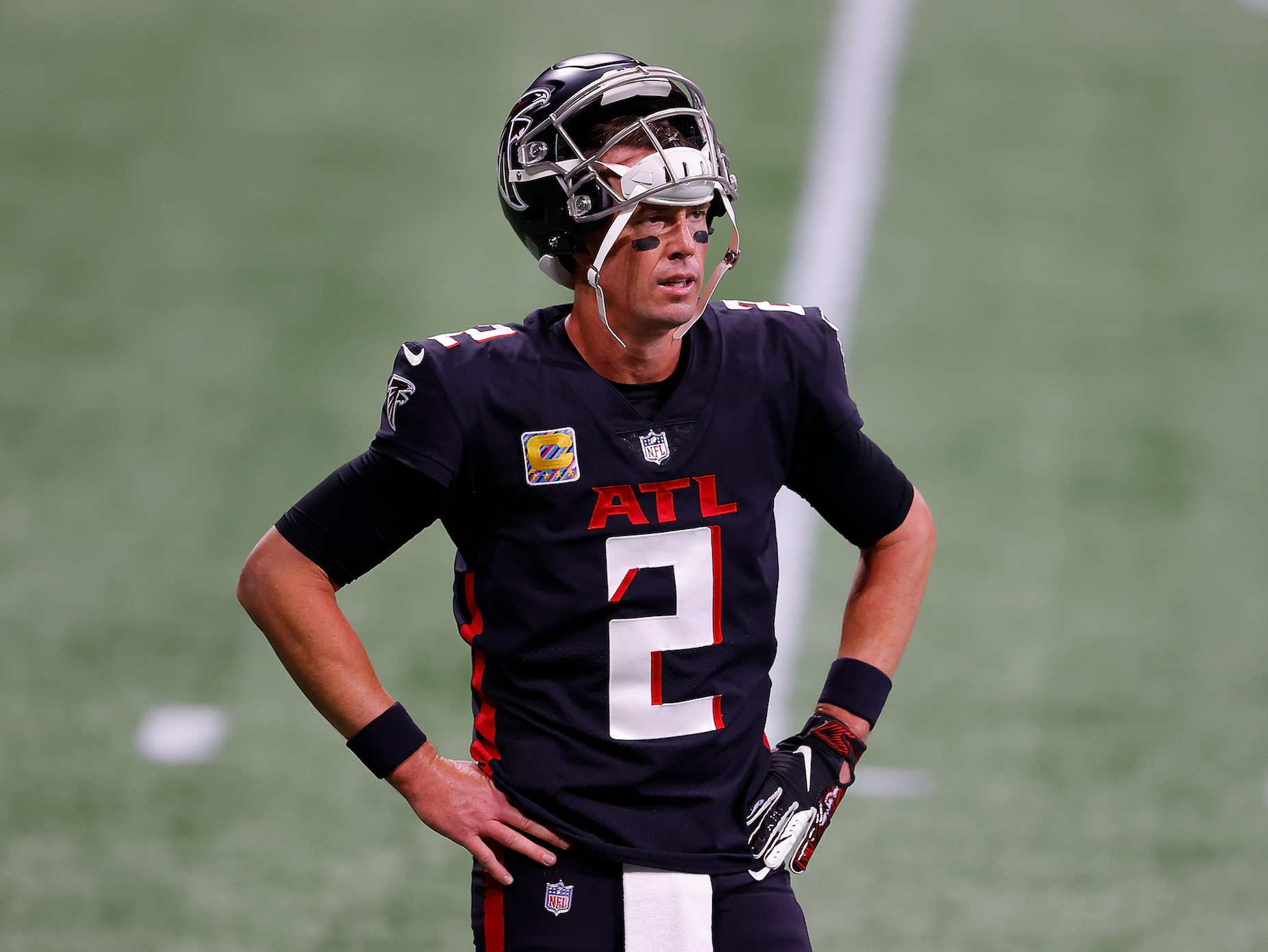 The Atlanta Falcons could potentially receive a king's ransom from a QB needy team like the New England Patriots, Denver Broncos, Washington Football Team, or Chicago Bears. Trading out of four would allow them to accrue additional draft picks no matter if they are in win-now mode or rebuild mode. Simultaneously, the Falcons might never have this opportunity to select their future QB this high for a while, so why pass on it? Another route at four could be to take the generational-versatile weapon in Kyle Pitts. Maybe bring the Georgia-born QB back home in Justin Fields even and have him sit behind Matt Ryan this season to develop. The only reason the Falcons decision at #4 isn't receiving as much attention is because of the 49ers dilemma one spot ahead of them, but Atlanta's decision with the #4 pick will have huge implications on the rest of the draft as well.
What team or teams, if any will trade up to get their guy?
As previously mentioned, there are a number of teams that could potentially looking to add their quarterback of the future in this draft, but that may require them to make a move up on the board to do so. The four teams we just mentioned as potential trade partners for the Falcons (Patriots, Broncos, Football Team, & Bears) could try to swing a deal with another team that wouldn't be as costly as moving up to #4 would be. Of all these teams, the Bears trading up seems the most likely, as they have a history of mortgaging their future to get a guy they like in the past. These teams may look to be more aggressive in moving up as the draft gets closer, so it's something to keep an eye on in the week leading up to the draft as well.
How many QBs will go in the first round?
Currently, the quarterbacks guaranteed to go in the first round are Trevor Lawrence, Zach Wilson, Trey Lance, Justin Fields, and Mac Jones. That would put the total number at 5 QBs taken in the first round however, there is potential for an additional QB to go if a team misses their guy. Who that sixth QB would be is up for debate between Kellen Mond and Kyle Trask, but a team could reach to get one of them if they miss out on one of the top five. Both a projected to be either second or third round picks, but we could see a late first round team take a flier on them if they see fit.
Will the Bengals opt to reunite Burrow and Chase?
Joe Burrow and Ja'Marr Chase had chemistry that resulted in a National Championship and a high powered offense with the big play possibility on every play during their time at LSU. So why wouldn't you want to reunite the two in hopes to continue what they started in college? This year's offensive tackle class is rather deep and using their second round pick on a tackle could prove to be helpful while also adding Chase. With the Bengals sitting at #5, and Chase being the top wideout in the class, this seems like a logical fit, the question is whether the Bengals will pull the trigger.
Where will Kyle Pitts get drafted?
Throughout the draft process, Kyle Pitts has been one of the most talked-about prospects in this years' class due to his unique and versatile skill set. Pitts is too big for most cornerbacks and too fast for linebackers making him a matchup nightmare for opposing defenses. Pitts has received pro comparisons to Darren Waller, Travis Kelce, Tony Gonzalez and, Calvin Johnson, which are not your typical comparisons that just any prospect gets. It now just comes down to where Pitts lands? Pitts seemed destined for a top 10 selection, so the Falcons, Miami Dolphins, Detroit Lions, or Bengals could be teams looking to add the potentially generational talent.
What will the Patriots do at #15?
Ever since the New England Patriots came out and dominated the free agency period, there has been a ton of chatter regarding what they will do with their #15 draft pick. They've been rumored to be trading up, down, staying in the same spot, and pretty much everything in between. After free agency, the Patriots big area of need is quarterback, but they would probably need to move up in order to get a first round guy. They could also wait until the second or third round, to pick up a guy like Mond or Trask, which seems to be more likely at this point. They could move down too, with rumors recently coming out about a potential trade for Packers QB Jordan Love, which could be worth watching over the next couple of days. If they end up staying put, they will probably have to settle for adding a skill position player, with wide receiver and linebacker being two potential areas that could be addressed. The Patriots earned a lot of attention with their free agency frenzy, and what they end up doing with their top pick is one of the most compelling storylines of the draft.
Click on the images below to shop for new NFL gear!