As most people expected, the Boston Bruins were active at the NHL trade deadline yesterday, striking deals with both the Ottawa Senators and the Buffalo Sabres. The first move came late Sunday night with the Bruins sending a 2022 3rd round pick to Ottawa for left-shot defenseman Mike Reilly. They then made their only other move a few hours later, one of the bigger trades of the day across the NHL. The Bruins received left winger Taylor Hall and center Curtis Lazar for left winger Anders Bjork and a 2nd round draft pick this year. Let's take a look at the Bruins additions and how they will help the team moving forward.
Taylor Hall
The Bruins biggest addition at the deadline was undoubtedly Taylor Hall coming over from the Sabres. Hall is a player who is basically the definition of "high risk, high reward". The former #1 overall draft pick is one of the more skilled players in the league when he is playing at the top of his game, but he has been ice cold this year with just two goals on the season. Hall is just 3 years removed from his MVP season with the New Jersey Devils, but when he laces up with the Bruins this week, it will be the fourth team he's played for in the last two seasons. There have been rumors that have swirled around for years that Hall isn't focused on winning and that he hasn't been the greatest teammate, which is shown based on the fact that he has now played for 5 teams in 11 seasons.
Hall's first comments since joining the Bruins are a good start though, as he said he's excited to come to Boston, and he knows he won't be the focal point of the Bruins. This should be a good thing for the 29 year old forward, as he has been seen as the guy who has to be the star on most teams he's played for. Having some of that pressure taken off of him by Bruins top players like Patrice Bergeron, Brad Marchand, and David Pastrnak should help improve his play. With so much potential that has been wasted, one would hope that Hall can put it all together and be a significant contributor for the Bruins this season. For every factor that would make Hall a good addition to the Bruins, there is another risk to consider, but at the end of the day, what it really comes down to is whether or not Hall wants to be in Boston and is willing to put in the work to bring his game back to MVP form. 
It's also a good sign that the Bruins are willing to take a shot and bring real talent into Boston, arguably their biggest trade deadline move since bringing in Rick Nash in 2018. It's clear that GM Don Sweeney recognized the Bruins lack of ability to score 5-on-5, so he made a move in the hopes of improving the team's goal scoring. Head Coach Bruce Cassidy will have options when figuring out where to put Hall in the lineup. Hall will slide somewhere into the top 6 of the lineup in all likelihood but where exactly that will be is the question. He could play on a line with Bergeron and Marchand or David Krejci and Pastrnak, but keeping the perfection line apart could be detrimental to the Bruins offense. In a situation where Cassidy decides to keep the top line together, it is also very possible that he plays with Krejci and Craig Smith or Jake DeBrusk. Adding Hall to the squad has the potential to be a huge win for the Bruins, but they will need to put him in the right spot in order for him to be successful.
Curtis Lazar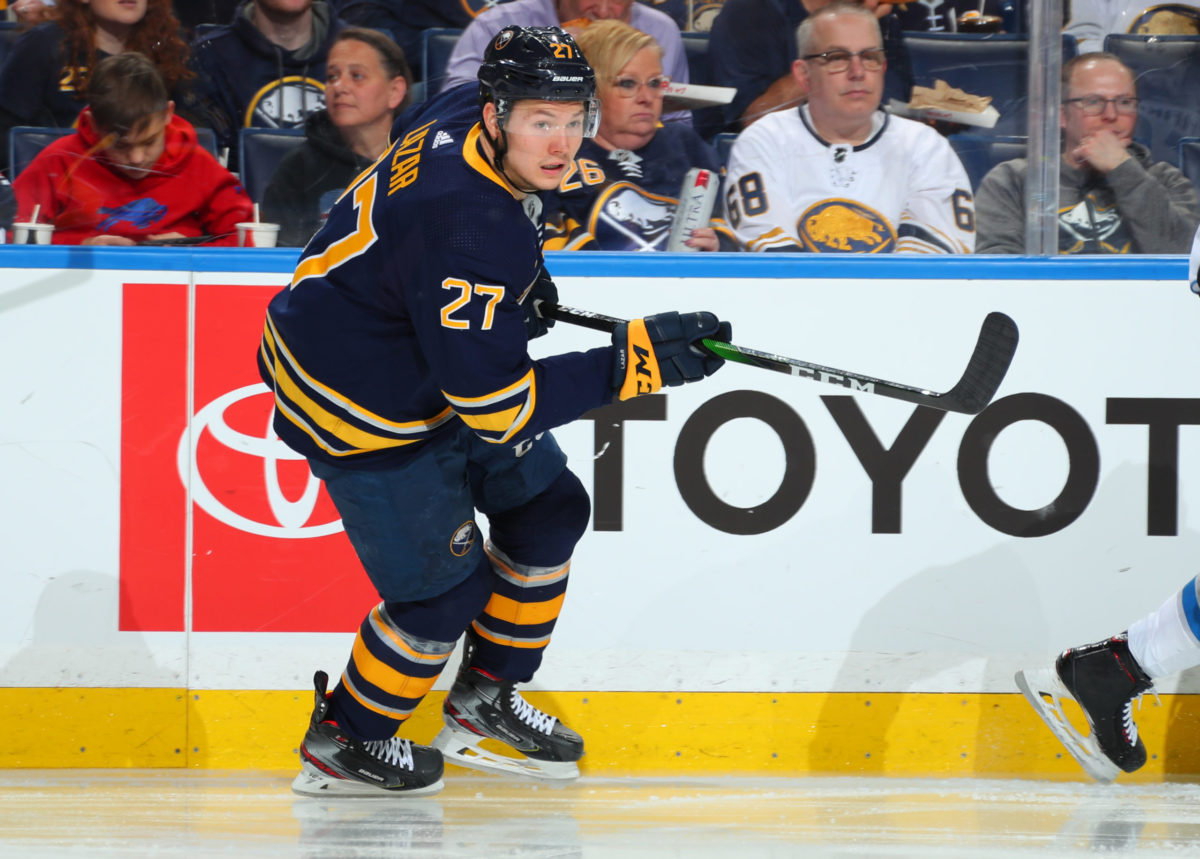 Curtis Lazar is a former first round draft pick, originally drafted by the Ottawa Senators back in 2013. A two-way forward, Lazar brings in decent depth scoring with 5 goals and 4 assists on the season for Buffalo. Similar to Hall, Lazar never really lived up to his full potential in the NHL as he hasn't scored over 20 points at any point in his career. He has spent significant time in the AHL throughout his professional career and has only passed the 60 game mark in the NHL 3 times throughout his career. Despite being a career journeyman depth forward, Lazar has the potential to be valuable to the Bruins. The bottom 6 forwards have been disappointing this season, and Lazar will be tied for 6th most goals on the team when he makes it onto the official roster. So long as he is an upgrade to Anders Bjork's two goals this season, who he is essentially replacing in the lineup, he will be a welcome addition to the offense. If he isn't able to produce at an acceptable level, the Bruins will only be paying him less than a million dollars so he isn't a huge risk financially. He could end up being a taxi squad or AHL player should he truly struggle, but he should be able to contribute to an offense that has trouble with goal scoring.
Mike Reilly
The Bruins just recently lost a game to the Washington Capitals 8-1, with the 6 defensemen on the ice being Steven Kampfer, Jack Ahcan, Jeremy Lauzon, Jakub Zboril, Connor Clifton, and Jarred Tinordi. This is not a true NHL defensive core, but the Bruins have had to make due with what they have for the past few weeks as they've been missing 4 of their 6 typical starting defensemen. Injuries have plagued the defense all year long, so the Bruins front office decided to bring in a defenseman who could fill a role while the Bruins wait for their injured players to return. Mike Reilly is a left-shot defenseman who comes from Ottawa, a bottom feeding team this season. Reilly has 19 assists this season, the most points in any season in his career to this point. Although he's been in the league since 2015, he is yet to reach the 60 game mark in a single season. His play this season has been encouraging however as he is only a -2 on a team that has given up the most goals in the NHL by a lot. Ideally, Reilly will be between a 5th and 7th defenseman when the defense is fully healthy, but for now he could see significant time in the top 4.
Click on the images below to shop for new Bruins gear!