The legal tampering period is less than 24 hours away, and the Dolphins seem poised to pick up a new starting running back this offseason. They have been rumored to be interested in a number of different running backs, whether it be through free agency, a trade, or the draft. With Aaron Jones recently resigning with the Green Bay Packers, it takes the best running back off the board, and one that the Dolphins were heavily linked to. The Dolphins are still expected to be active in the running back market, so here are four running backs they could look to add this offseason.
James Conner, Pittsburgh Steelers
James Conner is a first-time free agent, and he seems set to move on from the Pittsburgh Steelers. Conner seemed to only succeed when running behind an elite offensive line, hence his 2018 Pro Bowl season. Conner has struggled to make it through a full season without getting injured, as he's missed nine games over the past two seasons. Miami has an incomplete offensive line, and would not be the best fit for Conner unless they end up drafting a lineman with one of their two first round picks. Conner isn't necessarily going to be a feature back, unless the offensive line is a top 5 unit in the league. Conner is probably best utilized out of two-back sets, where the attention won't be focused entirely on himself, so he could conceivably form a nice pairing with current Dolphins RB Myles Gaskin. Depending on how his market forms, Conner could be a solid low cost option, and his potential ceiling would make him worth a cheap price tag.
Najee Harris, Alabama
With Aaron Jones going back to Green Bay, Najee Harris seems like a logical selection for the Dolphins at the 18th pick. He is built like Derrick Henry, as he's a big guy with incredible strength and a surprising amount of speed for a person his size. Harris can blow through defenders, and won't need as much blocking as guys like Conner or Jones. Just like Derrick Henry, he has to be tackled on the lower body, but the defense often tries to tackle him high, and he makes them pay. Harris could be a fantastic running back option for Miami, as he also offers great pass blocking abilities. It's unknown whether Tua Tagovailoa will be the starting QB next season, but he would probably feel a lot better with Harris protecting him. Harris offers a solid all around running back presence for the Dolphins in the first round if they feel so inclined to take him.
Adrian Peterson, Detroit Lions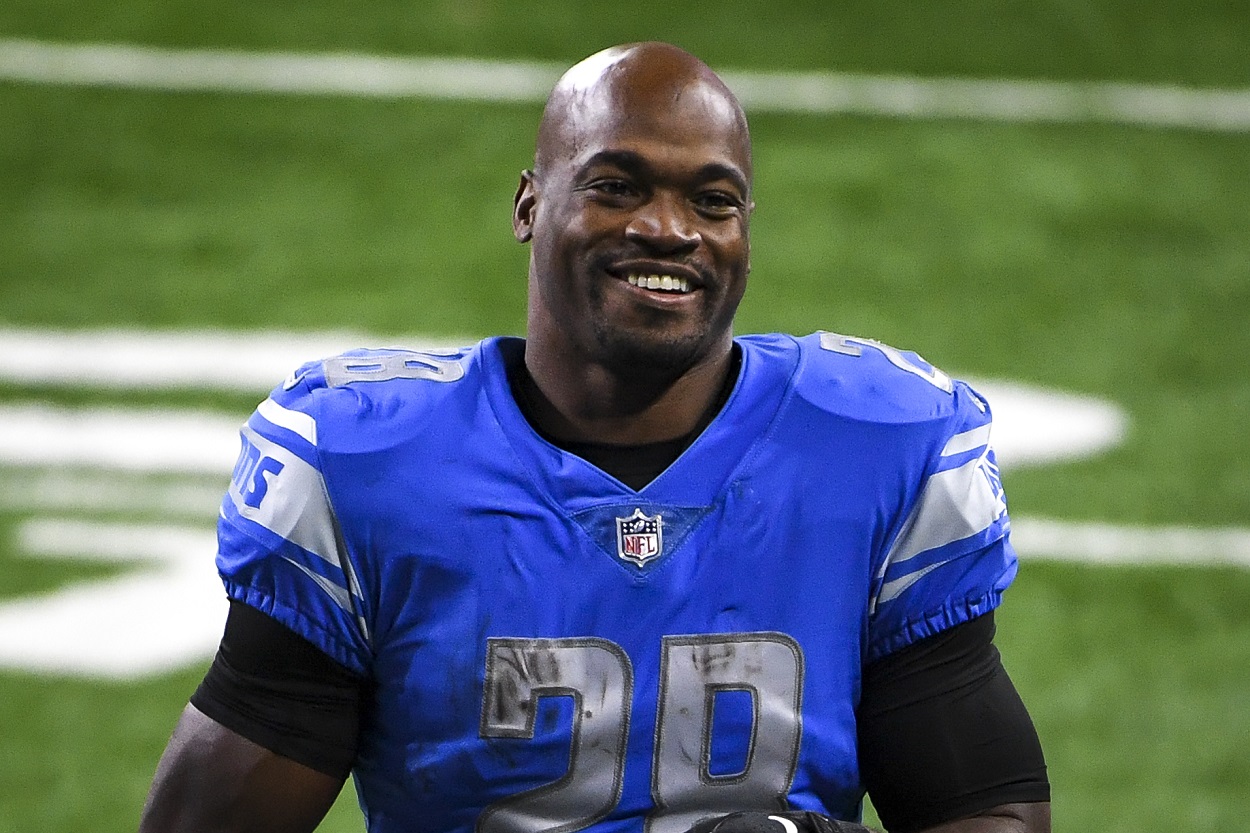 A potential running back target that hasn't been discussed much is Adrian Peterson. The 35-year-old running back has bounced from team-to-team over the past years, and he could look to end his career in South Florida. Peterson would be a good veteran presence on a young team, and he could help in the development of some of the younger backs on the team. This move wouldn't prevent Miami from drafting an RB, it just means they won't be forced to if they don't want to. Peterson ran for 1042 yards as recently as 2018 with Washington, so he still has the ability to pick up yards when called upon. Obviously, he wouldn't be a long-term answer for the Fins, but he can be a mentor to a young Dolphins running back room. Although there hasn't been much talk of a potential deal here, it could be a logical option for Miami.
Jamaal Williams, Green Bay Packers
Another free agent who could be made expendable by Jones deal with Green Bay is Jamaal Williams. Williams isn't the same type of player Aaron Jones is, but he could be a good addition to Myles Gaskin in the RB room. Williams just came off a 505 rushing yard season with two touchdowns, as he would play a solid complement to Jones for Green Bay. He would find himself in a similar situation in Miami where he would share time with Gaskin, but Miami seems to be looking for a new full-time starter. If that plan falls through, Williams is a good complement back and could make Miami a bit stronger on the offensive side.
Click on the images below to shop for new Dolphins gear!