With the trade deadline rapidly approaching, several teams look poised to be major players at the deadline. One team that has been talked about constantly is the Boston Celtics. The Celtics haven't lived up to their expectations from the preseason, and have had a lot of ups and downs in the first half of the season. They have plenty of young players, draft picks, and a trade exception from Gordon Hayward leaving in the offseason, that could all be used to help the team get some help for their young stars Jayson Tatum and Jaylen Brown. Despite all of these signs pointing towards the Celtics front office pulling off a trade, it may be in the Celtics best interest to stand pat once again at the deadline. Let's take a look at three reasons the Celtics should hold off on making a huge trade come the trade deadline.
The team hasn't been fully healthy yet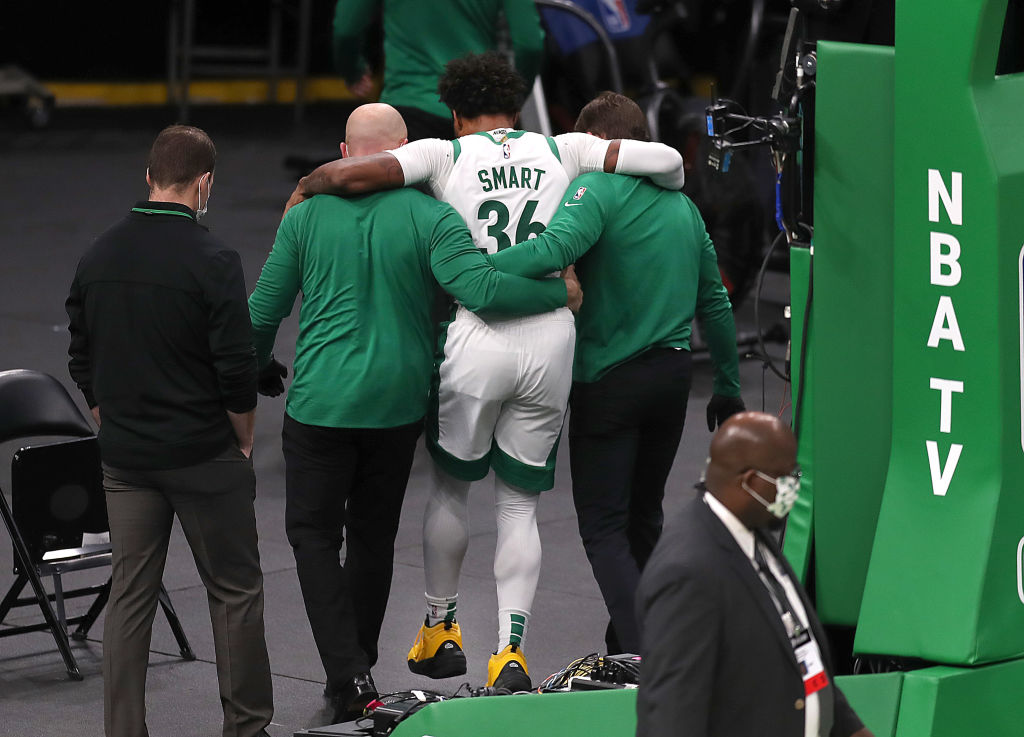 The first major reason why the Celtics shouldn't make a trade at the deadline is that the team has been plagued with injuries in the first half of the season. Starting point guard Kemba Walker would miss the first month or so of the season, and has missed several back to backs since he has returned. Several players missed time due to COVID-19 protocols, with the biggest name being Jayson Tatum, who missed nearly two weeks worth of basketball in which the team struggled mightily during his absence. After getting Tatum and others back from Health and Safety protocols, Marcus Smart would go down with an injury that would keep him out until after the All Star break, which lead to a major skid for the Celtics, where they even dropped below .500. 
The starting 5 of Walker, Smart, Tatum, Jaylen Brown, and Daniel Theis have played only a handful of possessions together this season due to injuries. When healthy, that starting 5 made it all the way to the Eastern Conference Finals last season, as Gordon Hayward was injured for most of the playoff run. The Celtics should at least wait and see whether this group can rekindle some of that spark from last season before rushing and making an unnecessary move at the deadline and potentially breaking up a starting 5 that was two wins away from a Finals appearance last season.
Several Young players could develop and fill in the teams holes
Another reason the Celtics should hold off on making a deal is that the roster is loaded with young players who could develop into what the Celtics need. One thing that people forget about Boston is just how young this Celtics roster truly is. A majority of their players are 25 years old or younger and are still trying to adjust to the NBA style of play. However, these young players don't get time to get through those growing pains because the team has such high expectations and can't afford to have a rookie out there constantly making mistakes when they are trying to compete for a championship. 
Guys like Carsen Edwards and Aaron Nesmith haven't gotten much of an opportunity to show what they can do because the simple mistakes a lot of young players make get exposed on a contending team. If they were on a rebuilding team however, they would be able to make some of these mistakes while not having to worry about losing minutes. If given the opportunity both of these guys, along with several others, such as Romeo Langford and Rob Williams, could potentially develop into solid bench players that could provide a spark for the Celtics when needed. Boston just needs to give these young guys some time to develop as they could be the help the team actually needs.
If they keep all of their young guys and give them some opportunities to prove themselves, the Celtics become a lot more flexible. First off, they can find out who out of their young core can actually help this team out down the line. They can decide to keep those guys as they can contribute to the team, and get rid of the guys who are not good and just taking up a roster spot. Secondly, it can also help boost the value of some of these younger guys who are really complete unknowns at this point. Boston could sell high on a solid second half of the season from them and cash in on a superstar player.
Save your assets to make a bigger trade in the offseason
The biggest reason why the Celtics shouldn't make a move at the trade deadline this season is so they can save their assets and make a bigger trade in the offseason. Although there are some big pieces like Nikola Vucevic and Harrison Barnes available right now, the deadline doesn't have a bonafide star player who could come in and make the Celtics favorites right away. If Boston waits until the offseason, more players will become available and the Celtics could be able to get a star who was not available at the deadline. Two names that come to mind are Bradley Beal and Karl-Anthony Towns. 
Although Beal has said several times that he wants to stay in Washington, they could both come to an agreement that he just isn't going to win anything there with the way the roster is currently constructed. They could do something similar to what the Thunder did with Westbrook and trade him to a place of his choosing, and Boston would without a doubt be at the top of his list. Beal is good friends with Tatum, and both players talked about how excited they were to finally be able to play with each other on the same team during the all star break. The Celtics however, would need to stand pat at the deadline to have the assets to get the league's leading scorer.
Karl-Anthony Towns on the other hand is more of a longshot, but is certainly possible. The Timberwolves have won almost nothing with Towns being the centerpiece of the team, as they have only made the playoffs once, back when Jimmy Butler was on the squad. After yet another disappointing season, Minnesota could look to flip Towns and start fresh with a new young core surrounding Anthony Edwards. If Towns does become available, the Celtics would need their assets to get a guy who would fill in their biggest hole, which is the center position.
Click on the images below to shop for new Celtics gear!