The NFL has officially set it's salary cap for the upcoming league year, with the figure sitting at $182.5 million. This is a steep drop off from last season's salary cap, which was set at $198.2 million. The drop off was expected, with COVID-19 leading to heavily reduced revenue for the league and its teams. Regardless, all teams have to be in compliance with the salary cap by next Wednesday when the new league year starts. There are still eight teams over the cap, some by large margins, and there most likely be some tough cuts for teams across the league over the next week.
The New England Patriots find themselves on the opposite end of the spectrum. The Patriots have $68.5 million in cap space, which is the third highest total behind the New York Jets and Jacksonville Jaguars. While most teams in the league will be focusing on trying to create as much cap space as possible before free agency begins, the Patriots can spend the upcoming week gearing up to make a run at some of the top free agents on the market.
With teams struggling to get under the salary cap, let alone create enough space to make offers that players would consider, that creates a huge advantage for the Patriots. The reduced competition gives them a better shot at landing some of the premier targets on the market, and the Patriots should look to pounce.
For example, let's look at Kenny Golladay, who is top wideout on the market as of now. Golladay is only 27 years old, and despite missing a lot of last season with injuries, he's going to get paid. At the minimum, Golladay will get a deal that gives him $15 million per year, with a more accurate expectation being somewhere around $18-20 million per year. As of right now, there are 18 teams who wouldn't be able to give Golladay $18 million for next season without going through some sort of cap gymnastics. Obviously some moves will be made to create cap space by these teams, but it goes to show how much of a leg up the Patriots have on these other teams if they feel so inclined to use it.
This leads to the next big advantage for the Patriots. Teams will look to create cap space by cutting veterans who are on expensive deals. We see it every offseason, but expect to see more than usual this offseason in particular. We've already begun to see it around the league, with old friends Malcolm Butler and Kyle Van Noy getting released by the Tennessee Titans and Miami Dolphins respectively. While a reunion with the Patriots isn't necessarily out of the question, there was another player recently released who is a perfect example of how this situation could help the Patriots even more.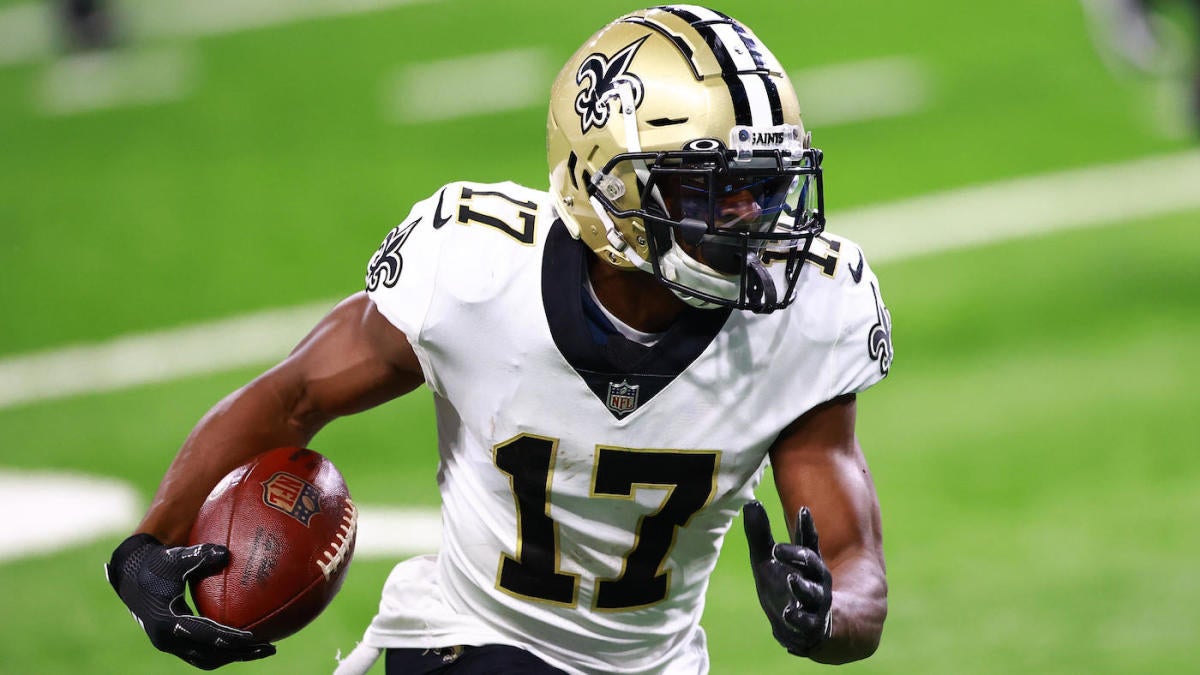 Emmanuel Sanders was cut by the New Orleans Saints earlier today, and is the perfect example of how this could benefit the Patriots. Everytime Sanders hits free agency, he gets linked to the New England Patriots, and it will most likely happen again this offseason. The Patriots are a team in desperate need of wide receivers, so if they were to try to sign Golladay and fail, veterans like Sanders who end up getting cut by their teams provide really great secondary options that coach Bill Belichick will look to scoop up on cheap deals. There will be more players like Sanders who are cap casualties, and it provides the Patriots with the opportunity to have players they weren't expecting to be available fall right into their lap.
Ultimately, the Patriots should be busy players in free agency come next week. They rarely make huge purchases in free agency, but everything is lining up for them to make a run at some of the top players this time around. There are a decent number of wide receivers and tight ends on the market, so players like Golladay, Will Fuller, Hunter Henry, Curtis Samuel, and Jonnu Smith should be at the top of the Patriots wish list. The front seven could also use some reinforcements, and there are numerous players available in that department. Many of the top free agents available are front seven players, and the Patriots should look to add a de facto pass rusher for sure if nothing else. The Patriots are set to enter a pivotal offseason strapped with cash and draft picks, but they have to be used correctly in order for the Patriots to make a charge back into the playoffs next season.
Click on the images below to shop for new Patriots gear!