On Monday, it seemed that the Tuesday, 4 pm EST franchise tag deadline was going to move back due to the salary cap number not yet being announced. Tuesday came and teams tagged players under the assumption the deadline was not moving, and it ended staying put. It would have been the second straight offseason where the franchise tag deadline would have been moved back, but the NFL decided to push forward in an attempt to keep the offseason schedule on track. With that in mind, lets take a look at the action that went down before the deadline, including the latest on Dak Prescott's big extension. (Click here to check out how our franchise tag predictions turned out.)
Denver Broncos: S Justin Simmons
For the second straight year, Justin Simmons was the Broncos' recipient of the franchise tag, as they were unable to reach a long-term deal before the tag deadline. Tagging Simmons is currently projected to cost the Broncos $11.196 million in 2021 in the event they can't reach an extension and Simmons plays out the season under the tag. That's obviously what the Broncos are looking to avoid, as they seem intent on locking up their star safety for the foreseeable future. Simmons has developed into the leader of the Broncos secondary, and picked up over 90 tackles for the third straight season this past year, so this move makes sense.
Carolina Panthers: OT Taylor Moton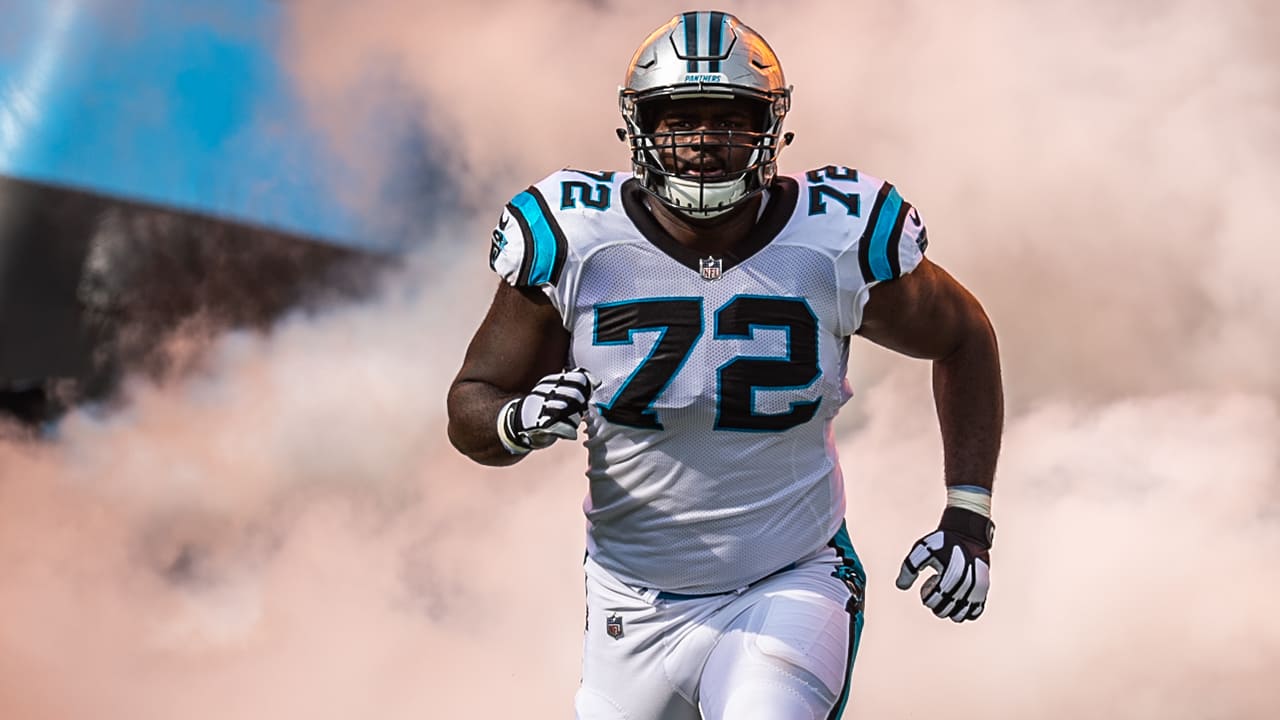 Taylor Moton has provided stability at right tackle for the Panthers since they took him with the 64th pick in the second round back in 2017 out of Western Michigan. Since being made a starter in his second year, Moton has missed just six snaps over three seasons, while only allowing 10 sacks in that time. It appears that franchising Moton will cost the Panthers $13.6 million in 2021. Moton is one of the best young tackles in the game, and the Panthers should do whatever it takes to lock him up to a long term deal. Placing the franchise tag on him allows them time to do so.
New York Jets: S Marcus Maye
Marcus Maye has been a bright spot for a Jets franchise that has struggled mightily for the past few seasons. Last season, Maye had his best year thus far in his four year career, posting 82 tackles, 11 passes defended, two forced fumbles, and two interceptions. Jets' GM Joe Douglas has remained adamant on reaching a long-term deal with Maye to be a leader of the Jets defense going forward. Using the franchise tag will cost the Jets $10.5 million and gives them the ability to have additional time to negotiate with Maye.
Washington Football Team: G Brandon Scherff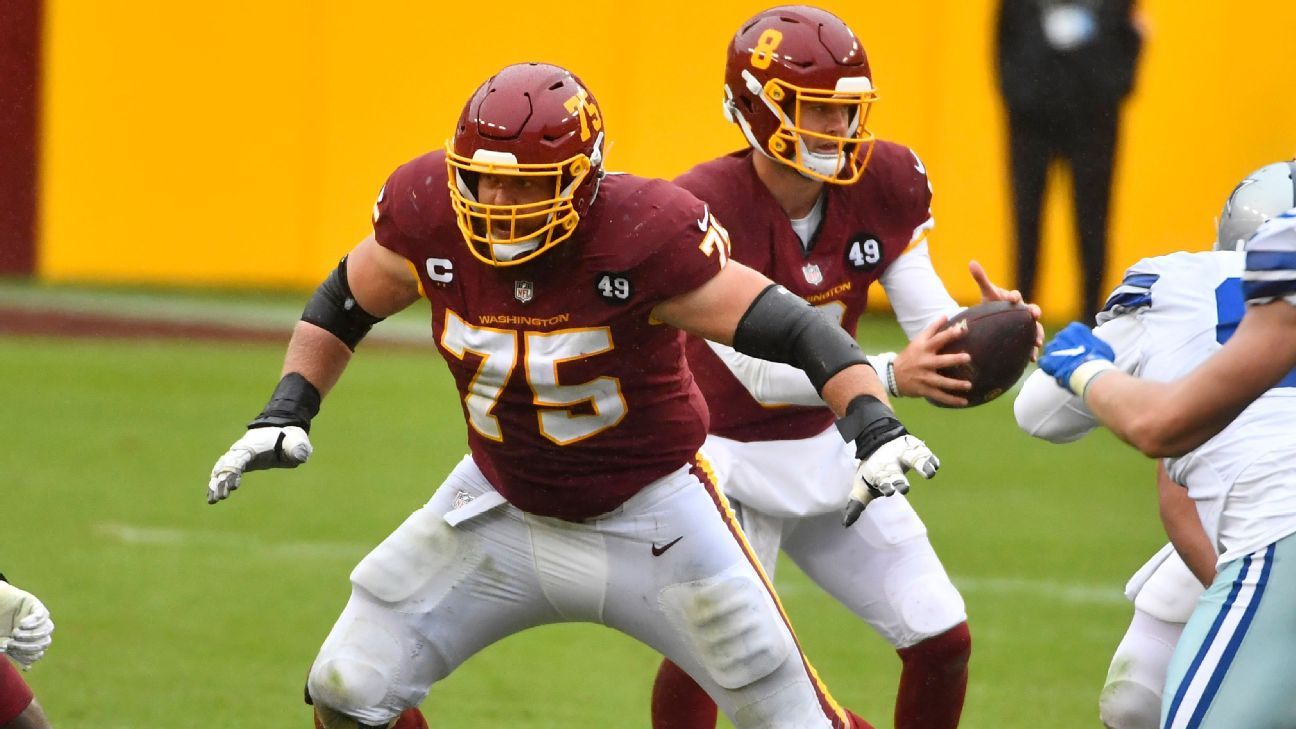 For the second straight year, Brandon Scherff will receive the franchise tag from the Washington Football Team. Scherff has been one of the league's best offensive guards since entering the league in 2015, making four Pro Bowls throughout his career, and recently being named as a First Team All Pro for the 2020 season. Washington is looking to keep Scherff around, and this gives them the opportunity to do so by not letting Scherff hit free agency. The franchise tag will result in a cap hit of $18.03 million in 2021 for the Football Team. That's a pretty large cap hit, so there should some sense of urgency for the Football Team to try to get an extension done in order to avoid having to take that huge hit to their salary cap.
New York Giants: DE Leonard Williams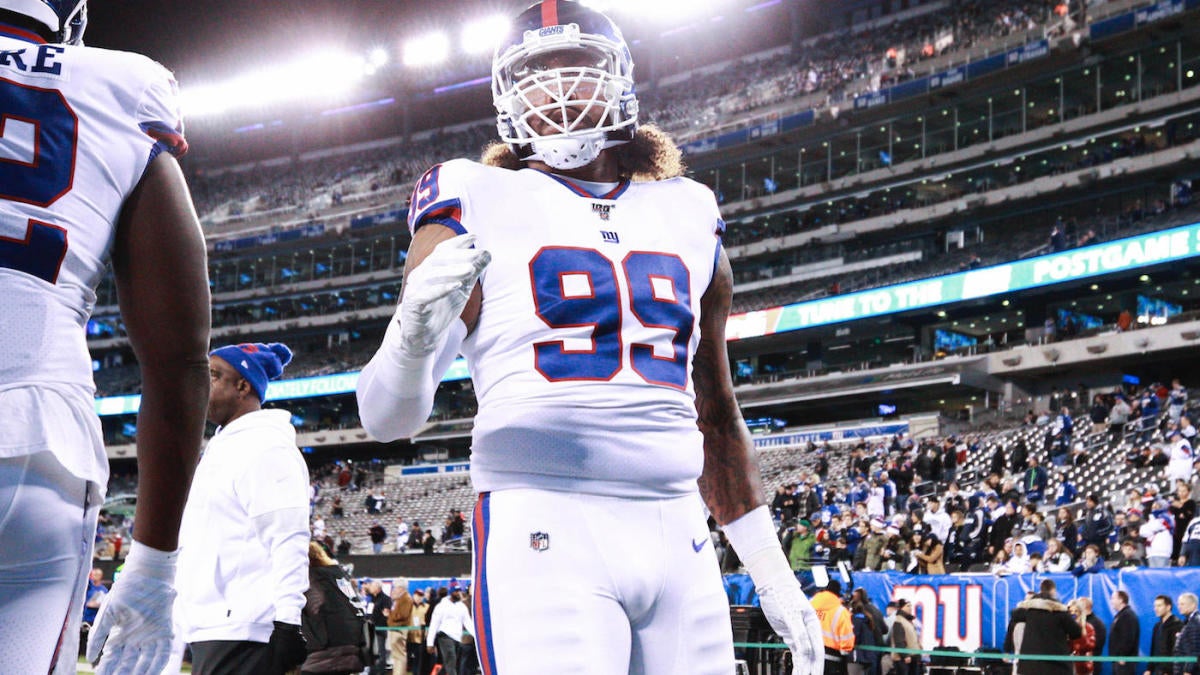 Leonard Williams joined Simmons and Scherff in being the three players franchise tagged for the second straight season. This tag comes as the Giants and Williams were unable to reach a long-term contract before the franchise tag deadline, and the Giants didn't want Williams hitting the open market. The Giants tagged Williams as an interior defensive lineman, which would pay him $19.35 million this year if he plays under the franchise tag. However, Williams has an outstanding grievance that, if won, would classify him as a defensive end and would pay him $21.4 million in 2021. Regardless, it is expected that the Giants and Williams will reach a long term extension before the offseason ends.
Jacksonville Jaguars: OT Cam Robinson
While it was expected that the Jaguars would look to resign Cam Robinson, the franchise tag wasn't something that many were predicting to happen due to the cost associated with it. This move was most likely made with the idea that their number 1 overall draft pick (presumably Trevor Lawrence) needs to be protected at all costs, and franchising Robinson was the Jags last resort. Robinson would have been a top commodity in free agency if the Jaguars opted not to tag him, so this move probably prevented him from leaving Jacksonville for the time being.
Tampa Bay Buccaneers: WR Chris Godwin
It was known that the Buccaneers were going to use the franchise tag this offseason, the only question was who would receive it. Would it be Chris Godwin, Shaq Barrett or Lavonte David? The question has been answered, as Tampa Bay chose to keep their young superstar wide receiver out of Penn State. The Buccaneers will take a cap hit of around $15.8 million in 2021, as they look to keep most of the key pieces of their offense in place for another season. The Bucs reached an extension with David shortly after, and franchising Godwin results in a smaller cap hit than if Tampa was to tag Shaq Barrett for the second straight offseason. Now all eyes will turn to Barrett, as he will draw a lot of attention on the open market.
Chicago Bears: WR Allen Robinson II
The Bears QB situation may be uncertain to say the least, but they will atleast have a de facto #1 WR to throw to next season. Robinson has managed to produce as a top receiver in the league, despite suffering from subpar QB play. There are a number of different avenues the Bears could end up going this offseason, but having Robinson under contract will help provide some consistency for an offense that desperately needs some. Robinson's projected to now make $18 million on the season, which is right in line with what the top receivers are making as well.
New Orleans Saints: S Marcus Williams
With the Saints horrific salary cap situation, using the franchise tag was the last thing anyone expected from the Saints this offseason. While Williams has been a great young ballhawking safety for the Saints, it was thought that they wouldn't be able to retain him due to their salary cap situation. By franchise tagging Williams the Saints will occur a cap hit of around $11.96 million. It will be interesting to see just how the Saints manage to get out of their current cap situation.
Dallas Cowboys: QB Dak Prescott
While Prescott did get franchise tagged, this was only to ensure that they cannot franchise tag him in the future, as that is a condition within his new four-year, $160 million dollar deal. The deal is technically a six year deal, however, it voids after just four and Prescott will be a free agent at 31 years-old, just as the league's new television deal finally kicks in, which is expected to result in a salary cap spike. Finally, Prescott and the Cowboys got the deal that they both wanted after about two years of negotiations.
NOTABLE PLAYERS WHO WEREN'T TAGGED
Detroit Lions, Kenny Golladay, WR: This was one of the more confusing decisions of the day. The Lions seemingly had nothing to lose by tagging Golladay, yet they ended up not doing so anyway. Even if the Lions didn't intend on keeping Golladay, franchising him would allow them time to seek a trade partner, and accrue some more draft picks. Yet now it seems very likely that Golladay will leave for nothing, as he is set to hit the open market as the top wide receiver available.
Green Bay Packers, Aaron Jones, RB: It wasn't really a sure bet that the Packers would franchise Jones, but them not doing so is still somewhat or a surprise. Jones is now set to hit the free agent market as easily the best running back available, and there's a chance he won't return. The Packers are attempting to reach an extension with Jones before he hits the market, but time is working against them. Franchising Jones would have been a safe move for the Packers, but they took a gamble letting Jones hit the market, and it could come back to bite them.
Los Angeles Chargers, Hunter Henry, TE: Another gamble was taken by the Chargers today in letting Henry hit free agency. Henry was franchised last season as well, but the Chargers have been trying to extend him for some time, and franchising him was probably their best route to achieve that. Henry now heads a somewhat weaker tight end pool of free agents, and will have numerous suitors looking to acquire his services. Henry has gone on record saying teams QB situations will affect where he ends up going, so maybe the Chargers are hoping the talent of Justin Herbert will ultimately bring Henry back.
New England Patriots, Joe Thuney, OL/Arizona Cardinals, Haason Reddick, LB: Both Thuney and Reddick weren't expected to get franchised, but them hitting the open market is significant nonetheless. Thuney will command a massive contract that the Patriots don't seem willing to give him, and them trading for Trent Brown from the Raiders this morning was the final nail in the coffin. Reddick's fate was determined when the Cardinals signed J.J. Watt, and much like Thuney, he seems set to command a larger contract than the Cardinals are willing to supply. Both will have numerous suitors, and it will be interesting what their final deals come out to be.
Click on the images below to shop for new NFL gear!