With the Boston Celtics having played 36 games, they have officially reached the halfway mark of this 72 game season. How are they doing compared to what we thought they'd be at this point? Let's take a look. We'll start at the top of the roster and go player by player to see how they're each doing, before settling on a team grade.
Jayson Tatum: A
Once again, Tatum has taken his game to a new level. Since being taken with the #3 pick out of Duke, he has consistently risen above any expectations, and his meteoric rise to the top of the NBA's superstar ranks shows no signs of slowing down. I contemplated giving him an A- because it feels like there's so much more potential still left to be tapped, but his stats are just too good: 24.9 points, 7.1 rebounds, 4.5 assists. Those are career highs across the board. Now just imagine where those numbers might be if he hadn't struggled in his return from COVID. And at only 23 years old, there's so much more room for Tatum's game to grow, but that doesn't change the fact that he's been a force so far this season. He's a star, he's going to continue to be a star, and I can't wait to watch what he does in the second half of the season.
Jaylen Brown: A+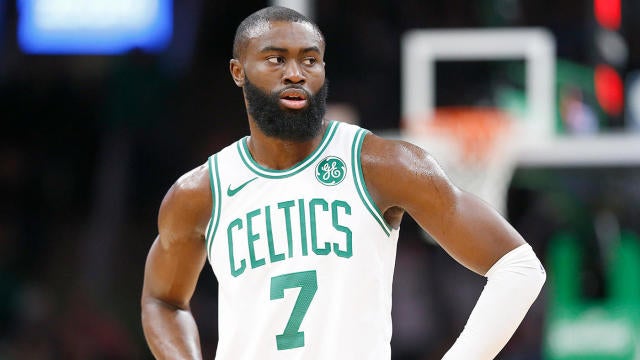 Jaylen Brown has officially arrived. He's putting up a career high 24.7 points per game, a close second to Tatum on the Celtics roster. His shooting splits are the same or higher than his career averages, all while taking far more shots per game than he ever has. Most notably, he's making a career best 77% of his free throws, far higher than the 72% he shot last year, or the 64% he shot in his second year in the league. His ball handling has also taken massive strides, showing off the work he's done to improve that part of his game. While it used to be a weakness, putting Jaylen into a pick-and-roll and letting him either drive to the rim against a center or pull up into a midrange jumper is now a staple of his game. While Tatum gets all the headlines, Brown is more than content to put up numbers in the background, serving as the perfect Robin to Tatum's Batman. His development this year has taken the Celtics' already bright future, and present, up even a level higher. Remember those boos Danny Ainge got for drafting Brown at #3? It's safe to say Brown won't be hearing them ever again. He gets an A+ for his play this year, as his play is one of the biggest reasons the C's have managed to stay above .500 for the season.
Kemba Walker: B-
Here's the hardest grade to decide on the whole roster. How much does Walker deserve to be penalized for missing the start of the season, or for how mightily he struggled when he returned? Settling in on a B- felt like a fair spot considering what we've seen so far. There's no dancing around it – he was not good when he first came back this year. His shot wasn't there, and he didn't quite seem as quick as we remembered. It's not a stretch to say that his poor shooting probably cost Boston a game or two in the middle part of the first half of the season. But as he slowly rounded into form, his shot returned and his quickness came back. Coming into the All Star Break, he's scored 20+ points in seven of the last 10 games he's played. Simply put, Boston is not reaching their peak or making as deep a playoff run as possible without Kemba at his best, so his improved play is huge for this team going forward. However, there's no ignoring his struggles at the start, so he gets a B- for the season so far.
Marcus Smart: B
Although he's currently injured, we still saw enough of Marcus Smart early this season to give a grade, and what we saw was pretty much the same old Marcus Smart. Before he hurt his calf, he was scoring a career-high 13.1 points and dishing out 6.1 assists, which is also a career-best. However, his shooting has been a sore spot. After making strides the past few years, his 3-point shot is back down to 31%, and his FT shooting has collapsed from 83% last season to 74% this season. While his playmaking, defense, and propensity for making winning plays are important, his poor shooting is certainly a detriment to the C's offense. That said, he's still the heart of this team, and the sooner he can get back on the court, the sooner the C's will be back at full strength.
Daniel Theis: B
He just continues to be his steady self. He doesn't have one skill set that sets him apart, but he also doesn't have any glaring weaknesses in his game. He's a reliable three-point shooter, hitting at a 37% clip this season. He gives consistent effort on the defensive end, and the sneaky pick move he does when his teammates drive to the rim to give them an easy layup is incredibly underrated. Is he a superstar? No, of course not. But every team needs role players around their stars, and Theis fits that bill to a T.
Tristan Thompson: B-
The Celtics biggest offseason signing hasn't been bad, but he has been a little bit of a disappointment in his first half season in Boston. Coming off of two straight double-double average seasons in Cleveland, the big man is putting up 7.9 points and 8.3 rebounds per contest while splitting time with Daniel Theis and Robert Williams III. There are two main reasons that he falls at a B-: the failure of the double big lineup, and his inability to do anything against Joel Embiid. The double big lineup with both Theis and Thompson playing at the same time was an abject failure, as the group struggled both offensively and defensively, and consistently put the Celtics in a hole to start games. And secondly, he was brought in to be Boston's answer to dominant bigs like Joel Embiid and Bam Adebayo in the East. With the Celtics having mostly smaller centers, Thompson was meant to make life hard for the monsters they were going up against. That certainly has not been the case so far. There's still plenty of time in the season, but at the halfway mark, Thompson is a B-.
Robert Williams III: A-
Robert Williams' potential is becoming reality right before our eyes. Injuries and consistency issues limited his playing time in his first two pro seasons, but in his third year, he has broken out. He's scoring 6.9 points and grabbing 5.9 boards per game, and that's in limited playing time as the C's manage his past hip issues. He continues to shoot a ridiculous percentage from the field, this year sitting at 72%, as he feasts on putbacks and alley-oops. His vertical offense is something only he brings to the team, and it has really opened things up when he plays. He still makes some defensive mistakes, but he's learning on that end day by day. As one of the C's breakout performers this year, Williams has earned an A- for his first half play.
Payton Pritchard: A-
Payton Pritchard has already done more than ever could have been expected of him after being drafted just a few short months ago at #26 overall. He shows incredible poise and is shooting far better than we knew he could. His four years at Oregon taught him how to play without being the fastest or most athletic on the court, and he's been showing that all year. He's still prone to the occasional rookie mistake – stepping out of bounds when he catches the ball seems to be his favorite – but without the benefit of summer league or a real training camp, his development into basically this team's sixth man has been stunning. He's looking like one of the steals of the draft based on where he was taken, and is having a great rookie year.
Aaron Nesmith: C
While Payton Pritchard has been a revelation, Aaron Nesmith has been a disappointment so far. He came into the draft nursing a foot injury that cut his final season at Vanderbilt short, and it cost him valuable time in this abbreviated offseason. By the time the season rolled around, he was so far down the depth chart that he's been unable to dig his way out, even as he plays decently in the minutes he does get. After a terrible start, his 3-point percentage has worked its way up to 35%. Still nowhere near the north of 50% he shot in college, but at least he was showing signs of life. That is, until he was inactive for the final three games before the All Star Break. After a long string where he was the Celtics first player off the bench, and had been a positive +/- for most of the stretch, he suddenly was back on the bench. I'm not sure if Brad is seeing something he doesn't like on the defensive end, or if he thinks he needs more time to figure out his shot, but for now, Nesmith has only earned a C for his lackluster play this season.
Semi Ojeleye: B+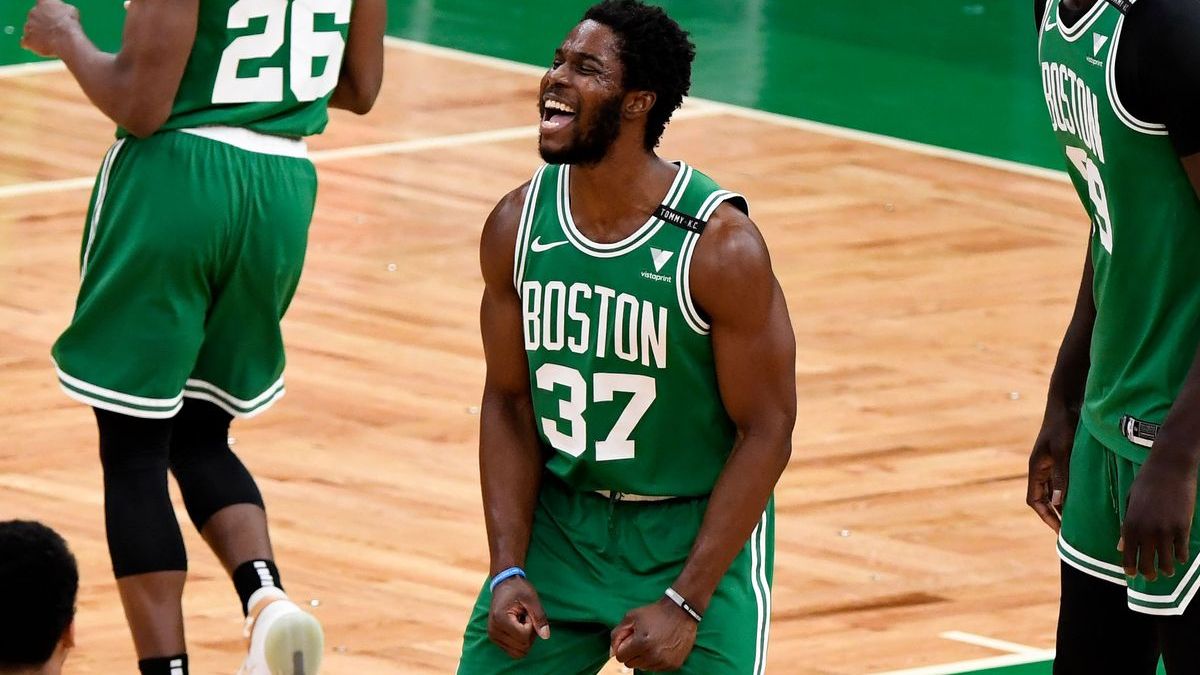 Quietly, Semi Ojeleye has developed into exactly the kind of 3-and-D player that every team craves. Making a career high 38% of his threes and still playing with his textbook defensive toughness, Ojeleye has earned his uptick in playing time to the 19 minutes he's seeing per night off the bench for Brad Stevens. While in years past, you knew the shot was going to clank off iron before it even left his hand, his shot has come far enough where you almost expect it to go in. He's even started to add some stepbacks into his game, which look awkward, but they work and that's what matters. This is Ojeleye's best year to date, and he's rewarded with a B+.
Grant Williams: B
Grant Williams has had a weird year. Even though he's shooting a scorching 43% on threes, he continues to alternate between playing 20 minutes a night and not seeing the court at all. I'm not quite sure what to make of it. Maybe Coach Brad Stevens knows what he has in Grant and is trying to spread minutes around to other bench players to see what they can do, or maybe he's only playing him based on matchups. Only Brad could answer for sure, but the result has been an efficient year that has felt a lot more up-and-down than it really has been. He still thinks the game at a high level, and with his hot shooting this year he should be a consistent member of the rotation, but based on his strange usage, I'm forced to give Grant Williams a B for the season so far.
Jeff Teague: C-
The Celtics second offseason addition has not had that big of an impact in his time in Boston. He's scoring 6.4 points, but he's taking 5.6 shots to get there. That's mostly because he's shooting an impossibly low 37% on two-pointers. It feels like when he's out there, he's looking for his shot instead of letting the offense come to him, certainly not what Danny Ainge was hoping for when he signed Teague this offseason. He's been in and out of the rotation this year, and with a Marcus Smart return on the horizon, it's hard to see how Teague finds any consistent playing time in the second half of the year. Certainly, his first half was a disappointment based on what was expected coming into the season.
Javonte Green: C+
Teams needs guys like Green – capable but ultimately average players to fill the end of the bench. While Green has more upside than most end-of-the-benchers in the NBA due to his crazy athleticism, it hasn't translated to much success in his NBA career. He's not a strong shooter outside the arc, which is a must for a perimeter player these days, and the only reason he shoots 55% from the field is because he feasts on transition dunks and cutting layups when his defender relaxes off the ball. Now, there's no denying the energy he injects when he makes one of his high-flying dunks, but 31% on threes is not enough to get the job done. Improve that number, and he'll have a chance to stick in the rotation and play meaningful minutes in the second half, but he earns a C+ for his first half play because of his offensive limitations.
Carsen Edwards: C-
Although many are still high on Carsen Edwards' potential to be a light-it-up scorer off the bench, halfway through the season he's struggled to make any real impact. Playing in only 14 games, he's scoring less than 6 points a game while taking almost five shots in the games he does play. For the most part, he's part of the garbage time group that only plays with the game out of hand. However, even then he struggles with his efficiency, shooting just 32% on 3's. It's obviously tough to keep a rhythm with such infrequent playing time, but that's the role he's being called to fill and he isn't doing that well at it. Obviously, as one of the last bodies on the bench, his lack of production isn't too big of a deal, but if he were able to knock down threes more consistently, he could be a weapon for this team that needs as much shooting as it can get. However, at the halfway mark he's not doing that well enough, so he gets a C-.
Tacko Fall: C
The first of Boston's two two-way players, Tacko Fall is little more than a benchwarmer, but man is it fun to watch him play. Seeing him in the post against overmatched defenders as time runs out in a blowout is some of the most fun you can have watching basketball as a fan, especially when you're on the right end of the scoreboard. This year, he's been asked to play in a couple of closer games, especially when Boston was thin up front due to COVID hitting the team pretty hard, and he did better than expected. While he likely will never be a starting center due to the league shifting towards shooting bigs and how slow he can be on the defensive end, he's shown that he can go to work with the right matchup across from him. Does he struggle at times? Absolutely. But he's a fun player to watch and he does have the potential to be a decent NBA player someday. But for this season, he's a C.
Tremont Waters: C
It's only fair to give Tremont Waters the same grade as Tacko Fall, as they fill pretty similar roles on the roster. Neither play often when the game is close, although Waters certainly plays more often than Tacko in that situation, and mostly are just there to mop up blowouts in the fourth quarter. Not much is expected of Waters in this role, as he doesn't contribute much to the team's overall success, and when he has had the chance to play bigger minutes he doesn't do anything that makes you think he deserves more time. Overall, he's an end of the bench guy, which is pretty much all you're going to get from a two-way player.
Romeo Langford: Incomplete
The only Celtics player yet to take the court this season, Langford gets the only incomplete of the roster. As he recovers from his most recent injury, this time to his wrist, it's fair to wonder how much of a role will be left for Langford when he eventually returns to action. He's missed so much time in his short career, playing only 32 games across a season and a half, that the Celtics really can't be too sure what they have in Langford. The hope is that he's able to return sometime in the second half of the season, but as he hasn't played yet, he gets an Incomplete.
Team Grade: B-
There's no way around it: this group has underperformed. When you look at the talent at the top of the roster, it has all the makings of a top two or three team in the conference, not one that has struggled to stay above .500. Just a week ago, they were on the outside of the playoffs looking in. That's certainly not what anybody in New England had envisioned at the start of the year. And while it's easy to explain away the struggles with any number of excuses – from Kemba's injury to Tatum getting sick to a compacted schedule and lack of practice time – the numbers are what the numbers are. For most of the first half, Boston was an average team, which is much less than was expected of them. Now, their four game winning streak at the end of the first half looked like it could be the start of a turnaround, which moved their overall grade from a C+ to a B-, but there is still plenty of work to be done in the second half to meet the goals that this team set for themselves coming into the season.
The second half of the season kicks off on Thursday night as the Celtics take on the Brooklyn Nets.
Click on the images below to shop for new Celtics gear!