We have officially reached the midway point of the NBA season, which provides us with a great opportunity to look back at all the action from the first half of the season. There have been some great performances so far this season, which can be reflected in some close award races at the halfway point. We've decided to ask each of our writers to give their awards predictions through the halfway point of the season for the six major awards the NBA hands out. Some of the awards are unanimous, while others are more up for grabs. We will start off with some of the easier calls, before making it down the list to the more up for grabs categories. With that being said, let's start with Coach of the Year.
Coach of the Year
Bret Nascimento: Quin Snyder, Utah Jazz – After having high expectations coming into last season due to adding Mike Conley and Bojan Bogdanovic, the Jazz didn't live up to them. This year no one expected them to currently have the best record in the NBA come the All-Star Break, yet here they are. The Jazz have pulled off some huge win streaks, and have only lost nine games so far. Synder has seemed to be able to get this team motivated in a way they were expected to last season, and it's led to a mightily successful start for the Jazz.
Matt Skillings: Quin Snyder, Utah Jazz – Quin Snyder is the coach of the best team in the NBA, and it's not a team with LeBron James or Kevin Durant leading the way. The Jazz may not have the star power that other teams in the league do, but they've really come together as a team to help power them to the top of the NBA. Snyder has managed to get something out of each and every one of his players so far, making him an easy choice for Coach of the Year.
Nate Crisafulli: Quin Snyder, Utah Jazz – Coach Quin Snyder has the Utah Jazz currently at the one seed in the competitive Western Conference and is definitely the coach of the year up to this point. Prior to the start of the season many saw the Jazz as a borderline playoff team after they blew a 3-1 lead to the Nuggets in the playoffs last season. Now the Jazz are sitting at the top of the conference and are looking to be real championship contenders. Snyder has gotten his guys to buy into the system and has the Jazz playing some of the best team basketball we have seen in a while. Barring a significant drop off in the second half of the season Snyder should take this award home.
Owen Crisafulli: Quin Snyder, Utah Jazz – Let's face it, nobody expected the Utah Jazz to be in the position they are currently in when the season started, and Head Coach Quin Snyder is a huge reason for Utah's successful first half. The Jazz don't necessarily have a bona fide star leading them, with Donovan Mitchell and Rudy Gobert being the closest they have to one at this point. And yet quite frankly, it hasn't mattered, as they Jazz have been miles ahead of the pack for much of the season. The Jazz have come together as a team, and that starts at the top, with Snyder leading the way.
Ryan Whitley: Quin Snyder, Utah Jazz – Unlike everyone else, I see this award being a close contest between Utah's Quinn Snyder and Philadelphia's Doc Rivers. At this point, either could win. Will Snyder be rewarded for Utah's hot start, or will Rivers win for finally getting the 76ers to reach their full potential? It comes down to wins in the end, and that's why Snyder gets the nod. His team has the best record in the league, including a 3-game lead in the West, even as they have cooled off from their torrid pace recently. Phoenix Suns coach Monty Williams also deserves some credit for what he has done in turning Phoenix into a surefire playoff team, but it really comes down to those other two. And while Rivers finally is making the Embiid-Simmons combo work, Snyder is doing more with much less, and that's why he's my halfway Coach of the Year.
Rookie of the Year
Bret: LaMelo Ball, Point Guard, Charlotte Hornets – The Hornets have an abundance of guards in their rotation, which initially prevented Ball from getting starting minutes. The Hornets finally gave in, and since Ball was put in the starting line up he has averaged 20.7 points, 6.2 rebounds, and 6.7 assists per game. At the same time, Ball is averaging 1.6 steals per game in just his first season in the big leagues. LaMelo has lived up to his lofty expectations for the most part, and he's been a big reason the Hornets are in playoff contention so far.
Matt: LaMelo Ball, Point Guard, Charlotte Hornets – LaMelo Ball has been remarkably impressive in his first season in the league, as he appears to be all he was labeled to be and more. He leads all rookies in points, rebounds, and assists per game so far, which has helped him solidify himself as the front runner for the award. Unless something crazy happens in the second half of the season, there's a good chance we will see Ball stay at the top of the pack of his draft class for the rest of the season.
Nate: LaMelo Ball, Point Guard, Charlotte Hornets – After being one of the most hyped up prospects in a while, LaMelo Ball has certainly lived up to those lofty expectations. Ball is averaging 15 points, 6 rebounds, and 6 assists a game to go along with 1.5 steals and solid efficiency shooting wise. Ball leads all rookies in points per game, rebounds per game, assists per game and steals per game and currently has the Hornets in the playoff hunt. He has been a highlight machine in Charlotte and is already playing like the floor general many predicted him to be. At this point Ball is the clear front runner and the award is his to lose.
Owen: LaMelo Ball, Point Guard, Charlotte Hornets – It would take something catastrophic to happen to Ball in order for him to not win Rookie of the Year at this point. He's broken through Charlotte's clutter of guards to emerge as arguably the best of them all, and has helped Charlotte muscle it's way into playoff contention. Due in part to his success and a lack of real competition, Ball should be the runaway winner of Rookie of the Year.
Ryan: LaMelo Ball, Point Guard, Charlotte Hornets – Yet another race that isn't much of a race at the halfway point. Coming up on the All-Star Break, and LaMelo Ball is the runaway favorite for Rookie of the Year. Not only is he having the best statistical season of any rookie, but he's doing it on a playoff team. While Immanuel Quickley put up a fight at the beginning of the season, Ball went to another level and pulled away. While players such as Anthony Edwards or James Wiseman may well have brighter futures ahead of them than Ball, it's clear that neither of them have had a better rookie season so far. Get ready for LaVar Ball to be back on TV, because LaMelo is about to bring home some hardware.
Sixth Man of the Year
Bret: Jordan Clarkson, Shooting Guard/Point Guard, Utah Jazz – Clarkson is averaging the most points of his career, with 17.9 points per game, all while coming off the bench. He has played a key role in the Jazz success so far this season, as he been a consistent source of offense for Utah's second unit. If the Jazz are going to make a deep playoff run, Clarkson will have to continue this type of play in order for Utah to be successful.
Matt: Jordan Clarkson, Shooting Guard/Point Guard, Utah Jazz – On a team where Donovan Mitchell and Rudy Gobert are having phenomenal seasons, Jordan Clarkson could have been lost in the mix. Yet he has done just the opposite, as he's been Utah's go-to-guy off the bench so far, and is a huge reason Utah finds themselves where they are. He is a legitimate scorer off the bench who allows the Jazz to give Mitchell and Gobert some rest throughout the game, which has been key in this compact season. With all that in mind, Clarkson is the clear frontrunner here.
Nate: Jordan Clarkson, Shooting Guard/Point Guard, Utah Jazz – Despite coming off the bench, Jordan Clarkson is averaging the second most points per game for the Jazz. Clarkson has been a spark plug for the Jazz off the bench, as he has fit into the Lou Williams and Eric Gordon mold of coming in and getting buckets. He has provided some scoring relief for Donovan Mitchell, as he is averaging a little over 17 a game and is pretty much the second option for this team coming off the bench.
Owen: Jordan Clarkson, Shooting Guard/Point Guard, Utah Jazz – Another runaway race makes Clarkson the easy pick here (We promise it gets more interesting below). In a season where many teams have struggled to get consistent production from their benches, Clarkson has been the standout performer off the bench this season in the NBA. The numbers he's putting up off the bench are probably good enough to earn him a starting nod, but his ability to take charge of the offense in Donovan Mitchell's absence has worked so well for Utah there's really no need to switch anything up. Barring something unforeseen, Clarkson has taken out all the suspense of this award.
Ryan: Jordan Clarkson, Shooting Guard/Point Guard, Utah Jazz – No bench player has had more impact this season than Jordan Clarkson, and it's not particularly close. Utah has been on fire, despite dropping their two most recent games, and Clarkson has been a night in, night out contributor for them. He's scoring just under 18 points a game, and his improved passing from his time in Cleveland has allowed Utah to run their second unit through him. He deserves this award on his own, and then Utah's incredible record makes him uncatchable.
Most Improved Player
Bret: Jaylen Brown, Shooting Guard/Small Forward, Boston Celtics – Jaylen Brown has taken a huge step forward this season, as he has the made leap from a secondary scorer to a go-to option. Brown has scored over 30 points six times this season, while also turning two of those efforts into 40 point games along the way. Meanwhile, Brown has continued to be the lock down defender that he has been his whole career. The Celtics as a team have struggled for much of the season, and Brown has played a huge role in keeping them alive despite their struggles.
Matt: Jerami Grant, Power Forward/Small Forward, Detroit Pistons – It may be a wasted year for the Detroit Pistons, but Jerami Grant has been impressive despite the team's lack of success. Grant had really only been used as a bench player for the Denver Nuggets prior to signing with Detroit this offseason, and he has flourished in his expanded role. Coming into the season, Grant had averaged 10.3 PPG throughout his career. This season alone, he is averaging more than double that, with 23.4 PPG, and has been a big reason the Pistons aren't getting blown out in every game. Grant has been a bright spot in an otherwise lost season for the Pistons.
Nate: Jerami Grant, Power Forward/Small Forward, Detroit Pistons – Jerami Grant decided to leave the Nuggets in free agency this past offseason, and bet on himself by signing with the Detroit Pistons. Although there hasn't been much success to be found in Detroit, as they are at the bottom of the standings in the Eastern Conference, Grant has improved significantly. On the Nuggets, Grant was just a solid role player, but he is easily the best player on the Pistons this season. His points per game has jumped from 12 a game to 23 a game and his assists per game have doubled since last season. Grant has blossomed into a star wing who was in consideration for an All Star appearance and should win Most Improved Player this year.
Owen: Christian Wood, Power Forward/Center, Houston Rockets – Alright hear me out on this one. Yes Wood has only played in 17 games so far this season due to missing time with a sprained ankle, but his play has improved to the point where the Rockets have literally fallen apart without him. The Rockets are 3-13 without Wood in the lineup, and ever since he injured his ankle on February 4th, the Rockets have gone 0-12. Wood hadn't really seen starting minutes in his career up until signing with Houston this offseason, and he's responded by averaging career highs in just about every category you can imagine. He's averaging a double-double in points and rebounds, and had he not gotten injured, there's a good chance he would be an All Star this season. He may not be a popular choice at the moment, but Wood is a dark horse candidate for the Most Improved Player award.
Ryan: Julius Randle, Power Forward/Center, New York Knicks – As usual, the race for Most Improved Player is one of the best as we come up to the halfway point of the season. While not the betting favorite (that would be Detroit's Jerami Grant) I think New York's Julius Randle is a more deserving winner, as he's made a huge jump under coach Tom Thibodeau. Nobody expected the Knicks to even be in the playoff conversation this far into the year, and Randle gets a big bump in my book for that. He's their best player and does a little of everything for them. He still plays bully ball down low, but his improved shooting is what makes this selection for me. Players like Grant and Boston's Jaylen Brown certainly deserve to be talked about, as both have had great years and made big progress in their development, but Randle is the winner for me.
Defensive Player of the Year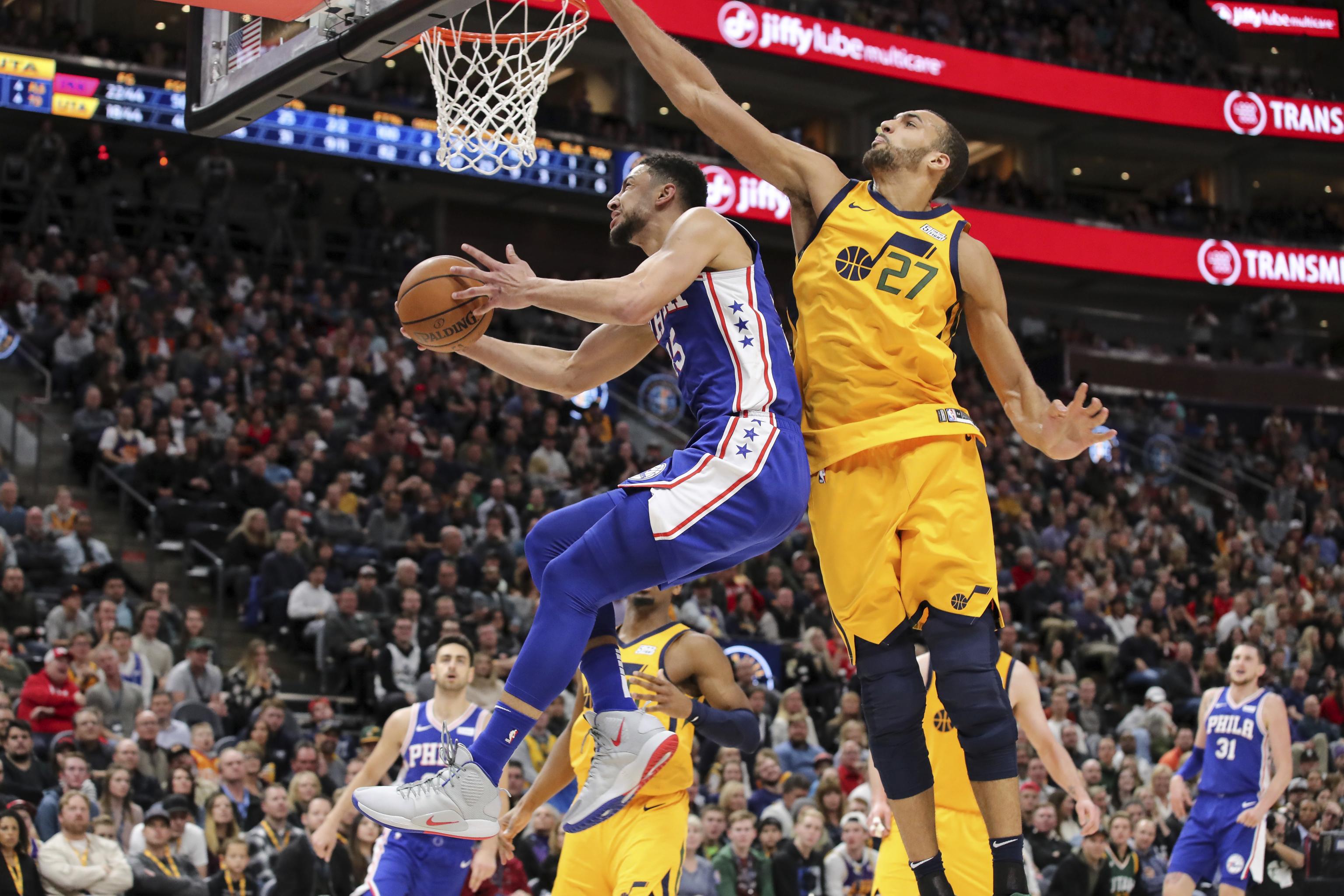 Bret: Myles Turner, Center, Indiana Pacers – While the Pacers have struggled to find any sort of consistency this season, Turner has managed to be a consistent menace of the defensive end. Turner is averaging an absurd 3.4 blocks per game to go along with 1 steal per game as well. Turner continues to be a mediocre rebounder, but his ability to consistently keep opposing centers in check gets him the nod here.
Matt: Ben Simmons, Point Guard, Philadelphia 76ers – Whereas Joel Embiid has been dominant on the offensive end for the Philadelphia 76ers, Ben Simmons has been just as dominant on the defensive end. Simmons doesn't necessarily light up the stat sheet defensively, but he is able to consistently keep teams top options in check. Shutting down those star players is a big reason why Philadelphia is a top the Eastern Conference, and should they keep up their performance in the second half, Simmons should be able to take home this award. 
Nate: Ben Simmons, Point Guard, Philadelphia 76ers – Although this award usually goes to a big man who can protect the rim and lockdown the paint, Ben Simmons should be in contention this year. Simmons, unlike several of the past big men who have won the award, can guard every position 1 through 5. He has the lateral quickness to stay with the elusive guards, and is tall and strong enough to stick with some of the best forwards and bigs in the league. Simmons has the ability to guard James Harden one night and then guard LeBron James on the next one. Other candidates such as Rudy Gobert can't do that because they lack good enough perimeter defense. Simmons is also top ten in steals, averaging about a steal and a half a game. In a league in which perimeter scoring has become so vital to teams success, a perimeter defender should be awarded DPOY, and Simmons fits that bill.
Owen: Rudy Gobert, Center, Utah Jazz – Simply put, Gobert has continued his reign as the best interior defender in the league. Gobert is averaging close to 10 defensive rebounds a game, along with 2.7 blocks a game, which is the most he's averaged in his career. Gobert has already contributed 2.5 defensive win shares this season, which is tops in the league. Gobert also has a 7.1% block percentage, which isn't as high as other centers because players simply refuse to shoot when around Gobert. If Gobert can keep up this performance for the rest of the season, he should be on his way to another Defensive Player of the Year award.
Ryan: Rudy Gobert, Center, Utah Jazz – If the season ended today, Rudy Gobert would win his third DPOY award. He's the backbone of the Utah Jazz defense, who are going to get rewarded for having the league's best record and being by far the hottest team in the league for most of the first half. Ben Simmons is making a charge, but he's still in the backseat to Gobert for the time being. By the end of the season, this conversation may be closer, but for now, Gobert is my choice for DPOY.
Most Valuable Player
Bret: Nikola Jokic, Center, Denver Nuggets – It took too long for Jokic to get the attention he deserved in his career, and this is still the case, as he's being tossed aside in the MVP discussion. Jokic has made an impact for the Nuggets offensively through scoring, but he is also one of the best playmakers in the league as a center. Without Jokic's performance this season, there's a chance the Nuggets wouldn't even be a postseason team, which is why he's more than deserving of the MVP award.
Matt: Joel Embiid, Center, Philadelphia 76ers – Joel Embiid is a huge reason why the 76ers are currently in first in the Eastern Conference. He is scoring nearly 30 PPG, good for second best in the league, and he is statistically having the best season of his career. While there is a case to be made for other players like James Harden to be called the best in the league right now, Embiid is arguably the most valuable to his team, as he doesn't have Kyrie Irving and Kevin Durant playing with him.
Nate: James Harden, Shooting Guard/Point Guard, Brooklyn Nets – Harden is having a career year in Brooklyn and has continued to evolve his game. After being called a ball hog and seen only as a scorer during the end of his time in Houston, Harden decided to put those claims to rest, as he is leading the league in assists with over 11 a game. He is also scoring 25 points per game on the best efficiency of his career to go along with 8 rebounds per game. The one knock is he has two superstars next to him, but he is playing the best out of the three and has had several games where one of, if not both, have been out. If the Nets can remain at the top of the Eastern Conference, Harden has a good shot at the MVP.
Owen: Nikola Jokic, Center, Denver Nuggets – Lets put this argument to bed right now. Nikola Jokic isn't just the best center in the league over Joel Embiid, he is far and away the most deserving MVP pick. For starters, Jokic is very nearly averaging a triple-double, posting a line of 27.1 PPG, 11 RPG, and 8.6 APG, not to mention he's doing this all as a center. All these totals are easily career highs for the Nuggets big man, and he's also shooting the second highest percentage of his career from the field, so he's not sacrificing his efficiency for extra scoring. Everybody loves to knock on Jokic's defending, especially in comparison to fellow big man Joel Embiid, but both have contributed 1.9 defensive win shares for their respective teams this season. Jokic also has the fourth highest DBPM (Defensive Box Plus Minus) in the league at 2.5, compared to Embiid's 1.6. Once you put defense to the side, it's not even close. Jokic has 8.3 total win shares on the season, which is easily the highest in the league. Two other advanced metrics Jokic leads the way in are VORP (Value over Replacement Player) and PER (Player Efficiency Rating), which is really just the cherry on top. You can fuss all you want about the Nuggets record, but it doesn't take away from the fact the Nikola Jokic has easily been the Most Valuable Player in the NBA over the first half of the season.
Ryan: Joel Embiid, Center, Philadelphia 76ers – While there are certainly many qualified candidates, this one is pretty easy for me. In the NBA, two things matter: winning and stats. And right now, nobody is combining both better than Joel Embiid. Averaging more than 30 points per game with 11 rebounds, and with his Philadelphia 76ers in 1st in a strong top of the Eastern Conference, Embiid has been putting in work every night. After years of questionable work ethic and declining play as the season progresses, Embiid seems to have put it all together this year. While Nikola Jokic is putting up Larry Bird numbers and Steph Curry is having the type of year that won him a unanimous MVP a couple years back, Embiid deserves to win it if the season were to end today. He dominates the court whenever he's out there, and Philly simply would not be anywhere near where they are without him.
Click on the images below to shop for new NBA gear!