We are beginning to get closer and closer to the NBA Trade Deadline of March 25th with each passing day, and it's starting to become clearer which teams will be buyers and which teams will be sellers. We've already seen one massive blockbuster deal this season when James Harden forced his way to the Brooklyn Nets, and there's a chance that we could see a couple more big deals happen before the Trade Deadline reaches. Everybody loves to fantasize about their favorite team landed a new star player through a trade in an effort to make a push to the playoffs, and there are certainly some star players in less than desirable positions this season. Here are five of the biggest stars in the NBA who could find themselves on a new team within the next few weeks.
John Collins, Power Forward, Atlanta Hawks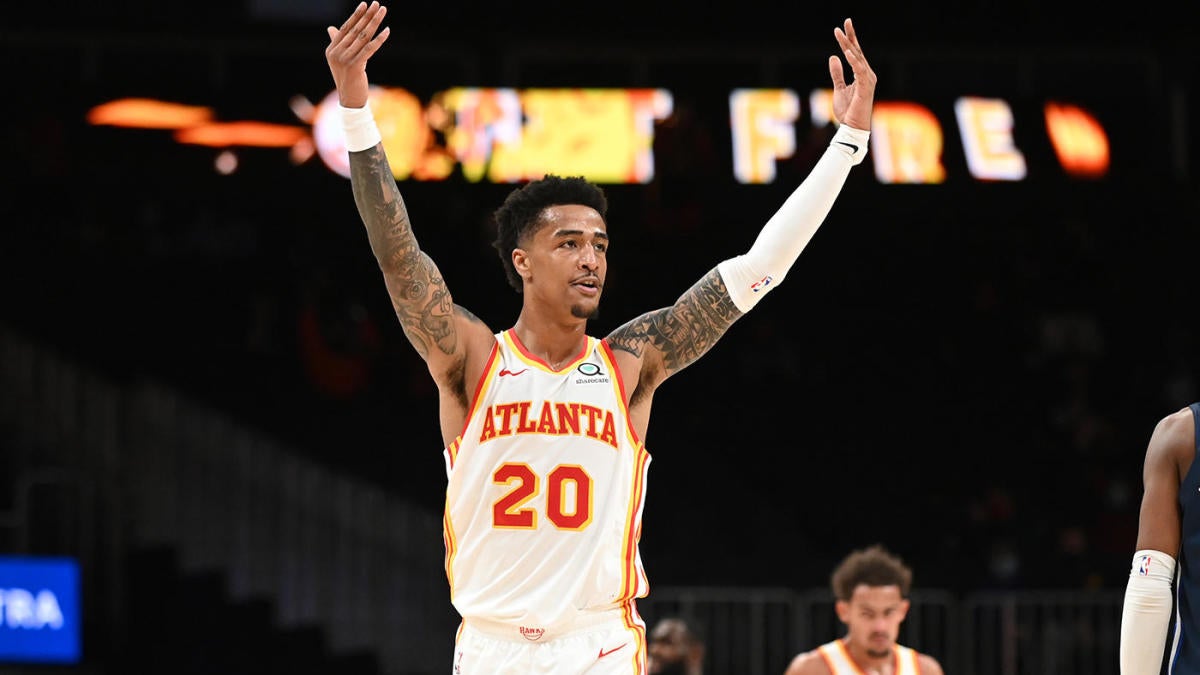 At just 23 years old, Collins is one of the most promising young big men in the NBA, and even if he ends up not getting traded, there's a good chance he will be on a new team come next season, as his contract is set to expire at the season's end. Collins has already turned down an extension from the Hawks worth more than $90 million, as he has made it known that he will be looking for a max deal, whether it be with the Hawks or another team. It seems unlikely that Collins will be in Atlanta for much longer, and the Hawks could look to get something in return rather than letting him walk for nothing.
Collins really made a name for himself last season, when he averaged a double-double in points and rebounds. He's regressed a bit this season, in part to the Hawks trading for Clint Capela and usually playing them alongside each other. Collins is still averaging a solid 18 PPG on 54% from the field, while chipping in 7.6 RPG as well. Collins also has continued to grow as a three point shooter, as he's shooting 39% on the long ball this season. Collins isn't necessarily the best defender in the world, but he's a solid offensive presence and rebounder who would slot right in on most contending teams.
Two teams that have surprised many fans this season, the Charlotte Hornets and New York Knicks, could look to swing a deal for Collins. The Hornets have an excess of depth at the guard position, especially with the emergence of LaMelo Ball recently, while they are relatively shorthanded at most other positions on the court. The Hornets haven't really been a great rebounding team this season, so Collins could certainly look to help out in that area as well. Yet whereas Collins would probably just be a rental in Charlotte before departing in the offseason, the Knicks could look to trade for Collins and then give him the deal he's looking for. Julius Randle has had to carry much of the scoring load for the Knicks this season, and adding Collins could give the Knicks another scoring threat as they look to make a push for the playoffs.
Victor Oladipo, Shooting Guard/Point Guard, Houston Rockets
Oladipo was already involved in the James Harden blockbuster from earlier this season, and there's a chance he could be involved in another quite soon. As reported earlier today, Oladipo recently turned down a two year, $45 million deal from the Rockets, which could open the door for two way guard to be on the move. The Rockets have completely fallen apart since losing Christian Wood to injury, and they appear to be set for a rebuild of some sort. If Oladipo isn't willing to resign with the Rockets, they may as well get something while they can, as Oladipo is set to hit free agency this offseason.
Oladipo had a breakout season in 2018 during his first season with the Indiana Pacers, but injuries have seemingly derailed his momentum. Oladipo seemed to be finding his rhythm before being sent to Houston, where has struggled to find any of sort of consistency. While Oladipo is averaging 19 PPG, he's shooting just 39% from the field, including an ugly 29% from three. Despite this, Oladipo offers the upside of a potent scorer who can also take on just about any defensive assignment handed to him.
The New York Knicks and Miami Heat have emerged as the two early favorites to land Oladipo in the event that he is traded. The Knicks have already made a move for Derrick Rose, so it would make more sense for them to address other areas of their roster. However, Oladipo's prowess on both ends of the court would certainly be helpful for a team on the fringes of playoff contention. The Heat have also recently surged back into playoff contention after struggling to start the season, and adding Oladipo would certainly help them shore up their guard position. Having a defensive unit let by Jimmy Butler, Bam Adebayo, and Oladipo would certainly create nightmares for opposing teams, so adding Oladipo could be the final piece for a team that came up just short of a championship last season.
Kristaps Porzingis, Power Forward/Center, Dallas Mavericks
The Mavericks have reportedly been shopping Porzingis around the league, meaning the young big man could be on the move soon. After teaming up with Luka Doncic to form one of the most dangerous duos in the league during the playoffs last season, Porzingis has struggled to find his form since returning from an injury he sustained during those playoffs. The Mavericks reportedly feel Porzingis is a defensive liability, and are looking to shore up their defense in order to take some pressure off the offensive game, which is mainly centered around Doncic.
While many of Porzingis' surface numbers look relatively similar to the ones he posted last season, taking a look at some of the advanced numbers show Porzingis struggles. For starters, Porzingis Defensive Box Plus/Minus, which estimates how many defensive points per possession a player contributes compared to a league average player, is sitting at -1.1, which basically means he's allowing 1 point per possession, over 100 possessions. Porzingis Value over Replacement Player is also sitting at 0.4, so Porzingis is essentially performing like a bench player while getting paid like a star. Despite this, Porzingis offensive abilities make him one of the most tantalizing options on the trade market, and should he become available, he will surely have a number of suitors.
The Golden State Warriors were reportedly on the other end of a call from the Mavericks in which they were looking to see if they would be interested in Porzingis, and they probably make the most sense as a potential destination for the big man. The Warriors have struggled with their rotation of bigs this season, as their only true center is rookie James Wiseman, who has struggled at times throughout the season. Adding another offensive threat of Porzingis caliber could help take some of the pressure off of Stephen Curry, as the Warriors haven't been able to get consistent production from their other starters. Porzingis defensive struggles may make teams wary, but his offensive upside should keep teams interested in his services.
Nikola Vucevic, Center, Orlando Magic
Vucevic has spent basically all of his career playing for a mediocre Orlando Magic team. At 30 years old, Vucevic is nearing the end of his prime, and would surely like to play in more meaningful games than he has throughout the majority of his career. With the Magic seemingly out of playoff contention, and Vucevic having a career year, now is the perfect time for the Magic to sell high on their star center and begin a full fledged rebuild, rather than staying as a middle of the pack team at best.
With many of other scoring options on the Magic injured, much of the offensive burden has fallen on Vucevic's shoulders, and he's delivered for the most part. Vucevic is averaging 24.4 PPG, which is easily the highest of his career, while also maintaining a relatively high level of play on the defensive end. Vucevic has proved that he's easily one of the top five centers in the league at the moment, and should the Magic feel a rebuild is necessary, they could look to get a big return for their star center.
In an interesting turn of events, if the Dallas Mavericks are so interested in getting rid of Porzingis, they could try to use him as the focal point of a package for Vucevic. Vucevic would give the Mavericks the defensive upgrade they are looking for, while also maintaining the solid play on the offensive end that Porzingis brings. On the other hand, Porzingis would be much more of a fit for the Magic's timeline of a rebuild, as he's still just 25 years old. The Magic could conceivably deal Vucevic to the Mavs, and look to build their next contending team around Porzingis.
Bradley Beal, Shooting Guard, Washington Wizards
With the Wizards having recently surged back to a respectable record of sorts, it diminishes the likelihood that Beal gets traded. But if the Wizards start struggling again, things could heat up very quickly. Beal has blossomed into one the league's most dynamic scorers this season, as he's pretty much the only reason the Wizards have stayed somewhat relevant to this point. As was the case with Vucevic, Beal's high level of performance makes him a great sell-high candidate, and with his scoring production, the Wizards could probably get a decent return for the All Star guard.
Beal is currently leading the NBA in scoring right now with 33.2 PPG. That number is certainly helped by the fact that Beal is currently taking four more shots per game than anyone else in the NBA right now, but that's what happens when you are the main source of offense on a struggling team. Beal proved last season in John Wall's absence that he can carry an offense on his own, and he's certainly doubled-down on that claim this season. Despite taking 24 shots per game, Beal is still shooting a respectable 48.5% from the field, so it's not as if he's just chucking up shots and hoping some fall. On an offense where he is clearly the biggest threat, Beal is consistently finding ways to score.
Beal's contract is expiring after this season, and rumors have it he doesn't necessarily want to be traded from Washington. However, with Beal likely to command a very large deal over the offseason, Washington may look to fully embrace a rebuild. The problem is, Beal's being paid $28.7 million this season, and it would be tough for them to move him. Luckily there is a team in need of scoring help that has a $28 million trade exception, and that's the Boston Celtics. The Celtics have struggled to find any sort of scoring consistency behind their young duo of Jayson Tatum and Jaylen Brown, and should they want to, they could conceivably make a run for Beal. The Celtics have a number of young prospects and draft picks that could entice the Wizards, and while Beal's impending free agency may be a cause for concern, he could be the missing piece to help the Celtics get back on track.
Click on the images below to shop for new NBA gear!