Deshaun Watson wants out of Houston four seasons after the Texans drafted him with the 12th pick in the 2017 draft. Watson's frustrations began with the Texans' lack of communication when the organization traded away All-Pro WR DeAndre Hopkins to the Arizona Cardinals this offseason. Mid-season after the organization fired Head Coach/General Manager Bill O'Brien, Texans' Owner/CEO Cal McNair and Watson had dinner to discuss the franchise's future. McNair told Watson that he would ask for his opinions with future decisions concerning the franchise. The two even discussed head coach candidates over Zoom, and Watson even mentioned potential general manager candidates.
So when the news broke that the Texans had hired Nick Caserio and Watson had found out that the team hadn't considered or reached out to the GM candidates Watson had suggested, his frustrations intensified. Watson saw time and again that the Texans were just keeping him out of the loop. Instead of changing the culture, they went back on their word by making Nick Caserio their general manager. This all happened after Watson called for a culture change with their hires at his end of season press conference. With all this being said it seems that Watson and the Texans' relationship is far beyond repair. It's even reported that people close to Watson have said "The Texans would have to fire Cal McNair" for there to be a chance of Watson returning to the team.
By trading Watson, the Texans would face a cap hit of $5.66 million and, with that, they would be $17,914,930 over the salary cap. As a result, a trade including a QB going to to the Texans in return could be more intriguing because they would be without a quarterback under contract with A.J. McCarron being a free agent and Josh McCown just retiring. Rumors about the compensation the Texans are looking for have been varying, with some saying three first-round picks, while others are saying two first-round picks, two second-round picks, and two defensive starters. Time will only tell when it comes to the compensation for Watson or if he will get traded at all, despite rumors of him willing to sit out the 2021 season. Currently, the Texans are informing teams reaching out about Watson that they aren't having talks about trading him.
Teams in the Deshaun Watson Sweepstakes:
New York Jets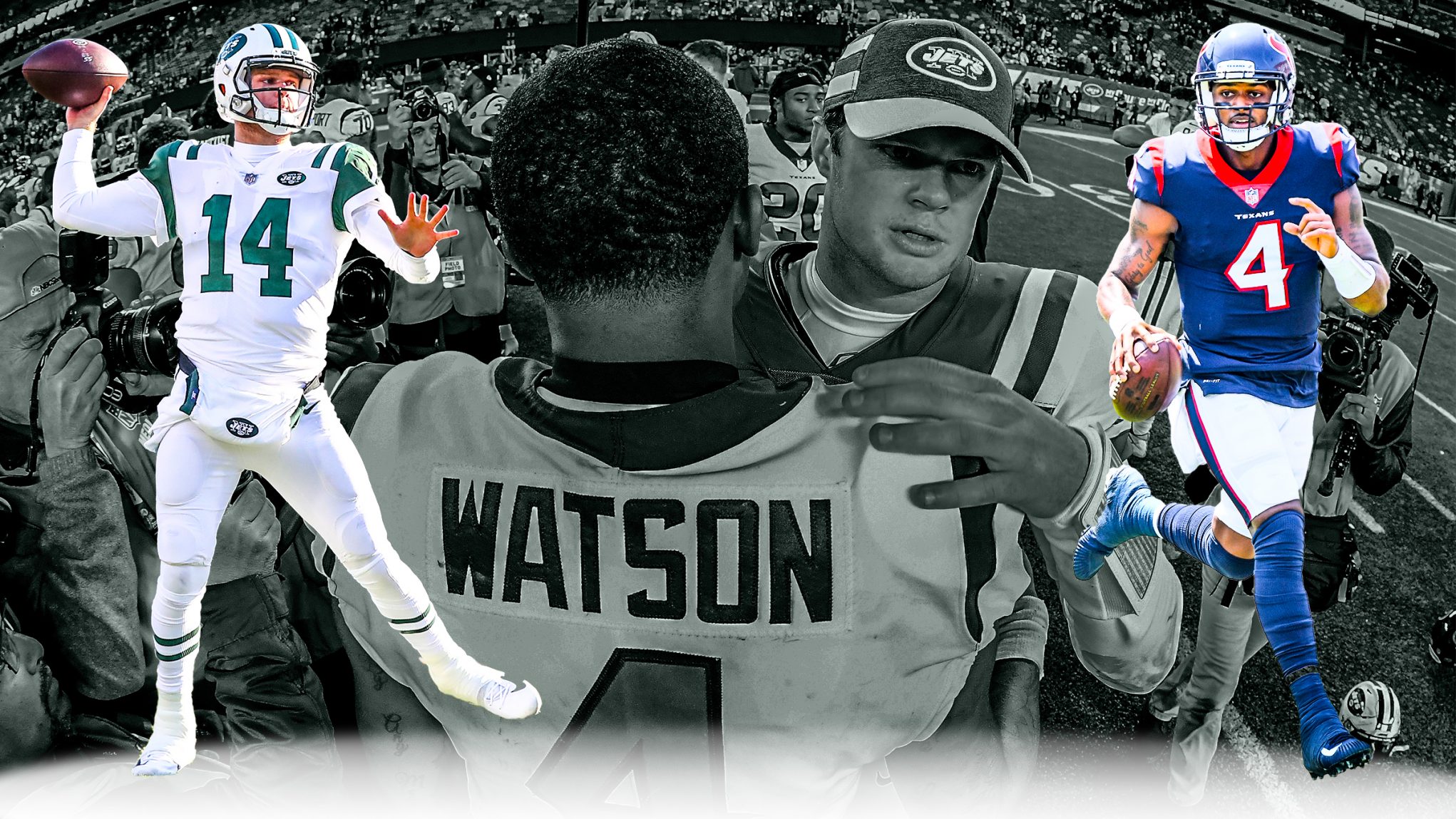 Potential Jets' Trade Package:
Jets receive: QB Deshaun Watson
Texans receive: QB Sam Darnold, 2021 Jets first-round pick (#2), 2021 Seahawks first-round pick (#23) and, 2022 Jets first-round pick, and 2022 Seahawks first-round pick
The Jets have four first-round draft picks over the next two drafts as a result of trading away their Pro-Bowl Safety Jamal Adams to the Seattle Seahawks before the beginning of this past season. One of those four first-round picks includes the second overall selection in this year's upcoming draft after they finished 2-14. The Jets have the 3rd most cap space in the league this offseason which would allow them to go out and sign players to build around Watson.
For the Texans, this would allow them to begin their rebuilding process and get a high return on investment for a disgruntled Watson. Sam Darnold would give the Texans the option of testing him out on the last year of his rookie deal. At the same time, they could look to draft a QB like Zack Wilson, Justin Fields, or Trey Lance with their draft picks they received.
Miami Dolphins
Potential Dolphins' Trade Package:
Dolphins receive: QB Deshaun Watson
Texans receive: QB Tua Tagovailoa, 2021 Texans first-round pick (#3), 2021 Dolphins first-round pick (#18), 2023 Dolphins first-round pick, 2022 Dolphins first-round pick, and 2021 Texans second-round pick (#36)
Since the Watson trade rumors began, the Miami Dolphins have been at the center of the speculation. Before last season, the Dolphins were not looked at as a potential playoff team. However, with a record of 10-6, they just missed the playoffs and were a top defensive team in the league, ranking 6th in points allowed. The Dolphins' offense was inconsistent and unable to succeed as they had hoped after drafting Alabama QB Tua Tagovailoa last year with the fifth overall pick. The Dolphins could see this as a once and a generation opportunity to trade for a top five quarterback who's only 25 and under contract for the next five years.
Tua Tagovailoa, who, little over a year ago, was the projected first pick in the 2019 NFL draft would become the Houston Texans future QB going forward. Injuries and mediocre play last season have made some question whether Tua is as good as he was projected to be. It wouldn't be fair to abandon the young QB and label him a bust, especially with COVID affecting his rookie offseason. The Texans will get the chance to see just what Tua can be in addition to the draft picks from the Dolphins.
San Francisco 49ers
Potential 49ers' Trade Package:
49ers receive: QB Deshaun Watson
Texans receive: QB Jimmy Garoppolo and OLB Dre Greenlaw, 2021 49ers first-round pick (#12), 2022 49ers first-round pick, 2023 49ers first-round pick, and 2022 49ers second-round pick
Just last year, the Chiefs and 49ers were facing off in the Super Bowl. However, an injury-filled season caused the 49ers to miss the playoffs and finish last in the NFC West at 6-10. Injuries have become a common occurrence for 49ers quarterback Jimmy Garoppolo. In his four seasons with the 49ers, Garoppolo has missed 23 games due to injury. Watson would be a huge upgrade for the 49ers, and with players returning from injury next season, they could pose a serious threat to make a potential Super Bowl run.
The Texans would receive two starter level players in Garoppolo and Greenlaw, along with three first-round picks and a 2022 second-round pick over the next three years. OLB Dre Greenlaw has shown the potential to develop into a defensive star if he continues playing at this current level. This trade would give the Texans a good start at a rebuild. Garoppolo could be used as a trade piece for the Texans if they decide they don't see him in their future, giving them even more assets.
Chicago Bears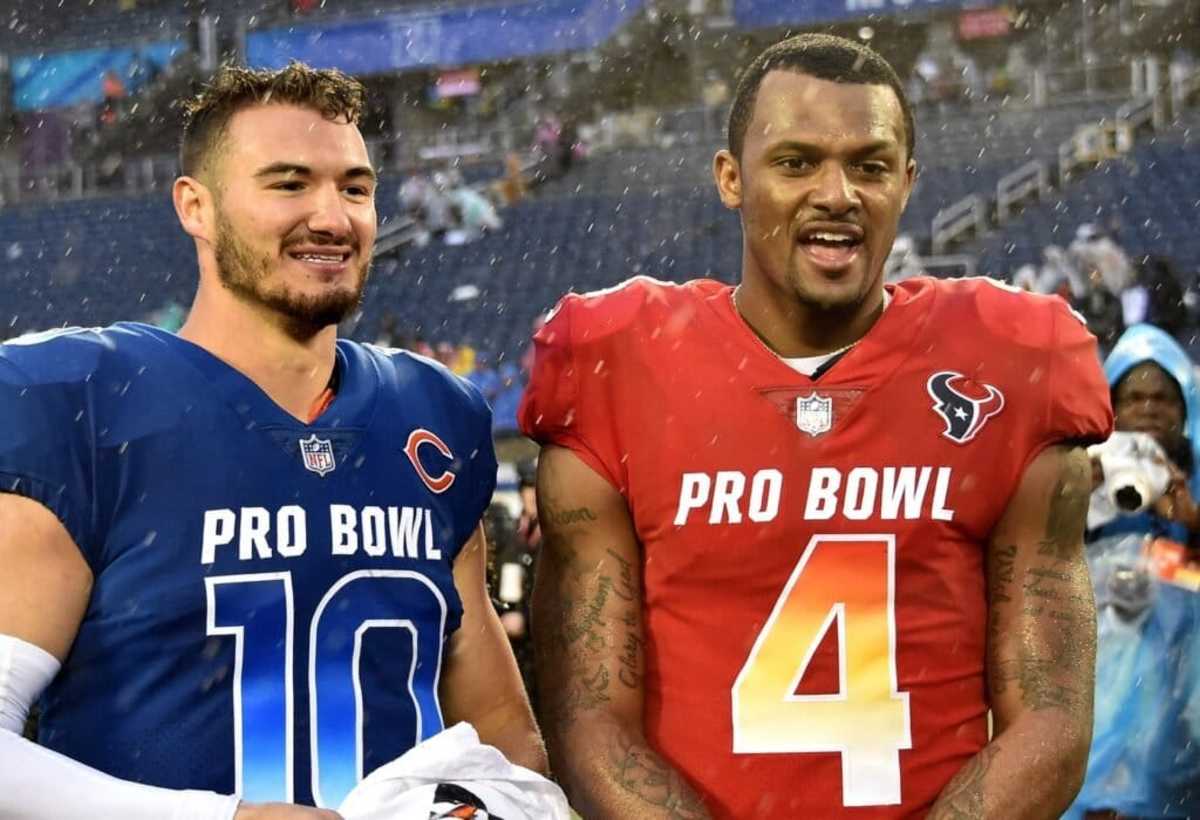 Potential Bears' Trade Package:
Bears receive: QB Deshaun Watson
Texans receive: QB Nick Foles, MLB Roquan Smith, 2021 Bears' first-round pick (#20), 2022 Bears' first-round pick, 2023 Bears' first-round pick, and 2021 Bears fifth-round pick(#148)
Rewind to draft day 2017, as the Bears traded up one spot to take their guy in quarterback Mitchell Trubisky out of North Carolina. Just 8 selections later, NFL MVP, Super Bowl Champ, and Super Bowl MVP, Patrick Mahomes was selected by the Chiefs. Two selections later, the Texans would take quarterback Deshaun Watson. The Bears opted to take the worst quarterback of the day 1 QBs in Trubisky, and four years later the Bears are looking to acquire Watson. The Bears have consistently produced a defense that has had to carry their team after they traded for Khalil Mack from the Raiders in 2018. The Bears' offense has been inconsistent and by acquiring Watson they look to change that for the future.
Acquiring Roquan Smith would allow the Texans to move either Bernardrick McKinney's or Zach Cunningham's contract and even potentially upgrade at the middle linebacker position. This does come at the cost of trading Deshaun Watson, however it is inevitable at this point and they will look for the best offer. Nick Foles can serve as a bridge or even mentor for their future quarterback if they are to find him this offseason.
Denver Broncos
Potential Broncos' Trade Package:
Broncos receive: QB Deshaun Watson
Texans receive: QB Drew Lock, WR Tim Patrick, 2021 Broncos' first-round pick (#9), 2022 Broncos first-round pick, 2023 Broncos' first-round pick, and 2021 Broncos' third-round pick (#71)
Throughout his two years in the league thus far, Drew Lock, has showed potential to be the quarterback to lead the Broncos. However, Lock continues to turnover the ball, with 28 turnovers in just 18 career games. Lock ranked first with Carson Wentz in interceptions with 15 in just 13 games played this season. Watson will be able to come in and significantly decrease the turnovers and increase the touchdowns for the Broncos after throwing 33 last season. Watson was intercepted on 1.3% of his passes, while Lock was intercepted on 3.4%.
The Texans would add another quality receiver in Tim Patrick due to the Broncos unwilling to pay him, just for him to be buried on their depth chart. Drew Lock can also be a project for them to work with as they try to improve his ability to limit his turnovers. These are add-ins to the main assets in the next three first-round picks from the Broncos and their third-rounder this year. In this years' draft specifically, the Broncos' first-round pick is the 9th pick and, the third-rounder is the 71st pick in the draft.
Washington Football Team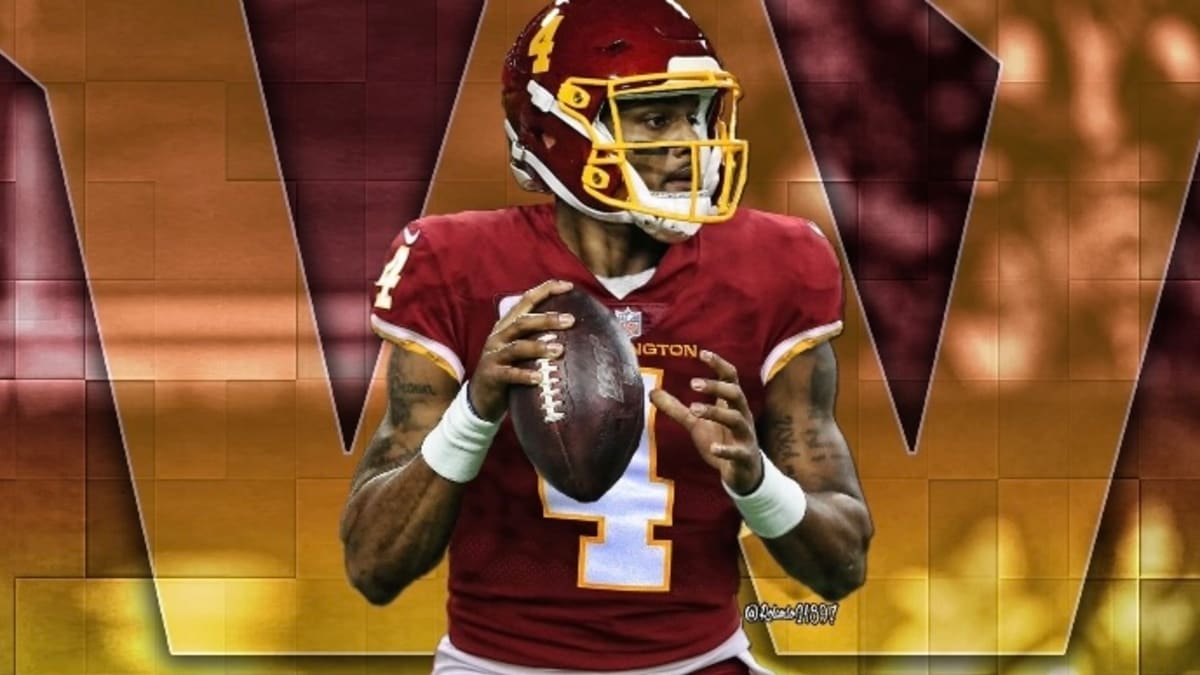 Potential Football Team's Trade Package:
Football Team receives: QB Deshaun Watson
Texans receive: QB Kyle Allen (Sign and Trade), IDL Matthew Ioannidis, 2021 Football Team's first-round pick (#19), 2022 Football Team's first-round pick, 2023 Football Team's first-round pick, and 2021 49ers third-round pick (#74)
Washington Football Team nearly beat the team currently representing the NFC in the Super Bowl in the Tampa Bay Buccaneers with their fourth quarterback this season. Their defense allowed the fourth fewest points to opponents all season and had the sixth-most sacks with 46. By trading for Watson, the Football team will be able to finally find their franchise quarterback for at least the next five years that he's under contract. They would be adding Watson to Terry McLaurin, Antonio Gibson, and Logan Thomas along with the 5th most cap space of teams in the league.
The draft picks that the Texans will receive from the Football Team will jump start their rebuild that was inevitable with the status of their roster and lack of cap space. Ioannidis will give them an interior presence on the defensive line after losing D.J. Reader this past offseason and Kyle Allen will give them a quarterback with some upside and back up ability for the future potentially.
Click on the images below to shop for new items!