There are a total of seven head coaching vacancies this offseason, with some openings being much more appealing than others. Some of the rumored head coach candidates include former head coaches like Marvin Lewis, veteran coordinators like Eric Bieniemy, and young upcoming coaches like Joe Brady. Some situations involve teams over the salary cap and with an aging roster, like the Philadelphia Eagles, while others have many opportunities for a bright future, like the Jacksonville Jaguars. Here are our predictions for who ends where in this year's NFL Coaching Carousel.
7. Houston Texans
It seems like every team in Houston is having issues with their keep players happy. The Texans organization as a whole has been on the decline since Bill O'Brien was appointed interim general manager last offseason and traded away DeAndre Hopkins, the best wide receiver in the NFL, for David Johnson, who wasn't even a top 20 running back this season. Now with O'Brien gone, the Texans told franchise QB Deshaun Watson that he would be included in the hiring process for a new coach and general manager. The Texans then proceeded to then bring in Nick Caserio as their new GM without consulting Watson like they promised him they would. This has led to Watson's reported unhappiness, with the organization's decisions and actions over the past year leading to this point. This opinion was echoed by other Texans legends like Andre Johnson, Arian Foster, and J.J. Watt.
Texans' HC Candidates:
Eric Bieniemy, Kansas City Chiefs Offensive Coordinator
Bieniemy has been the face of the head coach candidates for the past few offseason and surprisingly has yet to be hired. Bieniemy's success with the Chiefs offense has been obvious and historic over the past few seasons, and he is a great candidate to help Deshaun Watson revitalize the Texans offense.
Matt Eberflus, Indianapolis Colts Defensive Coordinator
This season the Colts defense was the second best team against the run, allowing only 90.5 yards per game, and also were the highest scoring defense in the league last year. Eberflus could bring in some much needed improvement for the Texans, as they struggled on the defensive side of the ball, finishing in the bottom 5 of many defensive categories this season
Tim Kelly, Texans Offensive Coordinator
Deshaun Watson has been advocating for the Texans to keep offensive coordinator Tim Kelly, as he credits him for helping him have a successful 2020 season despite the Texans limited offense. So why not make him the head coach, which would allow them to potentially elevate their offense, and keep Watson happy at the same time.
Prediction: The Texans will hire Eric Bieniemy to be their next head coach.
6. Philadelphia Eagles
When Doug Pederson blatantly gave up against the Redskins in their Week 17 loss, it would've been thought to be the reasoning behind the firing. However, Eagles owner Jeffrey Lurie said that wasn't the case, as he claimed that after talking with Pederson about his vision for the team's future, he decided it was best to fire Pederson. Yet wasn't Pederson looking towards the future by losing in the Week 17 game, as it ended up getting the Eagles a higher first round selection? This should be alarming for potential coaches that are brought in for an interview because there has to be something going on begin the scenes. It's rumored that Pederson was being bossed around constantly.
Eagles' HC Candidates:
Jerod Mayo, New England Patriots Inside Linebackers Coach
Mayo holds more responsibility than his job title says, as he is someone that is highly praised throughout the Patriots organization as an amazing leader and has an immense knowledge of football. Mayo has been praised by Bill Belichick, and those around the team have gone as far to call him Jerod Belichick.
Arthur Smith, Tennessee Titans Offensive Coordinator
In Smith's two years as offensive coordinator of the Titans he has been able to create a top 10 offense and revive the career of Ryan Tannehill, so much so that Tannehill is now statistically alongside the top QBs in the league. There is hope that Smith will be able to do what he did with Tannehill with Wentz in Philadelphia. In addition, Derrick Henry has won the rushing title in both years that Smith has been offensive coordinator.
Duce Staley, Philadelphia Eagles Running Back Coach
Duce Staley has been a coach with the Eagles since 2013 and has made his way up to being the top assistant coach on the Eagles' coaching staff. Staley would provide a familiar face for the franchise and could be exactly what they need at the moment as a leader. Former Eagles safety Malcolm Jenkins said why Staley is qualified best.
Prediction: The Eagles sign Arthur Smith to be their head coach and opt to stick with Carson Wentz at quarterback for another season.
5. Atlanta Falcons
With contracts like Matt Ryan and Julio Jones on the books there is little wiggle room in cap space for the Falcons this season, and that could be something that doesn't appeal to potential coaches. However, those same players in Julio Jones and Matt Ryan, if properly coached, could lead tp playoff contention for the Falcons. They could also look to begin to rebuild and move those contracts, which would allow them to get something in return while they can. They are looking for a new general manager, as well as a new head coach, this offseason.
Falcons' HC Candidates:
Joe Brady, Carolina Panthers Offensive Coordinator
Joe Brady just two years ago was the Passing Game Coordinator at LSU and now he is being considered for NFL head coaching jobs, rightfully so that is. Brady with the Panthers this past season was able to generate offensive production from a unit that struggled with injuries all year, including missing star running Christian McCaffrey for most of the season. It's rumored that Brady would be joined by New Orleans Saints Director of Pro Scouting Terry Fontenot as the new GM of the Falcons.
Raheem Morris, Atlanta Falcons Interim Head Coach
The Falcons, before Morris took over for Dan Quinn, were a different looking team, as they finished out the season 4-12, with all the wins coming during Morris' tenure as head coach. They also nearly beat the Chiefs, Chargers, Bucs, and Saints in close games down the stretch, showing that Morris has potential to be the head coach of this team for the future.
Todd Bowles, Tampa Bay Buccaneers Defensive Coordinator
Bowles led a top tier defense this season in the Buccaneers to the 4th most sacks on the season, with 48, and his defensive oriented coaching could be what the Falcons need, as their defense was one of the worst in the league this past season.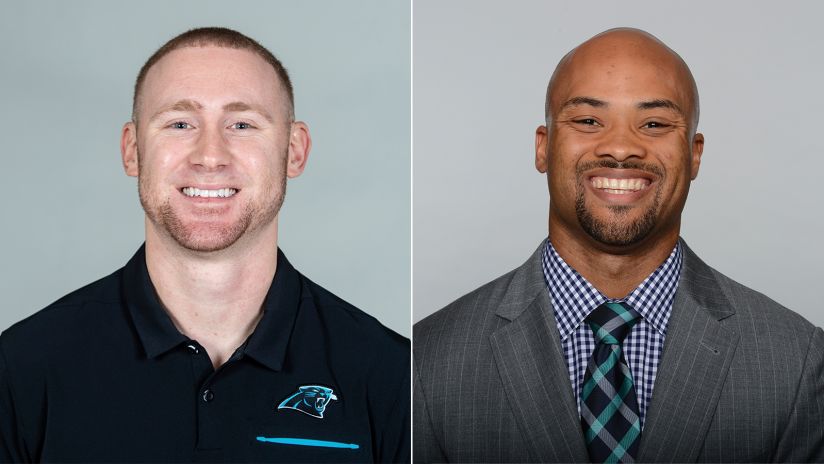 Prediction: The Falcons opt for the offensive minded Joe Brady as their new coach and Terry Fontenot as their GM.
4. Detroit Lions
The Lions have a few potential franchise pieces in T.J. Hockenson, D'Andre Swift, Trey Flowers, Frank Ragnow, and Taylor Decker, along with Kenny Golladay, who is an impending free agent. The Lions have some cap flexibility, which could be appealing to a coach looking at accepting this job. They could move Matthew Stafford or keep him if they want and look for a QB next offseason. Along with a new head coach, a new general manager will be coming to the Lions this offseason giving a complete regime change for the franchise.
Lions' HC Candidates:
Matt Eberflus, Indianapolis Colts Defensive Coordinator
As previously mentioned, Eberflus was the leader of an absolutely dominant Colts defense. Although Matt Patricia was a defensive minded coach, the Lions defensive unit still struggled mightily, leading to the hope that Eberflus would be able to fix this issue.
Arthur Smith, Tennessee Titans Offensive Coordinator
Smith has quickly reinvented the Titans offensive attack, and he could bring the Lions some new offensive ideas. There are some tantalizing pieces to this offense, with Hockenson and Swift being two potential cornerstones. Smith could look to figure out ways to get Hockenson more involved in the passing game, and develop Swift into a workhorse running back like he did with Derrick Henry.
Darrell Bevell, Detroit Lions Interim Head Coach
The Lions seem to have been happy with what they saw from their interim head coach, and may look to make him their full time head coach. They could feel that his chemistry with the team will help them as they move in whatever direction they opt to go towards.
Prediction: Darrell Bevell will be named the head coach of the Detroit Lions.
3. New York Jets
The Jets have the 3rd most salary cap space this offseason, along with the 2nd pick in this years NFL Draft. These two things leave the team with many different avenues to explore, with the primary question being whether they want to stick with Sam Darnold under center, or get Justin Fields or Zack Wilson in draft and move on from Darnold. Quinnen Williams, Mekhi Becton, and Marcus Maye (pending free agent) are also pieces that the Jets could use in their future or look to move on from. They have very little cap commitment, which would allow the new head coach to potentially collaborate with GM Joe Douglas to build the team to their liking.
Jets' HC Candidates:
Robert Saleh, San Francisco 49ers Defensive Coordinator
Saleh has been a top candidate for head coaching jobs for the last two seasons. While his defense took a slight step back this season due to injuries, Saleh would be a great option for the Jets to move forward with as they look to establish a winning culture. His vocal coaching style would allow people to be held accountable and bring a positive movement to the organization.
Arthur Smith, Tennessee Titans Offensive Coordinator
It's rumored that the Jets are looking for a CEO type head coach that will overlook everything, but Arthur Smith is said to be more of a quiet type. However, the past two seasons, Smith's offenses were top 10 and carried the Titans to the playoffs, so the Jets could look to him to fix their offensive issues.
Prediction: Robert Saleh becomes the head coach of the New York Jets as the CEO type head coach they're looking for.
2. Los Angeles Chargers
Justin Herbert came out and showed all of his critics that he has the potential to be a franchise QB with his performance this season and any head coach looking at this job is loving that. They have young defensive playmakers in Joey Bosa and Derwin James, along with offensive weapons in Keenan Allen, Hunter Henry, and Austin Ekeler. All this, along with $29 million in salary cap, makes the Chargers one of the most attractive head coach openings this offseason.
Chargers' HC Candidates:
Brian Daboll, Buffalo Bills Offensive Coordinator
Daboll has been able to elevate Josh Allen from a subpar QB with moments of promise to the MVP level QB that he was this season after working with him. This season with Daboll as offensive coordinator the Bills were 2nd in points scored, but more importantly his players have nothing but amazing praises for him and his character as a human and coach. Under Daboll, Herbert could potentially take a step forward in his development that would lead this franchise to a very successful future with Hebert and Daboll leading the team.
Urban Meyer, former Ohio State Head Coach
Urban Meyer had said that he wasn't interested in coaching again, but the rumors have said otherwise, as he is rumored to be interested in the Jacksonville job. The Chargers have been talking to him to see if he would be interested in working with their young QB and franchise instead of Jacksonville.
Brandon Staley, Los Angeles Rams Defensive Coordinator
The Rams defense ranked first in points allowed per game and yards allowed per game, second in sacks and tenth in takeaways. This would a major improvement for the Chargers, as they have the pieces of a great defense, but haven't been able to put it together yet.
Prediction: Brian Daboll gets the Chargers job and looks to develop Justin Herbert into their quarterback for the future.
1. Jacksonville Jaguars
The Jaguars have the first pick in the NFL Draft this year, and Trevor Lawrence is expected to be their pick. Lawrence has been the dream of so many teams for years now, and for the Jaguars he may soon be leading their offense. Lawrence is viewed as one of the best QB prospects in a while, and has drawn comparisons to John Elway, Peyton Manning, and Andrew Luck. Lawrence's potential easily makes the Jaguars the top head coaching destination this offseason, however, it seems like the race has come down to just one candidate.
Jaguars' HC Candidates:
Urban Meyer, former Ohio State Head Coach
It is rumored that Urban Meyer is reportedly "enamored" with Clemson QB Trevor Lawrence, who recently declared for the NFL Draft and is thought to be the #1 pick in this years' draft, which the Jaguars have. It's also rumored that Meyer has already began to assemble his coaching staff that he would bring with him to Jacksonville. It seems like as of right now the Jaguars are waiting for Meyer before really they look elsewhere, making everyone believe there aren't any other candidates and they are set on Meyer for the job.
Prediction: Urban Meyer eventually accepts the Jacksonville head coaching job and drafts Trevor Lawrence.