The offseason has started earlier than most Patriots fans are accustomed to. Whereas the Patriots were usually gearing up for their Divisional Round matchup at this time for the past 20 years, the Patriots now face an offseason of uncertainty. While this team has some areas of strength, such as running backs, secondary, and special teams, opponents were easily able to exploit their weaknesses, the two biggest being the lack of a passing game and an inability to stop the run game. The Patriots have a lot of work to do, but will be equipped with around $50-60 million in cap space heading into free agency. Here are five players the Patriots should consider signing once the free agency period opens.
K.J. Wright – Middle Linebacker, Seattle Seahawks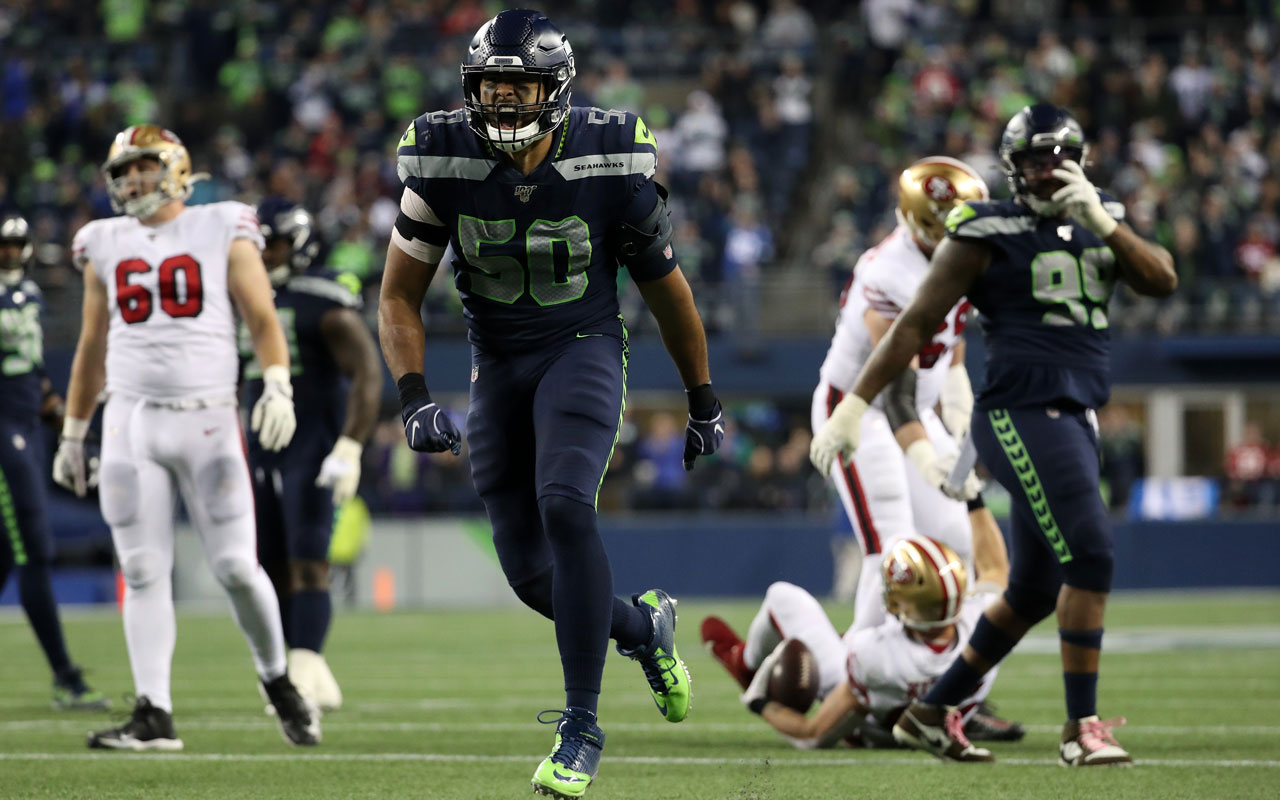 K.J. Wright is one the last remaining members of the Seahawks "Legion of Boom" defense that took the league by storm in the early 2010's. While he often gets overshadowed by playing alongside Bobby Wagner, one of the best linebackers in the game, Wright is one of the more consistent linebackers in the game. The Patriots were extremely thin on game ready linebackers once Dont'a Hightower opted out, and with his status up in the air, the Patriots will need more help at linebacker come next season.
At middle linebacker, Wright is one of the better run defenders in the game, an area the Patriots struggled mightily with this past season. Bringing in a seasoned veteran will help shore up that area, while also helping some of the younger linebackers, such as Ja'Whaun Bentley and Terez Hall, develop their skills in defending the run. Aside from his injury plagued 2018 season, Wright has racked up 60+ tackles each year since 2014. This type of consistency was missed in the middle of the field last season, and could help the Patriots defense have a bounce back year next season.
At 31 years old, Wright won't command as much money as the other linebackers on the market, making him a prime option to be a target of coach Bill Belichick. The Patriots could bring him in on a two or three year deal, with a yearly salary in the $5-7 million range. Eyes will wander towards higher profile targets, such a Lavonte David of the Tampa Bay Buccaneers, but if Hightower does end up returning next season, it wouldn't make sense to invest a boatload of money on the position. Wright is a good under the radar target who could be signed for a team friendly price.
Melvin Ingram III – Defensive End, Los Angeles Chargers
Melvin Ingram III should be one of the top names on the Patriots free agency list for defensive ends. The Patriots struggled to consistently generate much pressure on the opposing quarterbacks this season, as they finished the season with only 24 sacks as a team, good for 26th in the league. Chase Winovich led the way with 5.5 sacks, and while that isn't a great total, Winovich showed enough improvement this season to raise hope that he can increase his sack total next season. Having another consistent pass rusher alongside him will certainly help his development, and Ingram could be that guy.
Ingram is coming off a down year, as he only played in seven games and failed to record a sack. Prior to this season, Ingram had developed himself into one of the most consistent pass rushers in the game, as he had recorded at least 7 sacks over the past five seasons. When Ingram was on the field this season, he was creating pressure, but he was unable to get the sacks to show for it.
At age 31, Ingram is entering the end of his prime. The Patriots could swoop in for a short term contract, likely in the range of one or two years, for anywhere from $8-10 million a year, and pick up Ingram. He won't command as much money due to his struggles in 2020, which makes him a perfect low risk, high reward candidate. If he could produce near his high level performance over that previously mentioned five year stretch, Ingram would be well worth the money, while also not taking up a huge chunk of the salary cap, which can't be said for every lineman on the market this offseason.
Hunter Henry – Tight End, Los Angeles Chargers
Hunter Henry was a supposed target for New England last offseason, before he was eventually franchise tagged by the Chargers. Henry most likely won't be franchised this offseason, so there's a good chance he will hit the open market this time around. The Patriots received virtually no production from their tight ends this past season, as the position provided only 18 catches, 254 yards, and one touchdown. While there's still time for Devin Asiasi and Dalton Keene to develop, it's clear the position will need some help heading into the offseason, and Henry could be the perfect solution.
Henry looked to be developing into one of the next best tight ends in the game before tearing his ACL, wiping out his entire 2018 season. Henry was able to rebound, and he has posted 55+ catches and 600+ yards in the past two seasons. Henry has yet to play a full 16 game season, raising concerns about his durability, which may in turn scare sway some potential suitors. But when Henry is on the field, he has shown he is a threat that opposing defenses must keep an eye on, which can't be said for the current tight ends on the roster.
As previously mentioned, Henry just played the season on the franchise tag, which gave him $10.6 million. This pretty much sets a floor at what Henry will earn on his next contract, providing teams a solid place to start at when negotiating with Henry. Henry is only 26, so he could look to get some security with an upcoming deal. The Patriots could look to offer him a deal in the four to five year window with a yearly salary between $11-13 million. Henry's market may end up getting too high, but if he's available at the right price, the Patriots should make an effort to sign him.
Allen Robinson II – Wide Receiver, Chicago Bears
Allen Robinson II is without a doubt the top wide receiver available in free agency, and there is no reason for the Patriots to not make an attempt to sign him. The Bears cap situation is quite messy, and there's a good chance Robinson will end up leaving Chicago. The Patriots were missing Julian Edelman for the majority of the 2020 season, leaving most of the targets to go to Jakobi Meyers and Damiere Byrd. While they performed admirably, it's clear the Patriots need some serious help at wide receiver. Adding Robinson, combined with Edelman's return, would put the Patriots in a much better situation to succeed than last season.
Robinson broke out in 2015 with a massive season, regressed in 2016, and then missed pretty much all of 2017 injured before signing with the Bears that offseason. Robinson's first year with Chicago wasn't anything to write home about, but he has spent the past two seasons rebuilding himself as one of the top wideouts in the league. Robinson had 98 receptions last season before breaking the 100 catch threshold this season with 102, while amassing over 1100 yards both seasons. He's also done this while dealing with the Bears messy quarterback situation, making it all the more impressive. It isn't a stretch to say that Robinson could be a top-10 wide receiver in the league if he's catching passes from a decent quarterback.
The Patriots quarterback situation currently isn't much better than Chicago's, but there's good reason to believe they will atleast have a plan to present to Robinson in the event they make an attempt to sign him. Robinson is in the middle of his prime, and the Patriots will most likely have to hand out $20+ million a year over four to five years to get him. While the Patriots may not be the most appealing situation right now, they have the cap space to make Robinson a good offer. If they can't land Robinson, there will be a number of other receivers set to hit the market this offseason, meaning the Patriots shouldn't overpay to get Robinson.
Dak Prescott – Quarterback, Dallas Cowboys
It feels like we have been hearing about a potential extension for Dak Prescott for years, and yet here we are. Prescott is still without his coveted extension, and free agency is right around the corner. It's still very likely he ends up back on the Cowboys come next season, but in the event he finds himself on the open market, the Patriots would have to be atleast somewhat interested in signing him. A player of Prescott's caliber rarely hit the open market, and the Patriots should continue to actively monitor his situation.
Prescott was a solid, if unspectacular quarterback over his first three seasons, before breaking out in 2019. He threw for nearly 5000 yards, while also tossing 30 touchdown, and it seemed certain Dallas would finally hand him an extension. Instead, they franchise tagged him, and find themselves in pretty much the same spot one year later. Prescott had an interesting season, where he took the league by storm early on, only to suffer a gruesome season ending leg injury in the fifth game of the season. Prescott's situation is truly unlike any other, but if he hits the market, he will get a huge deal, it's just a matter of who gives him it.
The Cowboys franchise tag paid Prescott $31.4 million last season, and if they were franchise him again this season it would cost $37.7 million. The fact that Dallas has openly considered franchising him again if they can't come to an agreement probably sets the floor at around that number. Prescott has been adamant he wants only a four year deal, so a four year deal anywhere from $38-40 million a year is what it would take to land Prescott. The chances of Prescott hitting the open market are unlikely, but until it's set in stone, the Patriots should do their due diligence and keep an eye on Prescott's situation.