The NFL Playoffs are finally upon us after a season full of doubt due to the COVID-19 outbreak. However, the league was able to make it through the regular season without any game cancellations and only a few delays. With the games kicking off on Saturday, here's a look at every matchup, along with a score prediction and story to watch.
Saturday's Games
No. 2 Buffalo Bills (13-3) vs No 7. Indianapolis Colts (11-5) Saturday, 1:05 p.m.
Wild Card Weekend kicks off with the high-flying Bills offense going up against Philip Rivers' Colts. After years of being second, the Bills finally overthrew the Patriots to capture their first AFC East title since 1995. The Bills come into this game with the second-highest scoring offense in the league this year, behind only the Green Bay Packers. They've scored an incredible 142 points in their last three games, an average of almost 48 per game. For the season, they averaged more than 31 a game. The Colts, however, were no slouches themselves, scoring 27 a game to finish second in their division, although tied in record, to the Tennessee Titans.
What to watch for – Will the Colts be able to keep up?
Josh Allen took a major leap this year, throwing himself into the middle of the MVP conversation as one of the best QB's in the league. As mentioned, he's been on a tear recently, and the Bills have been firing on all cylinders. If they bring that offense with them into the postseason, it's going to be tough for anyone to slow them down and beat them. This Colts team has the ability to do it, though. They have one of the better defenses in the league, only giving up 22 points per game, and their offense is more than capable of controlling the clock because of the veteran play of Philip Rivers.
Prediction
Although Rivers will do everything he can to keep the game close, the Bills will end up pulling out the win. Josh Allen with throw for 350+ yards, run for at least one touchdown on the ground, and the Bills will win 41-28.
No. 3 Seattle Seahawks (12-4) vs No. 6 Los Angeles Rams (10-6) Saturday, 4:40 p.m.
This is one of a few games this weekend that will pit outstanding offenses against top-tier defenses. As has been the case for a few years, Russell Wilson is the engine that makes the Seahawks amazing offense go. What has changed, however, is the amount of weapons he has at his disposal. With Tyler Lockett and DK Metcalf, Wilson has one of the best wide receiver tandems in the league, and he makes great use of them, as the Seattle offense scored almost 29 points per game this year. Lucky for the Rams, their defense is what got them here, allowing a league-low 18.5 points per game. From Aaron Donald to Leonard Floyd to Jalen Ramsey, this is a defense that is stacked with talent at every level. On Saturday, they'll have to play up to their highest ability to be able to slow down the Seahawks and give backup quarterback John Wolford a chance if Jared Goff is unable to play with his thumb injury.
What to watch for – DK Metcalf vs Jalen Ramsey
Saying that a key to the game is whether or not the Rams will have their starting quarterback is too easy, so we'll look at this matchup instead. Metcalf is coming off of a record-breaking season for Seattle, breaking the single season yardage record previously held by Steve Largent with 1303 yards. All season long he's been a force, as he also found the endzone 10 times to go with his yardage total. However, he'll be shadowed in this game by Jalen Ramsey. In the teams' two previous matchups this year, Metcalf managed a respectable 8 catches for 87 yards. On routes against Ramsey specifically, he only caught 3 passes for 28 yards. Obviously, that is a far cry from his dominant numbers the rest of the year. For the Rams to win, they'll need Ramsey to continue his shutdown coverage, making this a critical matchup to watch.
Prediction
Jalen Ramsey will do his best, and he'll mostly keep Metcalf under control. However, DK will manage to grab a touchdown reception, and Tyler Lockett will have a big day as the Rams defense keys in on stopping Metcalf. He'll catch at least 10 balls for 100 yards, and the Rams won't be able to score enough with either Wolford or a not-fully-healthy Goff at quarterback. Seattle wins by a final score of 24-13.
No. 4 Washington Football Team (7-9) vs No. 5 Tampa Bay Buccaneers (11-5)
Saturday, 8:15 p.m.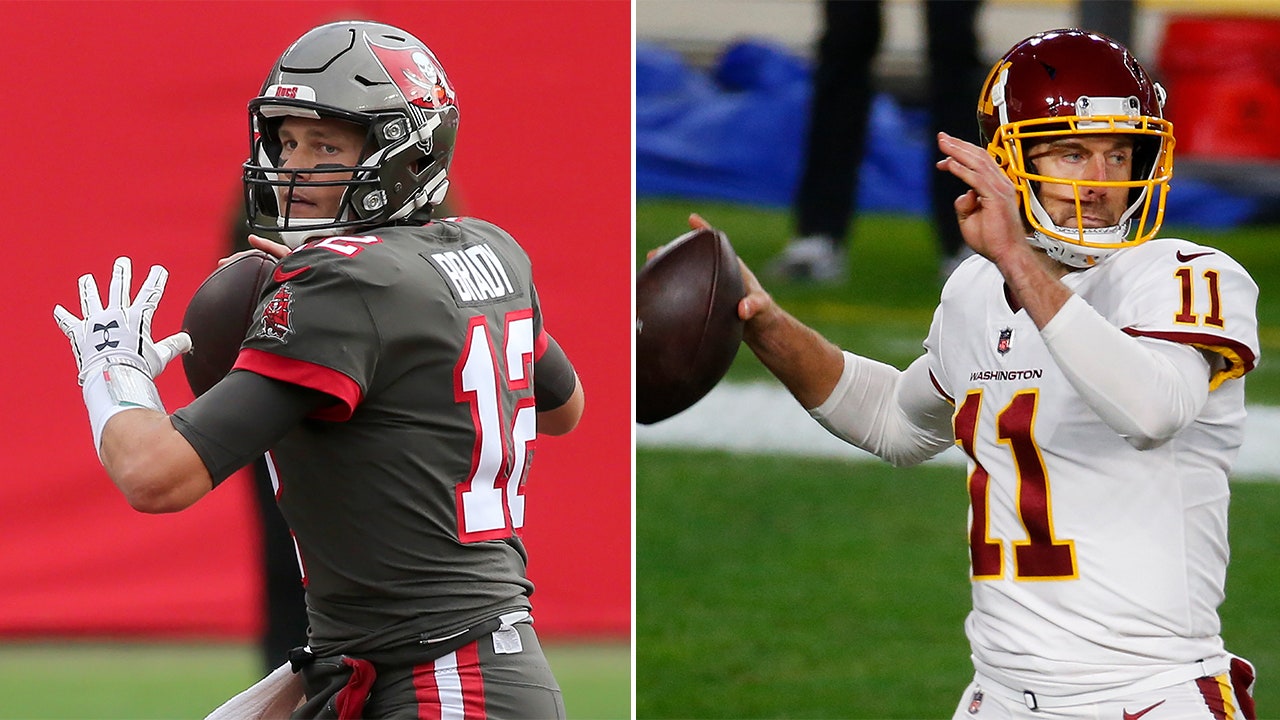 New year, new team, same old Tom. Tom Brady seemed rejuvenated in his first year in Tampa, throwing for 40 touchdowns and finishing third in the league in passing with 4633 yards.  In year 21, that's the second most touchdowns and fifth most passing yards he's had in a single season. After showing signs of decline last year, the old Tom seems to have returned, at least for one season. As for Washington, they're here on the back of their defense and thanks to the Eagles handing them the division title in Week 17. However, they're not to be overlooked, as they always play hard and have something to prove. Alex Smith's return from his gruesome leg injury turned their season around, as Washington is 5-1 when Smith starts, versus 2-8 when another quarterback plays. That's a big swing, and is why Washington is confident coming into this game.
What to watch for – Washington's pass rush
As evidenced by his six Super Bowl victories, Tom Brady has not fallen flat many times when the lights were the brightest in the playoffs. However, through the years there has been one recipe for slowing him down – pressure. Washington's defensive front is the strongest position group on the roster, as all four starters were high first round picks. If the combination of Chase Young, Daron Payne, Jonathan Allen, and Montez Sweat are able to generate consistent pressure without needing to send additional defenders on a blitz, Washington has a chance to slow down the Bucs enough to steal a win. If not, however, it will be near impossible for them.
Prediction
This will be the closest game of the weekend, but in the end the Buccaneers will emerge victorious. Although the return of Alex Smith has totally changed Washington's season, they still are the weaker team in this matchup. Plus, with the amount of playoff experience that Tom Brady has, he'll know not to overlook a seemingly overmatched opponent. Rob Gronkowski will have a big game, with at least 4 catches for 70 yards, including the game-winning touchdown with less than 5 minutes to go. Tampa wins 24-17.
Sunday's Games
No. 4 Tennessee Titans (11-5) vs No. 5 Baltimore Ravens (11-5) Sunday, 1:05 p.m.
Sunday's first game features teams with identical 11-5 records, and with the two most potent rushing attacks in the league. The Ravens finished the year first, averaging almost 200 yards per game on the ground, while the Titans finished second with 168 per game. The Titans, of course, feature back-to-back rushing champion Derrick Henry, while the Ravens rely on MVP QB Lamar Jackson and rookie running back J.K. Dobbins to spearhead their attack. This is a rematch of last year's divisional round matchup in which the wild-card Titans took down the 1-seed Ravens 28-12. This year, Jackson and the Ravens will be looking to avenge that loss and get him his first playoff win, while the Titans are trying to prove that last year's Cinderella run to the AFC title game and this year's 11-5 record were no fluke, and that rushing offenses can still win in the pass-happy NFL.
What to watch for – Which team can generate more big plays?
One thing that could decide this game is which team can create more chunk plays. For the Titans, while they do have a competent passing game, these are likely to be runs, either by Derrick Henry or quarterback Ryan Tannehill. The Ravens, on the other hand, featured the worst passing attack in the league, averaging with 171 yards per game, they have weapons such as Marquise 'Hollywood' Brown that can take the top off of defenses. Of course, Lamar Jackson is more than capable of creating big plays on the ground with his legs too. Whichever team creates more of these chunk plays will put themselves in the better position to win the game.
Prediction
This game could absolutely go either way. As both teams rely on their running games to generate offense, a standout performance by either defensive line could really swing the outcome. However, the Titans have much more in the passing game than the Ravens, and this game will end up being decided in the air. Look for Ryan Tannehill to throw for 250 yards, including a long touchdown to A.J. Brown. In the end, the Titans win 31-20.
No. 2 New Orleans Saints (12-4) vs No. 7 Chicago Bears (8-8) Sunday, 4:40 p.m.
This New Orleans Saints team is different. For years, Drew Brees and a magical offense had to carry a lackluster defense, and it caught up with them in the playoffs – if they even made it in. This year, however, they were the only team to finish in the top-5 in both scoring offense and defense. Because of their defense, this may be the best chance the aging Brees has to win another Super Bowl. As for the Bears, their hot start is what got them into the playoffs as the final wild card team. They started the season 5-1, with the lone loss coming against the one team they played that is in the playoffs, the Colts. In fact, all year long, the Bears only beat one playoff team, a one-point victory over the Buccaneers in Week 5. They combined a bottom-10 offense with a middle of the road defense, and it somehow equaled a playoff berth in the weaker NFC.
What to watch for – Health of Saints stars
Despite missing Week 17 on the COVID list, star running back Alvin Kamara has a chance to play in this game. The NFL schedule makers did them a favor by putting this game on Sunday, as Kamara would not have been able to play the game if it were on Saturday. However, many players have struggled in their return game from COVID, and the Saints offense relies on his production. Wide receiver Michael Thomas should also play in this game after being activated from IR. As many fantasy owners will tell you, this was a lost season for Thomas, playing only 7 games and only breaking 100 receiving yards twice as he battled various injuries. However, the Saints say he is healthier now than he was at any point in the regular season. If these two come out firing and don't look like their time off has slowed them down, the Bears will have no chance in this game, but if they look less than 100%, the Bears could pull off the upset.
Prediction
This will be the least competitive game of the weekend. The Saints are too strong on both sides of the ball, and the Bears just aren't good enough. Alvin Kamara will dominate in his return, racking up at least 150 total yards and a touchdown. The Saints defense will also record a pick-six, and New Orleans will cruise an easy 41-14 win.
No. 3 Pittsburgh Steelers (12-4) vs No. 6 Cleveland Browns (11-5) Sunday, 8:15 p.m.
The final game of Wild Card Weekend is an AFC North showdown between the Steelers and Browns. The Steelers had one of the stranger seasons this year, starting 11-0 before dropping three games in a row. They rebounded to win one more game before losing the season finale, in a game that Ben Roethlisberger rested, to this very Browns team. The Browns ended the NFL's longest playoff drought, making it in for the first time since 2002. While both teams finished in the middle of the pack offensively, the Steelers have a clear edge on defense, where they finished third in the league by only allowing 19.5 points per game. This defense is led by Defensive Player of the Year favorite T.J. Watt, who racked up 15 sacks in 15 games. He'll likely play a huge role in this game, as Baker Mayfield may spend most of the day running for his life from a defense that led the league in sacks for the fourth straight year.
What to watch for – Steelers running game
It may be a surprise to some, but the Steelers have the worst rushing attack in the league this year. After his breakout year two seasons ago, James Conner has struggled to be effective the past two seasons, as the Steelers have averaged less than 100 yards per game both years. Through their first five games of this season, Pittsburgh averaged 136.8 yards on the ground. After that, however, they only averaged 60 yards per game. This includes six games where they gained less than 50 yards on the ground, and in two of those they didn't even reach 25 yards rushing! It's not a coincidence that Pittsburgh's easiest wins this year came when they were able to run the ball effectively, and once that stopped, their games became much closer and they eventually lost three in a row. Against a Cleveland team that needs to run the ball to be effective, controlling the clock and making them work faster would be very helpful to the Steelers.
Prediction
James Conner will come alive against the Browns, rushing for at least 100 yards and scoring a pair of touchdowns. Browns fans will have to wait at least another year for their first playoff win since 1994, as the Steelers emerge victorious in the final game of Wild Card Weekend 24-17.