With the NFL regular season concluding this past weekend, it is finally time for the playoffs. This season has been unlike any other, with the offseason period being very restricted, to having COVID sidelining a good portion of the league at one point or another. Despite these conditions, players were still able to play at an elite level, and with the regular season in the rearview mirror, we can begin to speculate on who will take home the NFL's most prestigious awards. Here are our picks for the NFL's top awards.
Most Valuable Player – Aaron Rodgers, QB, Green Bay Packers
Rodgers came into this season with a chip on his shoulder after the Packers traded up in the draft to take Utah State QB Jordan Love in the 1st round this past offseason. Rodgers used that chip to motivate him to throw a league best 48 touchdown passes, while only throwing five interceptions, and 4,299 passing yards this season. Rodgers is the first player in NFL history to throw for more than 45 passing touchdowns while having five or less interceptions. He also posted the 2nd best passing rating in NFL history, with only his 2011 season coming in above it. These weren't just stat filled games, as Rodgers was able to lead the Packers to the #1 seed in the NFC with a 13-3 record. An interesting stat to add is that Rodgers threw more touchdowns, 48, then punts by the Packers all season, 46.
Offensive Player of the Year – Derrick Henry, RB, Tennessee Titans
The Titans continued to build their offense around Henry this season, as he ran the ball 378 times, the most attempts by any running back by 66 attempts. On those 378 attempts, Henry ran for 2,027 yards and 17 touchdowns, and was only the eighth player in NFL history to rush for at least 2,000 yards in a season. The Titans finished the season with a record of 11-5 and had the 2nd highest scoring offense in the NFL, with the Packers being the 1st. Henry was able to blow everyone out for the NFL rushing title this year by rushing for 470 more yards than Dalvin Cook, the 2nd highest rusher this season. There have only been two players in NFL history to achieve at least 2,000 rushing yards and 15 rushing touchdowns, with Henry joining Terrell Davis on that list. Henry's presence alone in the offense opens up the passing game as defenses have to load the box in preparation of Henry running the ball.
Other Potential Candidates for MVP and OPOY:
Patrick Mahomes, QB, Kansas City Chiefs
Mahomes led the defending Super Bowl Champs to the 1 seed in the AFC for the first time in his already award filled career, going 14-2. Mahomes continued his reign on the NFL throwing for 4,740 yards and 38 touchdowns with only 6 interceptions. The Chiefs QB led the league this season in Passing EPA, Expected Points Added, and since 2016 the league MVP has led in this stat, which bodes well for Mahomes' chances of potentially winning the award.
Josh Allen, QB, Buffalo Bills
Allen posted 4,544 passing yard, 37 passing touchdowns and 10 interceptions, along with 8 rushing touchdowns. The last three quarterbacks to finish with at least 35 passing touchdowns and at least 7 rushing touchdowns have won MVP, and Allen was able to accomplish that feat this season. Allen's performance this season would lead the Bills to a 13-3 record and the 2 seed in the AFC.
Defensive Player of the Year – T.J. Watt, OLB, Pittsburgh Steelers
Watt led the league in sacks (15), tackles for loss (26), pressures (55), and QB hits (41), while also adding in 53 tackles, 2 forced fumbles and an interception all in 15 games. Watt led the Steelers defense to allow the 3rd fewest yards per game, as they only allowed 305.8 yards in the highest scoring season in NFL history. The Steelers as a team led the league in sacks with 56, and Watt had a league high 15 of them as previously mentioned. He was a game changer that commanded double teams regularly from opposing teams. The Steelers finished the season 12-4 after starting 11-0 until the month of December, where they were winless, but bounced back and rested their star players last week.
Other Potential Candidates for DPOY:
Aaron Donald, DT, Los Angeles Rams
Aaron Donald is arguably the best player in the NFL, and there aren't any numbers needed to back that up if you watch him play the game. He constantly has to deal with being double teamed and even triple teamed at times when lining up. Yet Donald is still able to be a disruption in any offenses' game plan week in and week out. Donald had 13.5 sacks from the defensive tackle position, which is impressive in its own right, but also added 42 pressures and 26 QB hits to go with it.
Xavien Howard, CB, Miami Dolphins
Xavien Howard is the first player to have 10 interceptions in a season since 2007 when Antonio Cromartie had 10 with the then San Diego Chargers. Howard has the lowest passer rating allowed when thrown towards, with a 48.5 passer rating. The Dolphins fell just short of the playoffs this season as they lost in their final game to the Buffalo Bills.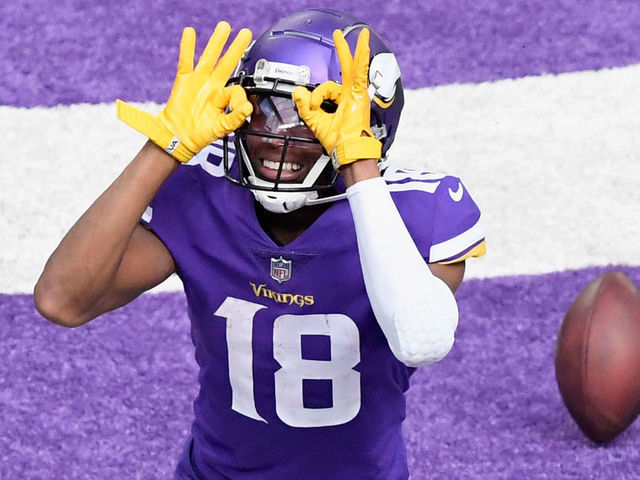 Offensive Rookie of the Year – Justin Jefferson, WR, Minnesota Vikings
Jefferson has been talked about among the top wide receivers in the NFL this season, not just top rookies. Jefferson was targeted 125 times this season and brought in 88 catches for 1,400 yards and 7 touchdowns. The LSU rookie wide receiver was able to beat the previous rookie receiving yards record in the Super Bowl Era, set by Anquan Boldin. In years past this award has ended up going to a quarterback, but Jefferson's performance this year as a rookie with the Vikings cannot be ignored. Posting the 4th most receiving yards in his first year in the league is unheard of, and this is only the beginning of a promising career for Justin Jefferson.
Other Potential Candidates for OROY:
Justin Herbert, QB, Los Angeles Chargers
Since coming in for Tyrod Taylor before Week 2's game against the Chiefs, Justin Herbert has been playing great football. Herbert posted 31 touchdown passes to 10 interceptions this season and led the Chargers to a record of 7-9. He broke the rookie records for passing touchdowns in a season, despite only playing 15 games. Herbert looks to have given the Chargers a bright future.
James Robinson, RB, Jacksonville Jaguars
Robinson came into the season as an unknown undrafted rookie, but this season Robinson showed out and displayed himself as a dynamic two-way back. He ran for 1,070 rushing yards and 7 touchdowns in only 14 games. Even with the Jaguars trailing most of their games, as they only won one game, Robinson was still able to rack up impressive numbers for a team that was regularly playing from behind.
Jonathan Taylor, RB, Indianapolis Colts
The rookie running back from Wisconsin came on late for the Colts team that just narrowly made the playoffs. Taylor ran for 1,169 rushing yards and 11 rushing touchdowns in the 15 games he played in. The Colts will look towards Taylor and Nyheim Hines as they look to make a playoff run this season.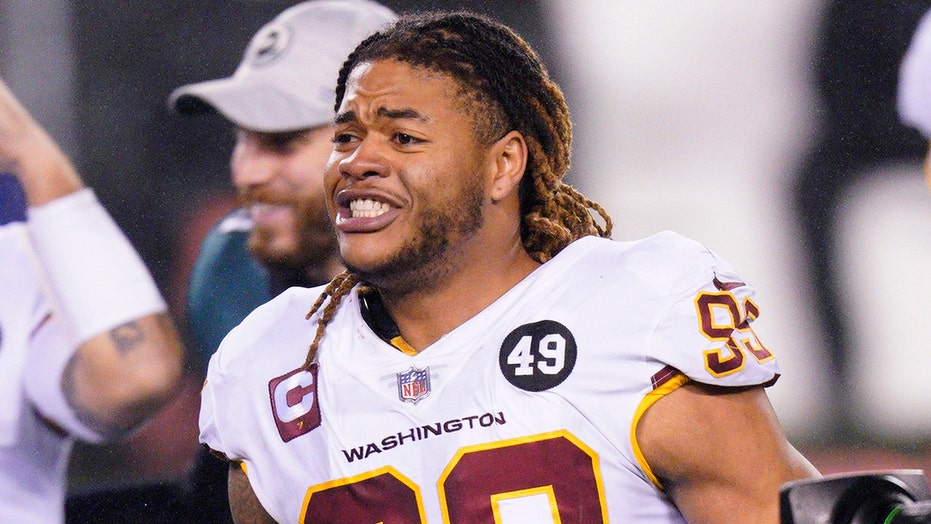 Defensive Rookie of the Year – Chase Young, DE, Washington Football Team
It's almost never heard of for a rookie to become a captain at any point in their rookie season, but Young has had enough success and been a leader to the point where he was appointed captain for the Washington Football Team. Young would be productive as a rookie with 5 forced fumbles, 7.5 sacks and 11 tackles for loss or no gain on the season. Young was able to display his pure athleticism and how special of a player he is when he returned a fumble for 47 yards and a touchdown against the 49ers in Week 13. Already, Young is facing double teams in games against teams, as they realize how much of a game changer he can be when left one on one. Even when doubled he is able to pressure the quarterback and that is shown weekly on game film.
Other Potential Candidates for DROY:
Jeremy Chinn, S, Carolina Panthers
Chinn has been a defensive playmaker for the Panthers all season long, as he had 117 tackles, 2 forced fumbles and fumble recoveries apiece, 1 sack, and two defensive touchdowns. Chinn put up an impressive showing this season. Chinn played a safety-linebacker hybrid position that is starting to become very popular amongst teams in the NFL and Chinn could develop into one of the best if he continues.
Antoine Winfield Jr., S, Tampa Bay Buccaneers
Winfield Jr. was a key defensive piece for the Buccaneers this season, as he would have multiple game winning plays for them this season. Winfield Jr., like Chinn, played a safety-linebacker hybrid role on the defense that has proven to be very valuable time and time again. Winfield Jr. is hoping to create himself a legacy like his father's during his time in the NFL.
Coach of the Year – Ron Rivera, Washington Football Team
In just one season, Rivera beat cancer, had his "future" quarterback in Dwayne Haskins go off the deep end and be released due to behavior issues, received IVs at halftime of games to make sure he could coach the whole game, and despite all of that, led the Washington Football Team to win the NFC East. Over the course of the season, Rivera would have to use four different quarterbacks as he led his team to the playoffs. It didn't help the situation when in the offseason the organization was revealed to have widespread sexual harassment within the organization. That was on top of an already horrible culture that the team has had in the past but, Rivera was able to overcome all of that this season, and bring this team to the playoffs.
Other Potential Candidates for Coach of the Year:
Kevin Stefanski, Cleveland Browns
For the first time since 2002, the Browns are going to the playoffs, and Stefanski has helped with that a lot in his first season with the team. The Browns finished with a record of 11-5 in a competitive AFC North division, with three teams making the playoffs. Hopefully this is the beginning of a much needed and waited culture change in favor of winning ways in Cleveland.
Brian Flores, Miami Dolphins
Flores has completely changed the Dolphins defense that was last in defensive scoring last season to 1st this season. This season their defense was also 1st in takeaways, 3rd in third down defense and 5th in red zone defense. The Dolphins, coming into the season, weren't thought of as threat for anyone, but that was the furthest thing from the case. They nearly made the playoffs but were out by only 1 game.
Comeback Player of the Year – Alex Smith, QB, Washington Football Team
Of all the awards that had to be given out, this was by far the easiest and took no thought of who should be receiving it. Just take a look at the things that Alex Smith has gone through these past two years as he tried to come back to football:
Now look where he is, in the playoffs as the starting quarterback for the NFC East Champion Washington Football Team. When Alex Smith has played this season, the Football Team has a record of 5-1, compared to when he doesn't play they are 2-8. It doesn't matter how many touchdown passes he has thrown or how many yards he passed for, the fact alone that he was able to return to play football at all, let alone for a playoff caliber team, is amazing. This award should have the name changed to "Alex Smith Comeback Player of the Year" because he symbolizes what it means to be a comeback player.